John Biewen and 'Scene on Radio' Presents Stories of Concern and Hope on Climate Change
Climate change. The very phrase can spur despair. Each new report adds to a feeling that it's too late to stop swelling seas, melting ice caps and rampaging fires, too late to prevent climate catastrophe, too late to save ourselves.
Duke's John Biewen, producer of the new climate podcast series "The Repair," sees things differently.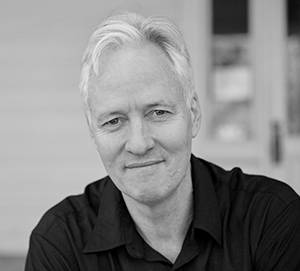 "Yes, it's clear that in a sense, time's up – we're out of time to stop thinking about this," Biewen says. "We have to take real action in the next 5 to 10 years, and it has to be big."
"But it's not too late to avoid utter and complete catastrophe for civilization or the world."
Biewen, who directs the audio program at Duke's Center for Documentary Studies, is not naïve. A veteran journalist, he's read stacks of climate reports, including the recent, stark Intergovernmental Panel on Climate Change report that the United Nations secretary general called "a code red for humanity."
He doesn't underestimate the existential threat posed by climate change. He's just not ready to declare defeat.
"When I see Twitter threads saying that civilization will collapse, that it's over -- as a parent of children in their 20s, it makes me want to say, 'Come on, people,'" Biewen says.
"We're not there yet. It's not too late to save ourselves from the worst consequences, if we would just get serious."
"The Repair" marks the fifth season of CDS's "Scene on Radio" podcast, which Biewen launched in 2015. Prior to diving into podcasting, Biewen spent years as a producer for National Public Radio and American Public Media. He has taught audio production to Duke undergraduates, graduate students and community members since arriving at Duke in 2001.
"Scene on Radio" debuted quietly before catching fire in 2017 with its second season, "Seeing White." That series, which explores the evolution of systemic racism in America, appeared at a key moment, when the Black Lives Matter movement was gaining ground. As more and more listeners recommended it to one another, positive notices followed in national media outlets such as Vulture and Columbia Journalism Review.
The word of mouth and critical buzz paid off, and "Scene on Radio" grew exponentially. The podcast has since garnered two Peabody Award nominations and had 5.2 million downloads in 2020 – a number Biewen calls "beyond my imagining."
He credits the growth partly to a change in approach. In its first season, the podcast featured a collection of various unrelated stories. Beginning with "Seeing White," it tackled a different theme each season. The podcast dove into the topics of patriarchy in "MEN" (Season 3), and democracy in "The Land that Never Has Been Yet" (Season 4), each time exploring how certain ideas rose to prominence and helped define our culture.
"I've been won over to the power of the podcast series – to taking folks on a journey of learning," Biewen said. "That's the sort of thing that appeals to me as a listener, too. I like something I can sink my teeth into and come away having learned something."
For "The Repair," Biewen partnered with environmental journalist Amy Westervelt, who hosts the podcast "Drilled." At the series' heart are the questions of how human beings reached this ecological standoff, and how we can respond to the challenge. The result is a kind of intellectual history of climate change, an examination of the historical and cultural forces behind the current crisis. It also points to where change is happening.
"We're facing an existential threat to the continuation of our civilization as we know it, and perhaps to the continuation of our species," Biewen said. "The series asks, 'How did it happen? – how did we drive ourselves into an ecological ditch?'"
The 10-part series includes stories from the frontlines of climate change across the globe.
One report looks at Scotland's aggressive steps to transform its energy system. Another centers on Ecuador, the first nation in the world to include a "rights of nature" clause in its constitution.
Reports from Nigeria and Indonesia, meanwhile, describe places where "people who have contributed the least to climate change are experiencing its worst consequences."
The final two episodes focus on potential climate change solutions.
"Scene on Radio" has not shied away from tackling big problems. And after considering a daunting list -- systemic racism, patriarchy, flawed democracy and climate change -- Biewen has come to see these disparate challenges as linked at their root.
And that connection, he says, could hold seeds of hope.
"We could come out so much better as a society if we do the things we need to do to survive this crisis," Biewen says.
"If we do that, we will in the process be solving some other huge injustices. These things are interconnected."