Duke Community Efforts Help Reduce COVID-19 on Campus; Outdoor Mask Rules Revised [UPDATED]
Steady decline in cases since new protocols instituted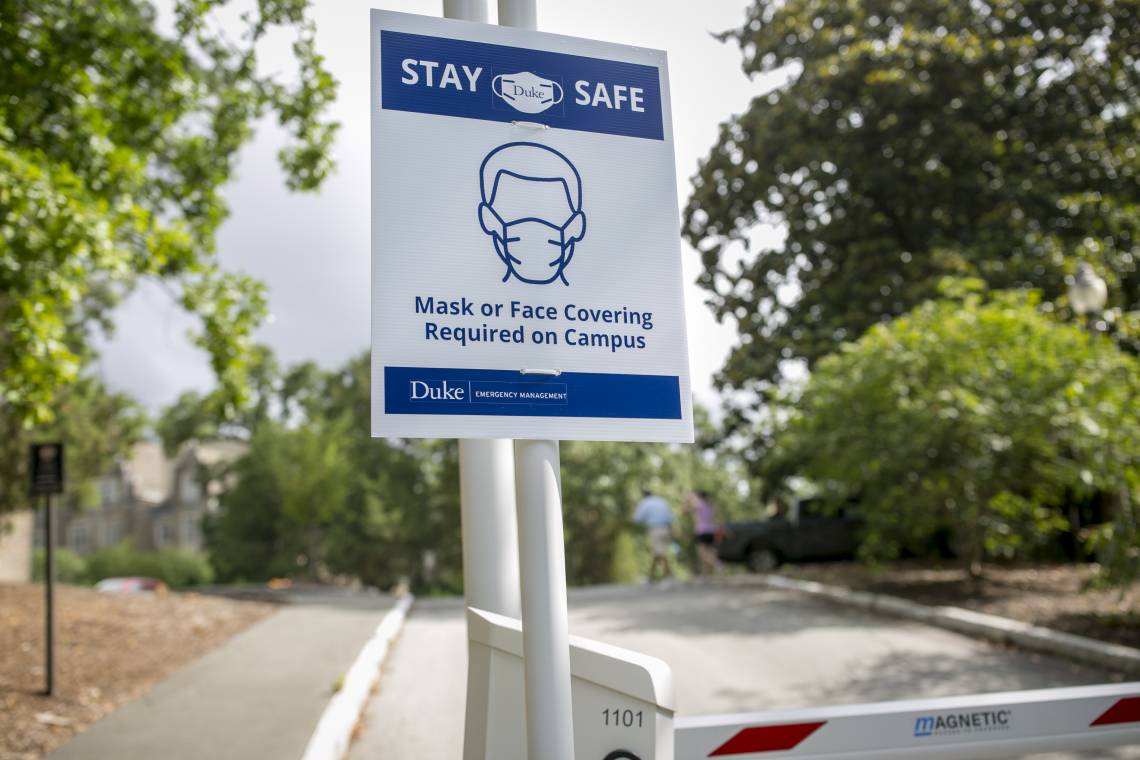 For the second consecutive week, Duke's COVID testing protocol saw a significant decline of positive tests. For the week of Sept. 6-12, there were 37 positive tests -- 28 students and 9 faculty/staff -- on the university side.
Because of the declining trend the last couple weeks, effective immediately, masking is no longer required outdoors in most circumstances on the Duke campus, though masks are still strongly recommended in outdoor settings with a gathering of people.  Masks will continue to be required for large outdoor events on campus and must still be used indoors in classrooms and public spaces.
The number of students and employees who tested positive peaked at 364 during the second week of fall classes. Afterward, Duke instituted new safety measures including masking indoors and outdoors, suspending indoor group dining and discouraging larger gatherings. The vast majority of those who tested positive had no or very mild symptoms, and none required hospitalization, though the spike did require a rapid expansion of isolation space.
For the week ending Sept. 5, the total dropped to 126 – a 65 percent reduction from the previous week. 
"Since the beginning, we've talked about Duke United and about being in this together, and I could not be prouder of the way our students, faculty and staff have responded to help curtail the spread of COVID on campus," said Kyle Cavanaugh, vice president for Administration. "We are testing 24,000 people a week, so we have a good sense of what is happening on campus. And we are confident that the efforts of our community are driving these successful results."
During the peak two weeks ago, faculty teaching undergraduate classes were given the option of temporarily moving to remote or hybrid delivery because a larger-than-expected number of students in isolation presented logistical challenges. But with the rapidly declining trends and increase in isolation space, Provost Sally Kornbluth wrote Thursday that "undergraduate courses should return to in-person instruction Monday, September 13, except in cases where instructors have been granted specific exemptions."
Other public health measures, including masking requirements and changes in indoor dining, will remain in effect for now, and officials will continue to closely monitor testing data and guidance from faculty experts to determine future changes.
The other important safety measure includes vaccination. The vaccination rate among university faculty and staff has continued to improve with 93.2 percent now fully vaccinated and 94 percent having at least the first dose.
Faculty and staff who wish to participate in surveillance testing on campus can also visit any of the locations on campus with their DukeCard ID or phone with the SymMon app. No appointment is needed.