The Class of 2020 Remembers Duke
Senior year for Duke's Class of 2020 did not go as expected. As they look toward their long-delayed, eagerly anticipated, in-person commencement ceremony on Sept. 26, members of the Class of 2020 share their memories of Duke and how they learned to cherish ordinary moments of connection and community. 
Katie Cassedy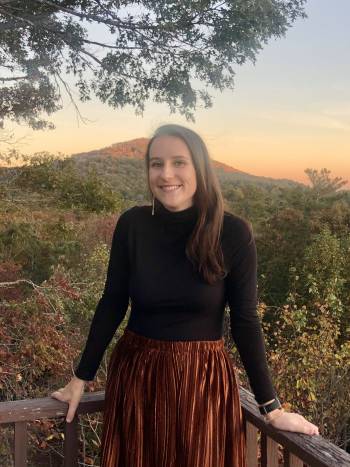 Katie graduated in 2020 with an economics major and a minor in visual media studies.  She is currently a UK Agency Associate in LinkedIn's Business Leadership Program based in Dublin, Ireland. 
---
When I remember Duke, I remember how much I loved the small moments. I loved the pumpkin bread in Vondy, especially when a friend surprised me with a slice. I loved the triumph of clicking "submit" on a problem set, or a paper, or a project – almost always a few minutes before the deadline. There was the late night I stayed up in the library helping a friend nail a problem, even though I was done studying for the test. Then, there were the nights that I had countless friends do this for me. I learned how to care for others, and I let others care for me.
Nathan Luzum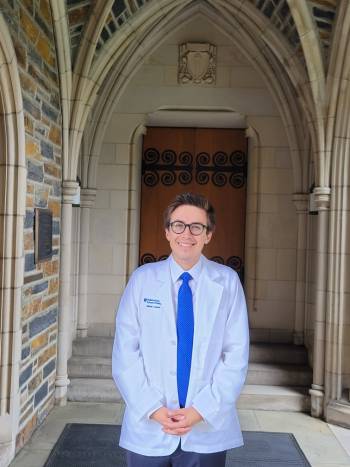 Nathan majored in neuroscience and history and is currently a first-year medical student at Duke School of Medicine. 
---
Looking at the time we spent here at Duke, I think we can all find those moments of connection through kindness. When we pulled up to our East Campus dorms, we had upperclassman volunteers to help shoulder the burden of moving in. When we didn't understand material in class or hit a mental block with a research paper, we sought out the guidance of our professors and peers. When we had extra food points at the end of the year, we paid for others whose meal plans weren't as generous or donated them to local food pantries. Although our days at Duke were filled with classwork and activities, we still found time to be kind. By no means were we perfect, but those connections helped us through our years on campus to this ceremony today.
Camille Ampey
Camille majored in public policy, minored in education, and did a certificate in Human Rights.  She teaches fourth grade in Baltimore while pursuing her graduate degree in education from Johns Hopkins University.  
---
Author bell hooks once reflected, "The most basic activism we can have in our lives is to live consciously in a nation living in fantasies." In my classes, conversations with peers, and dinners with professors, I was able to stretch my mind more than I ever had before, molding my view of the world around me, and of myself. In learning new philosophies and perspectives, I quickly realized that I had not known what I didn't know. There were many moments, in public policy, education, and human rights classes, where I would walk out of class feeling empowered in a way that I never had before—having learned a new theory that was invaluable to the way I viewed my positionality in the world.  
Maxwell Silverstein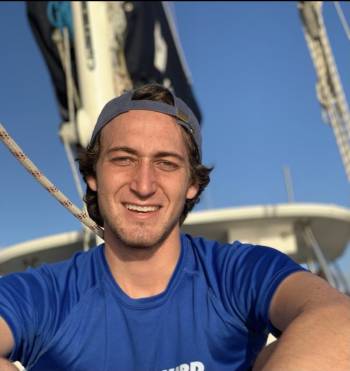 Maxwell completed a double major in computer science and environmental science and is now a software engineer based in Washington, DC.
---
We performed our passions on stage through theater and dance and sketch comedy or, for the more stage frightened, we watched our friends do that. We led clubs, and we made Duke better. We helped bring early voting directly to campus, we helped Duke create the Mobile Duke card, and through the help of the Facebook page Fix My Campus--we squashed ant infestations. Even accomplishing a simple research task for a professor or for a club, we could proudly know that we left a mark here. We also got to enjoy our time here on campus like the massive snowball fight in the Gardens or a small picnic. Then came that last moment, when we gloriously and joyously set fire to the benches on West Campus after proving for our last time at Duke which blue is better. Every one of us could scream Our House because after four or six or even two years here it truly was and always will be. 
Kedest Mathewos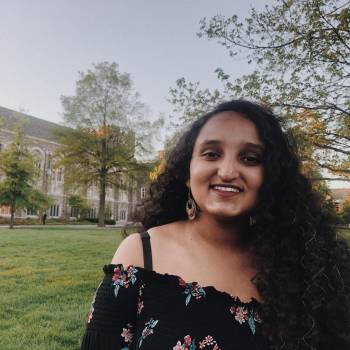 Kedest earned an A.B. in Global Health and a B.S. in economics from Duke.  She is currently working as a research associate to the vice chancellor of the University of Global Health Equity in Rwanda.
---
The ordinary day-to-day experience at Duke has also left its impression. The friends who have become family, the welcoming staff at Marketplace, the professors who respond to frantic emails at 2:00am, the TAs, RAs and the GRs, Big Mike and all the friendly bus drivers, Keith and Nugget, and the occasional smile from a stranger on the BC plaza have given a special place to community in our hearts. So, we can choose to reflect the love we've been so lucky to receive and to be there for someone in need. 
Brittany Amano 
A Rubenstein Scholar, Brittany majored in public policy and international comparative studies and earned a certificate in markets and management studies. She is currently a business analyst at McKinsey & Company's Bay Area office.
---
When the news of Duke's decision to cancel the rest of the semester's in-person learning and activities broke over spring break, we longed for our home. We wanted one more conversation with a friend over Loop milkshakes on the BC plaza, one more debate over effective altruism in our philosophy class, one more late-night walk past the Chapel from Perkins, one more night at Shooters, maybe even with our last attempt to ride the bull. 
Tina Tian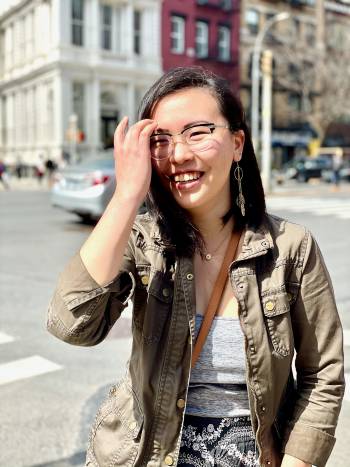 Tina majored in economics and minored in computer science and history. She is currently working in corporate bond sales and trading. 
---
The pandemic taught us one last lesson as we left Duke's campus for the last time as students. The pandemic taught us perspective. We were given a crash course in developing value systems, choosing very quickly to hold on to what matter and let go of what didn't. The moments that mattered became clear immediately and were amplified tenfold. That time I stayed up an extra three hours to keep my friend company as she studied in Perkins was one of the last in-person hangouts we had before she moved to the other side of the country. The extra espresso shot and eye bags the next morning were a small price to pay. That time I wasn't sure if I wanted to take a class all the way in LSRC, but my roommate and I started a new ritual of post-midterm McDonald's on the way back. Chicken tenders have never tasted quite as good, nor has any class been quite as fun. 
Sonali Mehta
Sonali majored in public policy with a Human Rights certificate and a minor in theater studies. She is currently in her first year at Harvard Law School. 
---
I know that all the things we gave up were not just losses but worthy sacrifices. By staying home, staying apart, we protected each other. We kept each other safe. Everyone tells me that the Class of 2020 will be better for having been through this. Maybe they're right. Maybe we will be better—more resilient, smarter, kinder. But I don't think those things are promised either. Our Duke diploma signifies four years of learning. But it also signifies that we have a certain sort of power. It means that we have the ability to effect real, meaningful change, in the lives of other people: as artists, scientists, engineers, parents, friends. That's exciting, but it is also a tremendous responsibility. If I have learned anything this year, it is that the choices we make impact all of us. For better or for worse, our lives are bound up together. My hope for the Class of 2020 is that when we make those tough choices, we will be able to say that we did so with kindness and empathy for the people around us.