Celebrating Staff and Faculty Career Milestones at Duke
Upon reaching milestones of 10, 15, 20 or more years, staff and faculty reflect on their paths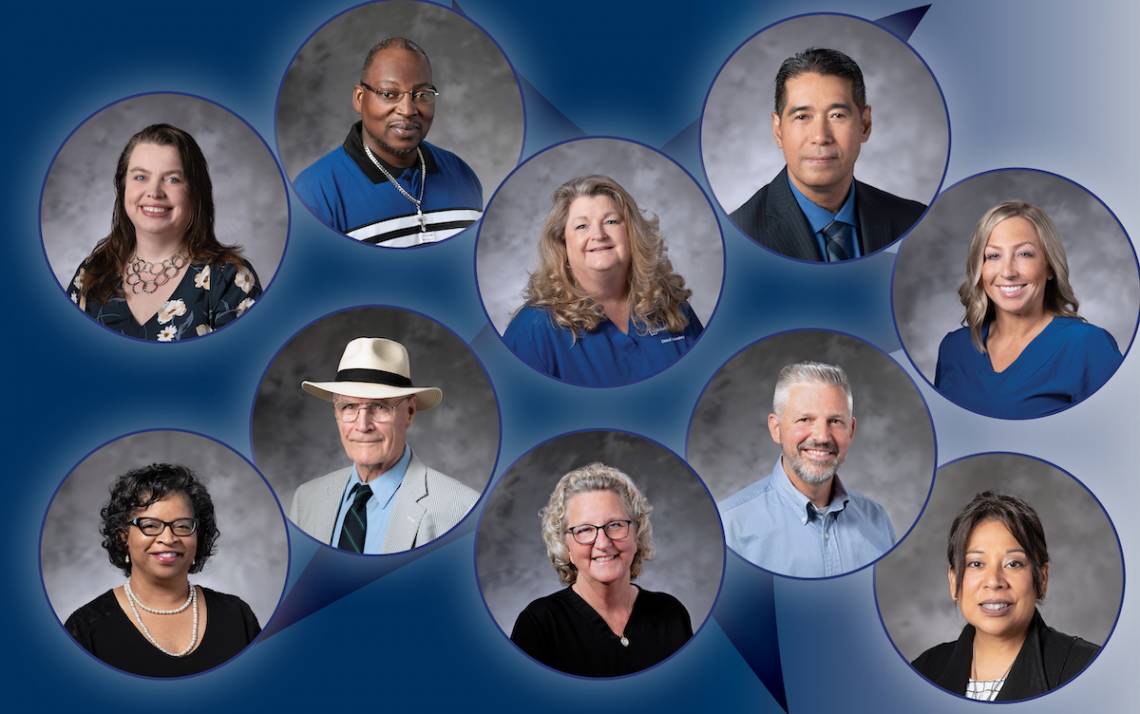 At the heart of Duke's world class university and health system are the roughly 43,100 members of its staff and faculty. Their commitment to Duke's values and missions keep the institution pushing forward.
That's why, each year, Duke celebrates employees who are reaching career milestones of 10, 15, 20 and more years of service. Recognized as "Duke Stars," this year's group of 3,110 staff and faculty range from the 922 who are marking a decade of service, to James Bragg of Duke University Stores, who has hit the 60-year mark.
"We've always said that our people are our strongest asset," said Duke Vice President for Administration Kyle Cavanaugh. "The people that I have the honor to work with and support that have been here 20, 25, 30 or more years embody that level of commitment to high-end patient care and to our academic and research missions. They embrace their roles and understand that they're a part of a very special place. And it's their commitment that makes it a very special place."
As part of the celebration of these employees, Working@Duke caught up with a few of them to hear what their time at Duke has meant to them.
Amy Rudy
Registered Nurse, Duke Raleigh Hospital
10 Years at Duke

Amy Rudy has spent her nursing career at Duke Raleigh Hospital. Over the past 10 years, the friendly relationships with coworkers have made Duke a special place to work. 
"It's getting to know people over the past 10 years and walking down the hallway and seeing familiar faces and everyone smiles and says hello," Rudy said. "The people I've worked with over the years and collaborated with in other departments over the years have been very helpful for coordinating care for our patients. Those relationships make the world go round."
Rudy began at Duke in 2011 as a part-time nursing assistant while she was still in school. While a Duke staff member, she completed a bachelor's and master's degrees in nursing with using the Duke's employee tuition assistance program.
Since 2011, Rudy has worked in several different roles, including as one of the founding rounding nurses in Duke Raleigh Hospital's Intensive Care Unit before transitioning in 2019 to her current position as operations nurse manager in Interventional Radiology and Radiology Nursing.
"Being able to grow in the health system I started in has been a very rewarding experience," she said. "I've been really happy to stay with Duke Raleigh."
Rodolfo Bangilan
Coding Operations Manager, Patient Revenue Management Organization
10 Years at Duke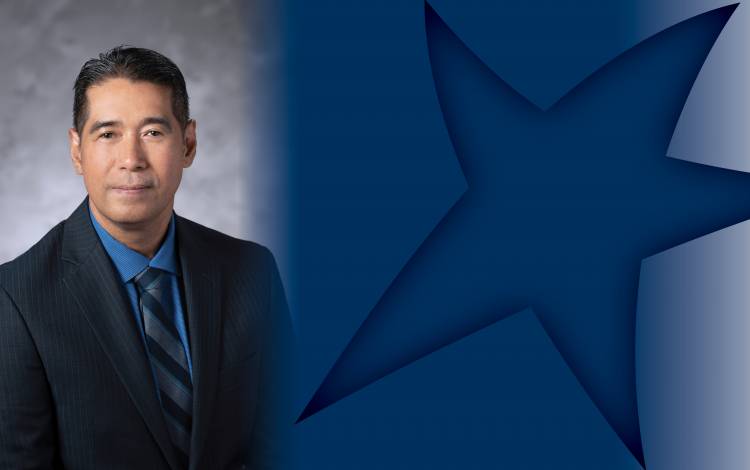 Rodolfo Bangilan started at Duke as a medical coder, then moved to coding supervisor, and on to revenue manager. Eventually, he worked his way up to coding operations manager — developing his career along the way. 
"If you are willing to take on the call of developing yourself, because it's not just a career but also based upon your willingness to learn and stretch yourself and grow," he said. "As long as you have that mindset, there's a lot of opportunities to grow here."
Bangilan initially came to Duke after looking to escape the cold winters of Cooperstown, New York, where he was working at a mid-sized hospital. 
"It has really been an adventure working at Duke," Bangilan said. "It has been a pleasure for me to be part of this organization that takes good care of the patients the best we can. Duke also takes really good care of its employees."
Lupita Temiquel-McMillian
Assistant Dean for Advising & Student Affairs, Pratt School of Engineering
15 Years at Duke

Lupita Temiquel-McMillian has a folder filled with cards and notes she's received from students over the years. Each note serves as a simple reminder of the students she has helped as the Pratt School of Engineering assistant dean for advising and student affairs.
Over 15 years at Duke, seeing students grow during their academic careers is one of the most rewarding parts of her job.
"Every once in a while, when I'm cleaning out files, cleaning out drawers, I'll come across it and I might open up a few just to get that good feeling, especially when things are fast-paced and maybe not every day is a good day," she said. "It's nice to stumble on those and read them."
When she started at Duke, Temiquel-McMillian had recently relocated to North Carolina from Chicago after marrying her husband, James, a retired Major in the U.S. Army who was stationed at Fort Bragg. 
"I know it sounds cliché, but I like the friendliness and the people are very supportive and all willing to serve one goal to serve the students," Temiquel-McMillian said. "I have met a lot of people over the years who are North Carolina transplants, so there's something about this place that definitely attracts people and makes them stay."
Taft Howell
Respiratory Therapist, Duke University Hospital
20 Years at Duke

When Taft Howell began working as a pediatric respiratory therapist at Duke in 2001, he had his career mapped out. But there was a different plan.
"When I came here, I was on a three-year plan," Howell said. "I was going to come to Duke, get Duke on my résumé and move on to somewhere else. Seventeen years later, here I am."
What Howell hadn't accounted for was that Duke turned out to be the right place for him long term. Working at Duke University Hospital provided an opportunity to become an ECMO specialist, a certification to use the specialized ECMO machines that oxygenate blood outside the body, bypassing the heart and lungs. Howell also took three medical trips to Nicaragua early in his Duke career to treat infants and children who needed major heart and lung medical treatments.   
Among all his experience, a family of coworkers have helped support him through family illnesses and other life events. 
"They mean the world to me," Howell said. "They've helped me through so many personal things throughout my career here; it didn't have anything to do with my job, so they could have turned their back and let it go."
Tempie Fuller
Compliance Specialist, Patient Revenue Management Organization
25 Years at Duke

Tempie Fuller said she was shy and did not like to speak to large groups of people when she started at Duke 25 years ago. 
Over the years, attending classes by Leadership & Organizational Development, a unit in Duke Human Resources, helped her develop professional skills, and she earned a Customer Service Certificate of Excellence and a Training Certificate of Excellence. 
Taking the classes helped her grow more comfortable speaking to groups, and she overcame a fear of public speaking. 
"With the help of training and L&OD sessions about approaching an audience, I was able to speak at the regional American Academy of Professional Coders conference in Washington, D.C," Fuller said. "There were over 150 people in that session, and I handled it with no problem. There were no butterflies, no 'ums' or 'ahs;' none of that."
Today, Fuller routinely speaks on calls without even thinking about it and interacts with others on the team daily. 
"The thing I love the most about what I do all day is I educate our coders, identify trends and I get to also work physically, so I can stay knowledgeable about what our team is seeing," Fuller said.
Ivy Hester
Clinical Bed Control Coordinator, Duke Regional Hospital
30 Years at Duke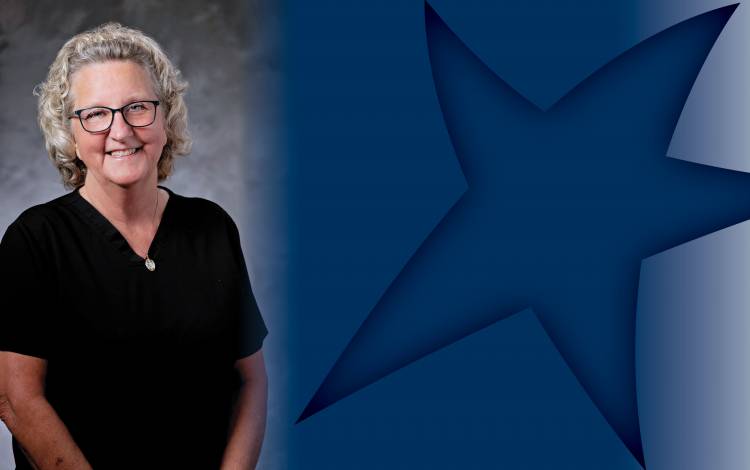 In her role overseeing the availability of beds, Ivy Hester makes sure that patients who come through Duke Regional Hospital have the space they need to heal. While she doesn't get opportunities to help patients in person, by quickly connecting patients with beds, she can make their stay at the hospital more efficient and effective.
"If I can cut someone's length of stay in the emergency room, or in the lobby, waiting for a bed, it's very satisfying," said Hester, who kept track of beds on large sheets of paper decades ago, but now manages the beds using computers.
In November of 2020, she got a different perspective. She was briefly hospitalized at Duke Regional while she battled COVID-19. She said that, as a patient, she gained a new appreciation for the close-knit and caring culture that she had already come to love as an employee. 
"They were so good to me and I felt very comfortable," Hester said. "There's such a family atmosphere here. They treated me like family, that's the only way I can describe it. If I needed anything, they were there."
Kelvin Sanders
General Maintenance Mechanic, Facilities Management
30 Years at Duke

After seeing his mother work at Duke as a nurse for 43 years and his father serve in Facilities Management for four decades, and watching both of them enjoy comfortable retirements, Kelvin Sanders was convinced that a career at Duke was a worthwhile one.
And in his three decades, that belief has only gotten stronger. In addition to helping him learn HVAC, electrical and plumbing trades, Duke has given Sanders priceless opportunities to meet a wide variety of people. He's worked at the Duke Lemur Center, which allowed him to get to know researchers who traveled the globe, and he's worked in athletics, leaving him with stories of warm encounters with figures such as men's basketball coach Mike Krzyzewski and football coach David Cutcliffe. 
And during the past few years, he's been encouraged by the effort Duke has put into employee safety during the pandemic, and its anti-racism initiatives.
"The Duke community has allowed me to see other parts of life," Sanders said. "It has helped me to learn about new cultures other than my own. Being an African-American who grew up in Durham and seeing the actual change in Duke and how they have tried to deal with race relations has impressed me and made me feel proud to tell people I work at Duke."
Cynthia McGill
Human Resources Specialist, Duke University School of Medicine
35 Years at Duke

Cynthia McGill can point to many reasons why she's felt valued during her time at Duke. A major one is how she arrived at Duke 35 years ago as a data terminal operator, but with the help of supportive supervisors and Duke's professional development opportunities, she was able to learn how to become a medical secretary, and later, a human resources professional.
"People saw talent in me and they thought they could really help me, mentor me and give me an opportunity," said McGIll, who spent the bulk of her time at Duke working in the Department of Family Medicine and Community Health. "I just took that and went with it, which landed me where I am today. I truly appreciated the time and energy that was invested in me as a person."
But she's also seen how that commitment to one another goes beyond work. An example of that came in 1993, when McGill lost her mother. While dealing with her grief, McGill was struck by how many colleagues reached out to see what they could do, some even delivering meals for her family.
"There's a real team spirit here," McGill said. "I feel like people genuinely care for me as a person."
Janet Arnold
Laboratory Supervisor, Duke Raleigh Hospital
40 Years at Duke

In her four decades at Duke, Janet Arnold has held different roles within the labs of Duke Raleigh Hospital, working in labs that process a variety of tests and moving up into a supervisory position where she can do lab work and train new colleagues. While the instruments she uses have gotten more sophisticated over time, the passion that Arnold and her colleagues bring to their work has remained constant.
She can recall times when she and her colleagues worked long shifts during ice storms and hurricanes, conducting the lab work that's crucial to patient care.
"We've always had the attitude of treating these samples like they belonged to one of your family members," Arnold said. "Do your best and give the best results."
Arnold also said she's valued the energy that comes from working alongside curious, bright minds. 
"I love being around smart people and Duke is a wealth of information," Arnold said. "If you keep an open mind, you'll learn something new every day. And the resources Duke has, the education and competence level of people here, it just makes you step your game up and work harder to do a better job for your patients."
Victor Strandberg
Professor, English
55 Years at Duke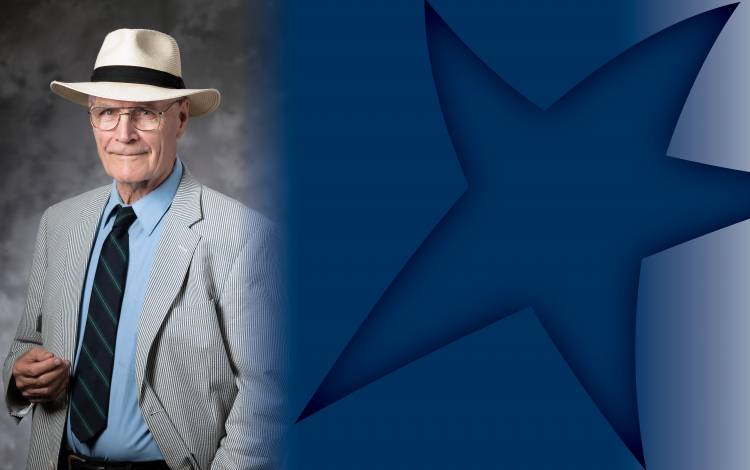 During his time at Duke, Victor Strandberg has held leadership positions in the English Department and beyond, authored five books, published around 60 essays and had ample time to fall in love with Duke's campus, libraries and ability to expose him to fascinating speakers, memorable performers and inspiring colleagues.
But the thing that Strandberg cherishes the most are the roughly 10,000 students who have passed through his classrooms.
"One thing that has remained the same is that the Duke student body has always represented a very high standard of excellence," said Strandberg, who won the Robert B. Cox Teaching Award in 2002. "With their skill and their work ethic, I've had no complaints. I enjoy them thoroughly. If I wasn't teaching, I'd wither up and blow away."
When Strandberg first arrived at Duke, he taught in classrooms that lacked air conditioning. Now he teaches in classrooms featuring students participating via Zoom. This fall, Strandberg is teaching two courses for Duke undergraduates, one on William Faulkner and another on some of the English language's greatest poems.
"It's absolutely wonderful, I love it," Strandberg said about this fall's classes. "I'm very enthused about these writers and I'm so happy I get to share my enthusiasm."
Send story ideas, shout-outs and photographs through our story idea form or write working@duke.edu.