These Days, Blockchain is Everywhere at Duke
With Duke Engineering students facilitating cryptocurrency transactions for class and DEMAN Live partnering with the Innovation Co-Lab to explore NFTs, it feels like blockchain is suddenly everywhere at Duke. But that wasn't the case back when Manmit Singh '22, now president of the Duke Blockchain Lab, was a first-year student.
"I thought blockchain was some kind of video game," Singh said wryly.
While most people know of blockchain through Bitcoin and other digital currencies, it's so much more than that. A blockchain is a digital ledger, often public, that tracks a transaction or process. It's managed across a peer-to-peer network of many computers, with participants auditing and verifying transactions according to a protocol. The records in the chain ("blocks") are linked via cryptography to where each block contains a timestamp and data about the preceding block.
The takeaway? Blockchain technology is decentralized, independent, inexpensive, extremely secure, and practically irreversible.
Now Singh sees more and more of his classmates exploring the world of blockchain, but it can be an intimidating world to step into. Enter the Duke Summer Blockchain Innovation Program, funded by a grant from Ripple UBRI and co-hosted by the Duke Innovation & Entrepreneurship Initiative (I&E), the Pratt School of Engineering, Hack Duke, and Rev, an online accelerator founded by Duke alum Nic Meliones '11, who personally led the program. More than 300 Duke students, alums, and attendees affiliated with other universities participated virtually.
"The program has brought together a very interesting community of people of diverse backgrounds," Singh said, "individuals with anywhere from zero to 35 years of software experience working together under one roof, metaphorically."
Tackling "Hair-on-Fire" Problems
Daniel Marshall '23 runs the Duke Innovation Studio, a student-run accelerator, using Rev as the infrastructure to support member startups. When asked if he would help run the Duke Summer Blockchain Innovation Program, Marshall was surprised—he's an economics major who's passionate about politics, with no previous background in blockchain—but he jumped at the chance.
"I came into the summer not knowing anything much about blockchain, cryptocurrency, or NFTs," he said. "Now I could talk about that stuff all day, I find it so interesting." Marshall is interested in the potential social applications of blockchain, including election security and combating fraud. "I ultimately want to make a difference in some form," he said. "Blockchain can play a major role in powering novel solutions to the sorts of challenging problems I hope to solve with my Duke education."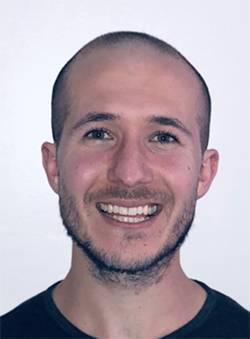 The desire to make a difference was a common refrain among participants, whose projects took on myriad shapes as the program progressed. They spoke passionately about the problems they see in the world and feel most compelled to solve—what Meliones terms "hair-on-fire" problems.
"The right soil for a great startup is when there's a problem that has existed for some time, and it's becoming more and more of a problem, and at the same time some tectonic shift in the world is making it more possible to solve that problem," Meliones said. "Our bet right now is that blockchain technology is a tectonic shift making it possible to solve a huge array of problems facing the world."
Adriana Stohn, an Electrical and Computer Engineering PhD student studying optical imaging, is interested in how blockchain could be used to verify the authenticity of images—specifically, by "digitally watermarking images upon capture, before even leaving the camera."
For Maxwell Tardif E'25, blockchain presents a way to address downfalls in current internet business models. "I'm most interested in using blockchain to give consumers better control over their privacy and greater transparency in who receives private data."
Eric Hoyle '90, COO at Lumina Fund Management, is a seasoned entrepreneurial executive working on a startup platform for unifying and securing WiFi hotspots, which he said has the potential to provide underserved communities with access to fast and reliable internet.
"I didn't really think my idea would be a good fit for blockchain, and I didn't want to add a blockchain component just for the sake of having it," Hoyle said. "However, I was very surprised to learn that some startups in related fields are using blockchain in a manner I was not aware of."
Among Hoyle's greatest takeaways from the program was Duke students' enthusiasm for tackling hair-on-fire problems. "They have so much passion for making great societal contributions," he said. "I found it inspirational and extremely motivating."
Building Understanding & Community in the Bootcamp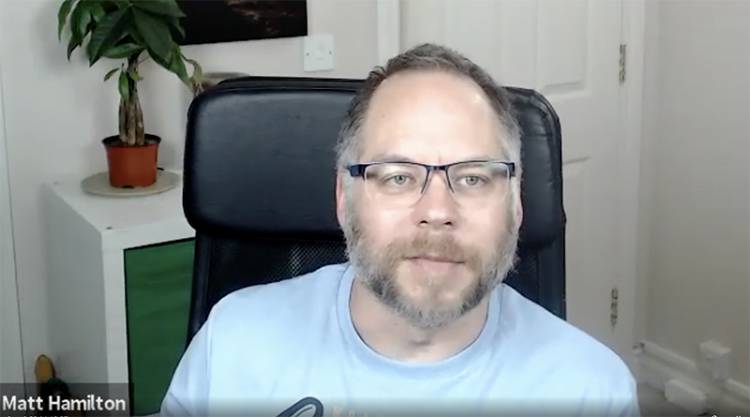 In the program bootcamp, participants learned blockchain fundamentals, gained hands-on experience creating their own smart contracts, started work on their own blockchain ideas, and learned entrepreneurial skills to bring their startups to life.
The program delivered "recipes" via Slack that asked participants questions and delivered curriculum, with the asynchronous format complemented by live fireside chats and "hot seat" idea validation sessions.
Participants spoke animatedly about what they'd learned from guest speakers including serial entrepreneur Clarence Wooten, venture capitalist Maddie Callander, Matt Hamilton (director of developer relations at Ripple), Melissa Zhang '17 (founder of Duke Blockchain Lab, former Coinbase engineer, and co-founder of Bonfire), and David Perkins '14 (founder of Renbase and former iOS engineering lead at Café X Technologies).
The Slack format also supported community building by the participants, many of whom formed teams according to interest during the bootcamp. Teams shared tools, asked for feedback, and even put together impromptu surveys in the chat. "A real community and shared resource pool grew along the way, which was such a significant win," Meliones said.
Advancing Blockchain Startups in the Hackathon
During the weeklong hackathon, participants built out prototypes of their ideas and presented them to judges Steve McClelland, Executive-in-Residence at Pratt, and Cam Harvey, Professor of Finance at the Fuqua School of Business.
Andrew Epprecht '22 and Jack Rosenthal '22 won the hackathon's grand prize—and a spot in the summer accelerator alongside other more advanced Duke blockchain ventures—with Full Moon AI, which stores machine performance data on the blockchain and creates predictive maintenance algorithms for when machine components will malfunction.
The four runner-up winners included a project to detect deepfakes, forged photos and videos propagating around the web; Blockify, a decentralized marketplace to support the gig economy; Aeris Hub, which provides definitive sourcing information for mined copper; and a platform that supports sustainable carbon credit trading.
"This program was an amazing opportunity to bring together the university's resources and new technologies to make delivery more scalable," McClelland said. "It was fantastic to see how students and alumni reacted to blockchain emergences and created unique solutions together across so many different domains."
Taking Projects into the Future
Many hackathon teams continued working on their projects in the four-week accelerator, where they readied their startups to scale, got personalized coaching and mentorship, and gained access to an investor dashboard of more than 1,000 early stage investors.
Some participants have also joined NEAR's Certified Developer Program to learn the basics of the web3 technology stack—where dApps, or decentralized apps, operate atop a shared data layer, giving users control of their data and ability to move between apps.
Yet some of the most significant lessons participants say they'll take from the program are the classic ones—namely, creativity and resilience.
Zack DeParle E'24 said, "My greatest takeaway from the program had nothing to do with blockchain at all—my biggest takeaway was that startups are hard, but possible, and I am going to continue iterating on startup ideas until I find success."