Working in a New Normal: New Logistics for Online Concerts
Suzanne Despres writes contracts for Duke Performances shows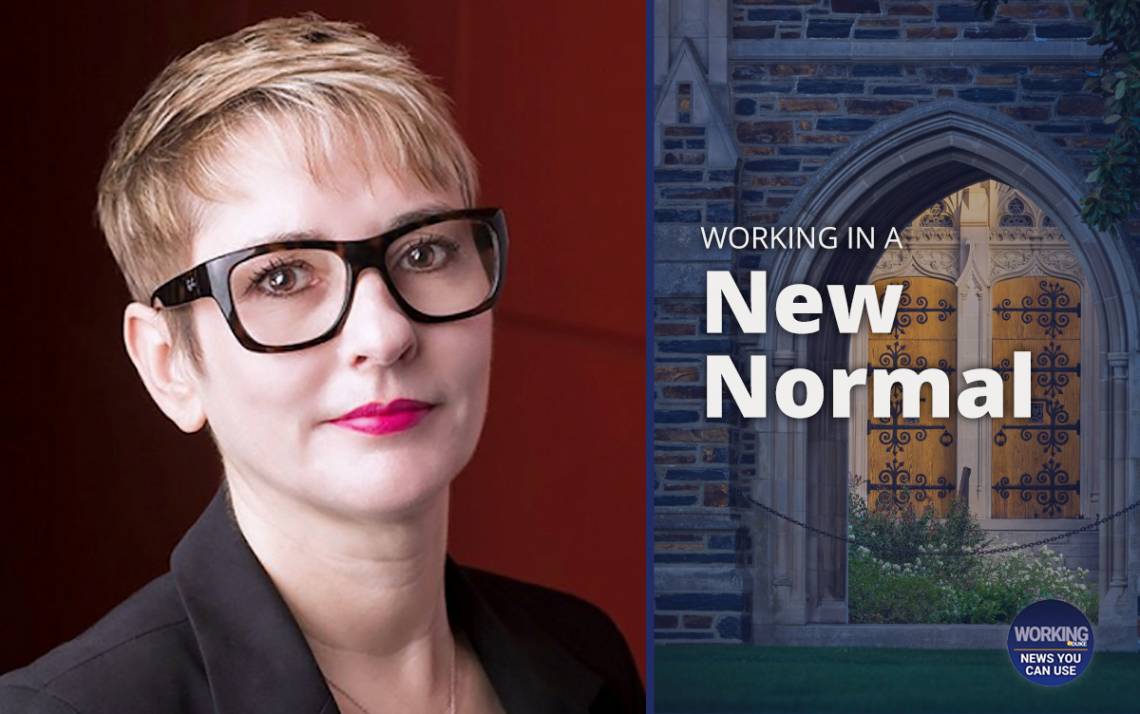 Name: Suzanne Despres
Position: Director of Artist Services and Production, Duke Performances
Years at Duke: 7
What she does at Duke: Before and since the pandemic, Suzanne Despres manages relationships between Duke Performances and the artists Duke Performances brings to Durham.
Despres works with artists and their representatives to put together contracts that detail performance dates and filming requirements for online shows as well as lodging, transportation and catering for in-person concerts. The contract work is usually done six months to a year before the performance date.
A few weeks before a show, Despres contacts performers to confirm plans are still in place. For in-person performances, she meets with artists when they arrive in Durham and serves as their point of contact in case they need anything, from an impromptu rehearsal space to hospitality requests.
"My hands are all over everything," Despres said. "I like knowing that I help create an exceptional experience for every artist that comes to Duke."
How her job has changed since the pandemic: When Duke Performances shifted to digital-only shows in March 2020, Despres helped create a technical rider to share with artists.
The rider stipulates that Duke Performances would provide a production fee so performers could film with three cameras, record audio to meet sound requirements and submit materials two weeks before the show's premiere.
"The technical rider enabled us to have all our shows be a high quality," Despres said. "I've never been in the business of film production. It was a new learning experience."
Duke Performances produced 45 online shows between April of 2020 and May of 2021.
Plans call for in-person shows resuming during the fall semester.
What aspect of work is she most proud of during these challenging times: Duke Performances replaced its popular "Music in the Gardens" series, at Sarah P. Duke Gardens, with the virtual "Music in Your Gardens" concert series.
Despres and Sibyl Kemp, artist services and engagement coordinator for Duke Performances, produced eight shows for the series which aired on Duke Performance's YouTube channel.
"It was a great time," Despres said. "We were able to do something that felt normal and put money in the pockets of local artists."
What does she love about working from home: Despres spends time with her three dogs, Nathaniel, a 12-year-old mix; Esther, a 10-year-old mix; and Steve, a 2-year-old mix.
She and her husband, Ryan, rescued the dogs from animal shelters in Durham, Orange and Wake counties.
"I call them my work-from-home associates," Despres said. "They stare at me if I don't take a break."
TV show or series that has gotten her through: Despres watches "Call My Agent!," a French comedy about a talent agency in Paris.
"It's very applicable to my work in music as you get all of these unique and challenging personalities," she said.
Lesson learned during COVID-19: Focus on the present.
Since friends and family visits were much more sporadic in 2020, Despres deeply appreciated the company of loved ones.
"We're always thinking about what's next," Despres said. "Well, I don't know what's going to happen with the pandemic. I need to let that go and focus on the great moments I can have."
Something most people don't know about her: Despres lived in New Orleans and worked for the New Orleans Jazz and Heritage Festival.
How are you working in a new normal? Tell us about it or nominate a colleague by writing to us or completing this story idea form