Six New Bass Fellows Honored for Excellence in Research and Outstanding Undergraduate Teaching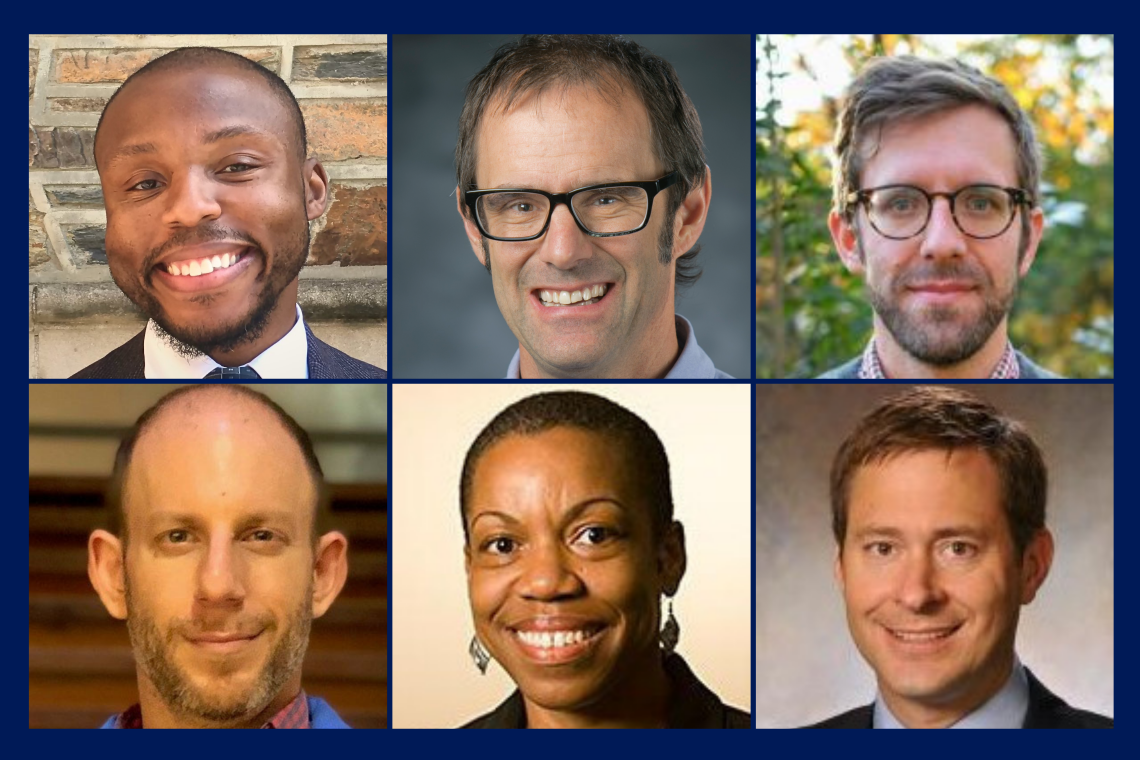 Six Duke professors who have demonstrated excellence both in research and undergraduate education have been selected as the 2021 Bass Fellows.
"These Bass Scholars blend scholarly excellence with a commitment to the transformative power of faculty-student engagement, said Gary Bennett, vice provost for undergraduate education. "Their ingenuity, creativity and commitment are exemplary, and we Duke faculty are fortunate to have them as colleagues and exemplars. "
The chairs were created in 1996 when Anne T. and Robert Bass gave $10 million as a matching gift to encourage Duke alumni, parents and friends to endow the positions. Candidates are nominated by faculty and evaluated by a faculty committee for having achieved "true excellence in both research and teaching" and being good university citizens. Bass professors hold their named chairs for five-year terms and then become lifetime members of the Bass Society of Fellows, which now numbers 112. 
The new members are as follows:
PRATT SCHOOL OF ENGINEERING
Mike Bergin, Sternberg Family Professor of Civil and Environmental Engineering, effective July 1, 2021
Bergin's research has focused on understanding factors influencing the level of air particulates and their impact on health. His courses expose students to field conditions for particulate assessment. Bergin participates in a large number of international collaborations, from which students benefit, both culturally and scientifically. He has taught upper-level courses in civil and environmental engineering. He also created an undergraduate elective and taught sections of EGR 101, a new first-year design course in which faculty members mentor several teams of students.  
Joel Collier, Theodore Kennedy Professor of Biomedical Engineering, effective July 1, 2021
Collier's specialty is in immune engineering, a new but rapidly growing field in which bioengineering approaches are used to modulate the immune system. He has made important contributions in self-assembling peptides and their application in vaccine development and cell delivery, particularly relevant in the COVID19 pandemic. In addition to his impressive research record, he has worked tirelessly to improve the department's student experience, supporting student-initiated efforts to discuss the impact of social issues on student life and strengthening the undergraduate and graduate biomaterials curriculum with the creation of two well-received courses he created.
ARTS & SCIENCES
Lamonte Aidoo, Kiser Family Associate Professor of Romance Studies, effective July 1, 2021
Aidoo complements his publications with innovations in teaching that are dedicated to equity and inclusion. Whether teaching a first-year seminar on "Race and Slavery in Brazilian History and Society," or establishing a new institutional framework for African languages, Aidoo provides students with transformational learning experiences that expose them to the challenging lives of marginalized communities in the African diaspora. His efforts have attracted new students to Romance Studies, enhancing its mission to foster a diverse and inclusive teaching and learning community.
James Chappel, Gilhuly Family Associate Professor of History, effective July 1, 2021.  
Chappel specializes in the intellectual history of modern Europe, with a focus on religion, welfare, and the family. His current book project is on the history of old age, and old age policy, in the 20th century. His approach to course design and mentoring reflects his commitment to engaging students from a diverse set of backgrounds and interests. Chappel's new course, "History of the Present," created with Cecilia Márquez (also in history), gives students the tools to think historically about their own lifetimes. He is an exceptional mentor, known for inspiring students and for designing innovative assignments. 
Charmaine Royal, Robert O. Keohane Professor of African & African American Studies, effective July 1, 2021
Royal also holds appointments in Biology, Global Health, and Family Medicine & Community Health and directs the Duke Center on Genomics, Race, Identity, Difference and the Duke Center for Truth, Racial Healing & Transformation. She studies ethical, social, scientific, and clinical issues in genetics and genomics, especially as they pertain to African and African Diaspora populations; intersections of race, ethnicity, ancestry, and genetics; and genomics and global health. Royal has been named among the top 5% of instructors in Trinity. Her highly popular signature course, "Race, Genomics, and Society," is one of the very few Duke courses to offer credit in both natural science and social science. 
Harris Solomon, Fred W. Shaffer Associate Professor of Cultural Anthropology and Global Health, effective July 1, 2021
An award-winning medical anthropologist, Solomon holds appointments in the Department of Cultural Anthropology and the Duke Global Health Institute. His undergraduate courses address the social dimensions of medicine and health, and he also teaches CA 101, Introduction to Cultural Anthropology. As many of his students embark on health careers, his courses invite students to reflect on the complex ties between public health, medicine, and social inequality that ground his research in India and the United States. Solomon was a recipient of the Robert B. Cox Teaching Award in Trinity College and is among the top 5% of Trinity instructors based on teaching evaluations. 
For more information, visit the Bass Fellows website.