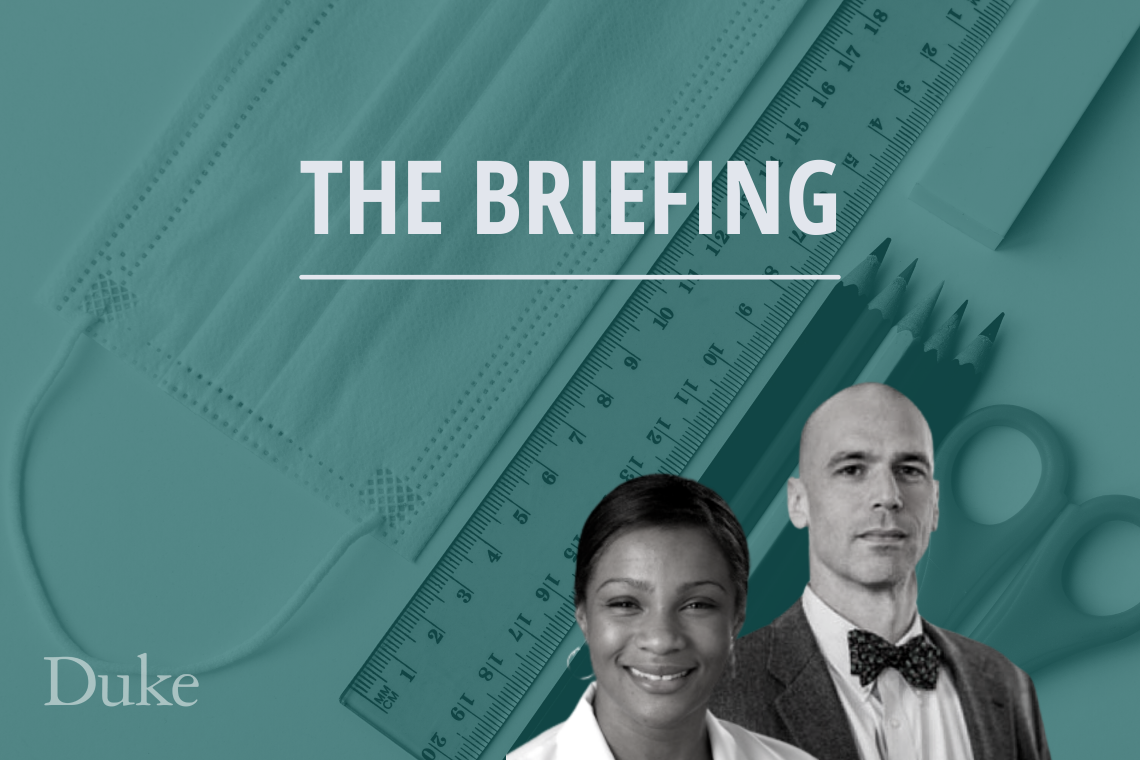 DURHAM, N.C. -- The widespread use of masks in schools can effectively prevent COVID-19 transmission and provide a safe learning environment, two Duke scholars said Wednesday.
Danny Benjamin, M.D., and Kanecia Zimmerman, M.D., were co-chairs of the Duke-led ABC Science Collaborative, which issued a new report Wednesday showing that North Carolina schools were highly successful in preventing the transmission of COVID-19 within school buildings.
The report found in part that masks effectively prevented COVID-19 transmission even without physical distancing in schools and on buses.
Benjamin and Zimmerman spoke to reporters Wednesday in a virtual media briefing. Watch the briefing on YouTube. Read a news story about the collaborative's findings on Duke Health's website.
Here are excerpts:
ON WHAT RESEARCH SUGGESTS FOR SCHOOL THIS FALL
Danny Benjamin
"North Carolina school districts, K-12 education and the charter schools, did an outstanding job of preventing COVID-19 transmission in schools."
"With masking, the schools clearly can safely deliver face-to-face education for children and adults. They can have one, two or three children (per seat) on the school buses. The amount of distancing, whether it's less than 6 feet, less than 3 feet or no distancing at all, it didn't make any difference at all … providing there was masking in place."
"This means that we don't have to close schools again. We don't have to have remote instruction. We've got tools that will keep children and adults safe in schools."
Kanecia Zimmerman
"We studied districts that had 6 feet of distancing between students; 3 to 6 feet of distancing between students; and then less than 3 feet of distancing between students. Even on buses where there were one, two or three children to a bus seat. There were no differences between those three distinctions in distance. So this suggests we can have full in-person instruction with masking in place."
"With masking in place, the secondary attack rate is really, really low. We can be successful. We don't need to go back to remote education. We have tools in our toolbox in order to move forward."
ON WHETHER QUARANTINING SCHOOL CHILDREN WORKS
Kanecia Zimmerman
"In the mask-on-mask environment, kids who are coming in contact with a positive person are having to quarantine for a substantial period of time. That means collectively in North Carolina we had more than 40,000 people who had to quarantine during the 10 to 12 weeks (of our study). More than 40,000 people is hundreds of thousands of school days that have been missed because of quarantine. And yet the benefit that we're seeing is nil. It is very minimal transmission, therefore the risk to go to enhanced community spread really isn't there. So we have missed school days without the benefit of actually controlling spread. This is something that I think we should think very carefully about as we move forward."
ON MASKS AND ATHLETICS
Kanecia Zimmerman
"Athletics, particularly indoor athletics, can be a higher risk environment than the outdoor space.  We need specific policies in place in order to protect athletes. Vaccination is extremely effective, as is masking."
ON KIDS, ANXIETY AND SCHOOL THIS FALL
Danny Benjamin
"Some of the children are going to be anxious. The way we approach that kind of anxiety in our house – and we have four children – is if the adults will treat this as an adventure and if the adults will treat this as something that is fun and an opportunity, the children tend to respond better to that. For the older children, of course, the opportunity to be vaccinated right now really does provide a safe environment regardless of where the children might be. For the younger children, that's a more nuanced discussion around what they might be seeing at school. But we know from the past 10 to 12 weeks that North Carolina is fully capable of preventing transmission at school."
ON RESEARCH BEYOND NORTH CAROLINA
Kanecia Zimmerman
"There are data from Missouri and data from Utah where people have had 3 feet or no feet of distancing between children. They had masking mandates in place and were very successful in preventing transmission. This is in a setting of consistent testing of those exposed. The same data from Wisconsin, from Missouri … people have been extremely successful."
ON WHETHER KIDS 12 AND OLDER SHOULD WEAR MASKS IN SCHOOL
Danny Benjamin
"We don't have data from within North Carolina as to whether or not, in school in K-12, what happens when children are not masked. In other environments, however, if people are vaccinated, they are safe indoors. The vaccine brings the transmission down dramatically. For people who get infected, the rate of severe disease is reduced 90 to 95 percent. To give some context to this, a vaccinated child or adult … it's safer for them indoors than it is for them to be around someone who has influenza. The vaccine is extraordinarily effective and makes life extraordinarily safe as it relates to COVID."
ON MASK EFFECTIVENESS
Danny Benjamin
"In the mask-on-mask environment … the risk of death from acquiring COVID and dying from it in North Carolina this past year was less than the risk of riding to school in your parent's automobile. We can effectively prevent morbidity and mortality from this disease, full stop. We have that capability."
ON HOW TO GET KIDS BACK TO SCHOOL
Kanecia Zimmerman
"We know that if our goal is to reduce transmission of COVID-19 in schools, there are two effective ways to do that. 1: Vaccination. 2: Masking. In the setting of schools … the science suggests masking can be extremely effective, particularly for those who can't get vaccinated while COVID-19 is still circulating."
ON WORKING WITH POLICYMAKERS
Danny Benjamin
"It's our privilege as a research group to partner with the state of North Carolina. It's ultimately the policymakers of the state that make those decisions. They've got a lot of other things to consider other than just the findings we have in order to make the decisions that they need to make. Legislators from both sides of the aisle … and the House and the Senate, the governor's office, DHHS, DPI, this is a state that has done an outstanding job – an outstanding job - with K-12 education as far as it relates to COVID-19. To my eye, we've done it better than any other state in the country. Our policymakers to date have done a phenomenal job in the toolkits and the legislation they put together that was bipartisan."
Faculty Participants
Danny Benjamin, M.D.
Danny Benjamin, M.D., is a professor of pediatrics in the Duke School of Medicine and chair of the National Institute of Child Health and Human Development's Pediatric Trials Network.
Kanecia Zimmerman, M.D.
Kanecia Zimmerman, M.D., is an associate professor of pediatrics in the Division of Critical Care Medicine at Duke University Medical Center. She is co-leading a pilot project funded by the National Institutes of Health studying the safe reopening of schools.