Getting the Job Done in Unique Workspaces
Duke staff and faculty get creative with their home offices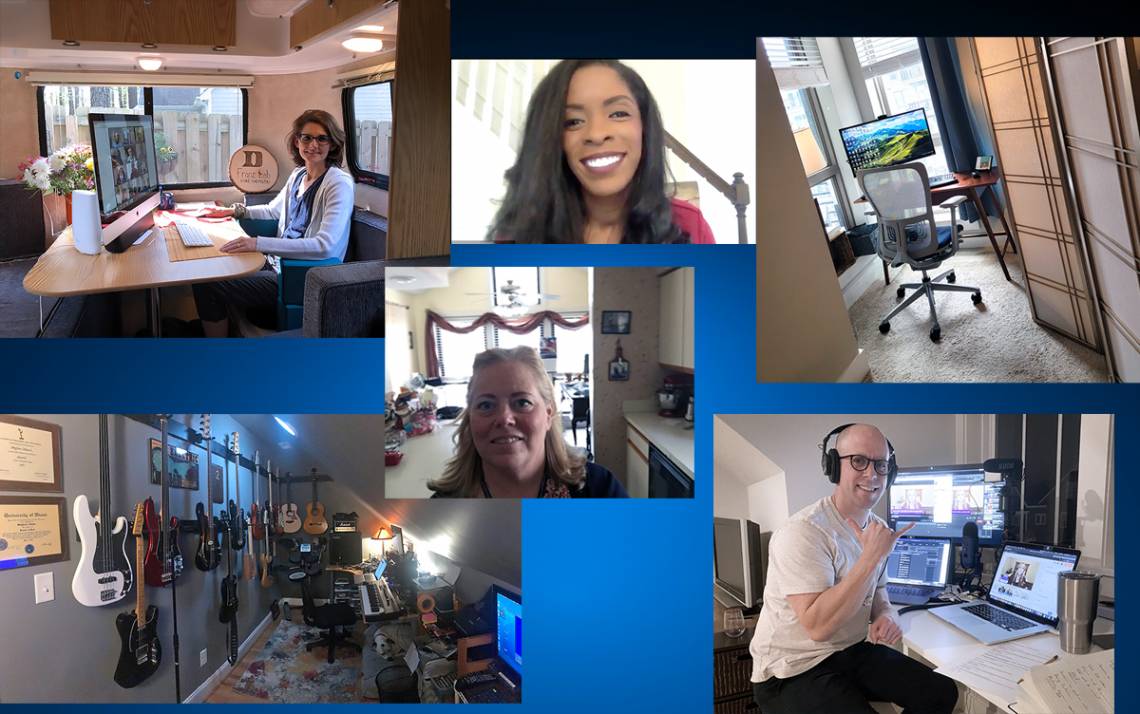 For most of her 35 years at Duke, Joan Albright worked in interior office on the medical campus with little or no natural light. A few years ago, when she ended up in an office with a window in an office building downtown, she was thrilled.
And when the COVID-19 pandemic forced Albright to work from home, she wasn't ready to give up on working in sunshine, so instead of setting up her home office in a spare bedroom of her condo, she's spent the past year working from her kitchen, where big windows face south and flood the space with light.
"I love it," said Albright, a clinical research associate with Duke Clinical Research Institute. "It's a great spot."
With the pandemic shifting thousands of Duke staff and faculty off-site for work, each colleague has figured out where to set up their home workspace. In many cases, spare bedrooms or existing home offices made the transition simple. But for plenty of Duke employees, finding the right spot has required creative thinking.
Albright moved a small table out of her kitchen and replaced it with a desk for two computer monitors.
"I tend to notice dirty dishes more," she added. "It's hard not to just get up and wash them."
From playrooms to campers, there are plenty more unique spots where colleagues have been working during the pandemic.
Some Work, Some Play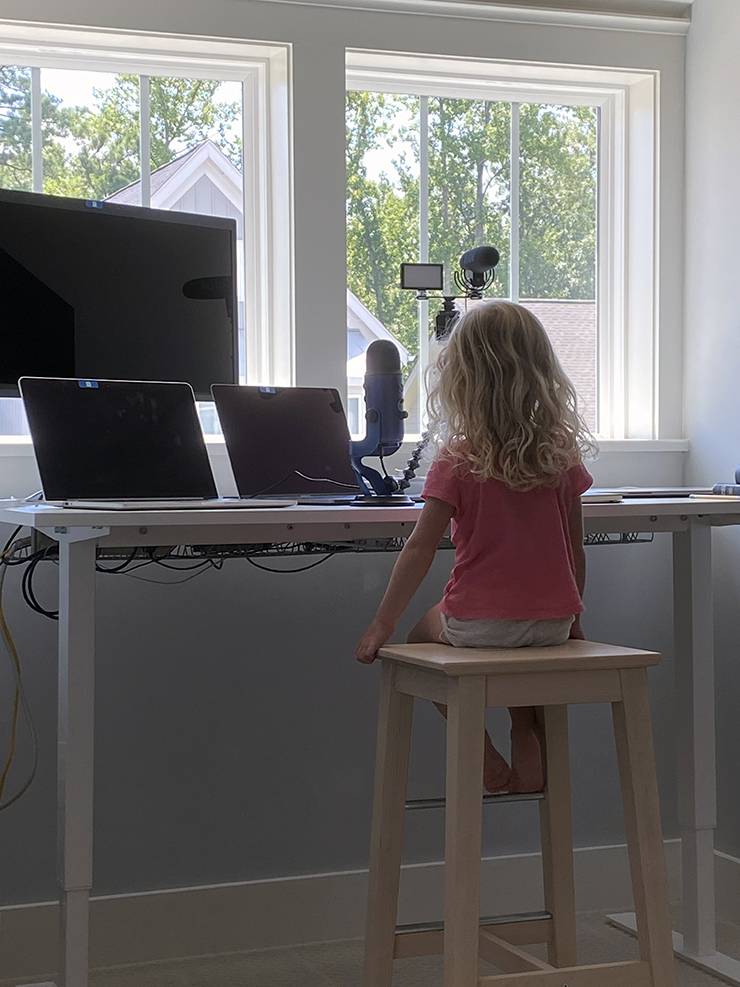 The home workspace of Jason Van Sant, an IT analyst with the Fuqua School of Business, has a stand-up desk, a computer, a microphone and a light. Also nearby, he's got several stuffed animals, a karaoke machine, a ukulele and a table often covered in crayons.
Prior to the pandemic, the room above the garage in the Van Sant's Chapel Hill home was the playroom of 5-year-old daughter Sophie. But since the pandemic began, Van Sant has set up in one part of it to make his home office.
"It can be a little bit of a challenge when I'm here, and she's here with me, but for the most part, I can get done everything I need to get done while she's coloring and doing her thing," Van Sant said. "That's pretty awesome."
Van Sant is used to working in unorthodox spots in his house. Before he had technicians fix a quirk in the home wiring, the only place he could get a truly reliable internet connection was in the laundry room. When he'd run Fuqua's LinkedIn Live events – live-streamed conversations with Fuqua faculty and business leaders – he worked from the laundry room.
But with the wiring issue fixed, there's no need to leave his spot in Sophie's playroom.
Making the Most of a Small Space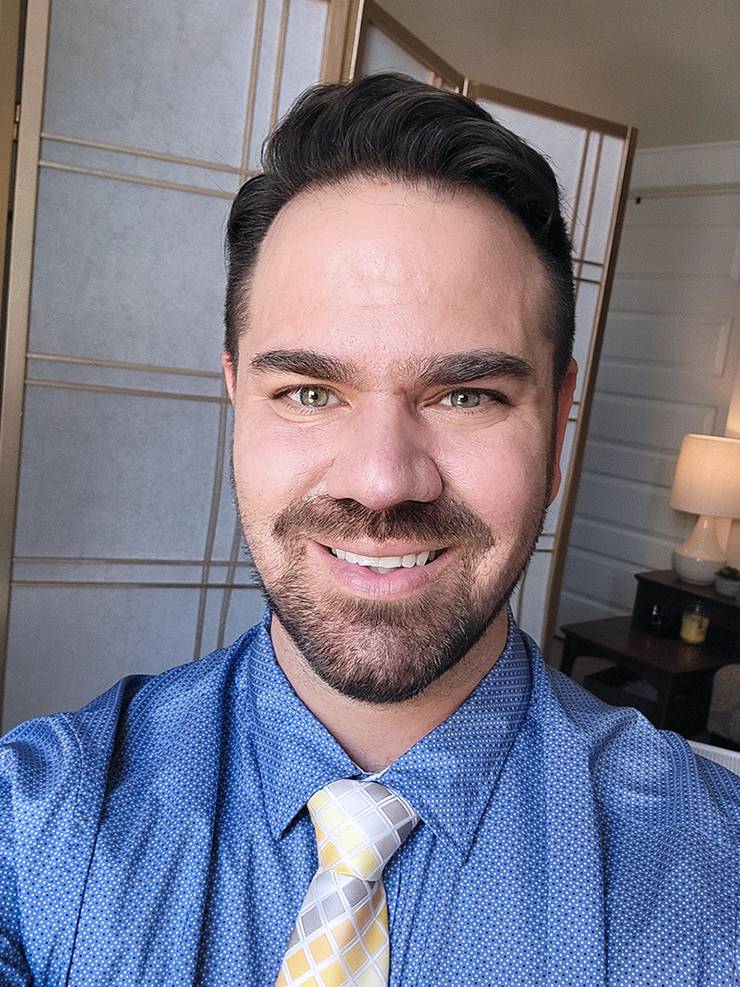 Just before the pandemic hit in early 2020, Scott Behm, director of communications for the Department of Surgery, moved from south Durham to a one-bedroom apartment in downtown Durham, in part, so he could be closer to his Erwin Square office and Duke's campus.
"Literally the week that I moved, everything shut down," said Behm, who has worked remotely since the pandemic began.
Facing the challenge of carving a workspace out of an 850-square foot apartment, Behm eventually figured out a way to get a degree of physical separation from his work and life.
Behm does his work from a tidy desk in a corner of his bedroom near a window. With much of his day on Zoom – and without a desire to have a backdrop of his bed – Behm bought a four-panel paper screen. By setting it up behind him, he's got a clean background.
"It kind of separates my field of vision from my bedroom to where I'm sitting," Behm said. "And then, when I finish the day, I turn off my computer, and I close the screen, which opens up the room again. So there's like a mental separation."
A Perfect Setting
Early on in the pandemic, Deondra Rose, assistant professor at the Sanford School of Public Policy, set up a small workspace in the spare bedroom of her Durham home. It had a window and a desk, but she quickly realized it didn't work for her.
Instead, she discovered that the spot in her house that suited her best was her dining room, where she could have her laptop on the table, organize papers in neat stacks and take advantage of the best light in the house.
"It's a place I would work very comfortably at home either way, but it really has become the place where, if I have a Zoom meeting, that's the location," Rose said.
Her days are filled with Zoom-based courses to teach, meetings to attend and events. Having plenty of light, from windows and fixtures, and a clean-but-not-boring background with a staircase ascending over her shoulder is a plus.
"It's helpful to have that go-to place," Rose said. "If there's one thing I don't have to worry about, it's the lighting the sound. And it's the spot in the house where I feel most alert, comfortable and have the space that I need."
In Tune with Remote Work
During Zoom calls, if a colleague asks if the wall of guitars behind Steve Toback is real, or simply a fun virtual background, Toback loves to respond by reaching behind him, pulling down either the Gibson SG, the 1978 Fender Stratocaster or replica of Eddie Van Halen's iconic "Frankie," and playing a few licks.
"People always ask about it," Toback said.
Back in November, Toback, a media architect and senior producer for academic media production for the Office of Information Technology, moved to his current home in Fuquay-Varina. On the second floor, there was a long, narrow room with an angled ceiling that didn't make sense to be a bedroom, but ended up being perfect for Toback's studio and workspace.
Computers line one wall and wall-mounts for his 15 guitars spread across two others.
"If I'm really stressed, I can just grab a guitar, play for two seconds, and put it back," Toback said. "It's a blessing."
Among the other features of Toback's workspace are the favorite hiding spots of the family's dogs Sugar, Sheena and Sherlock under the desk, a set of electronic drums and a small Marshall tube amp that easily floods the space with sound.
When he's not working on the Academic Media and Production team helping faculty and staff with video projects or tools, Toback uses his workspace – and a smaller studio in a nearby converted closet – to put together music projects. He recently recorded this piece with musicians from around the country.
"One thing that's hard is that my workspace is my play space," Toback said. "Sometimes I don't leave this room for hours."
Office on Wheels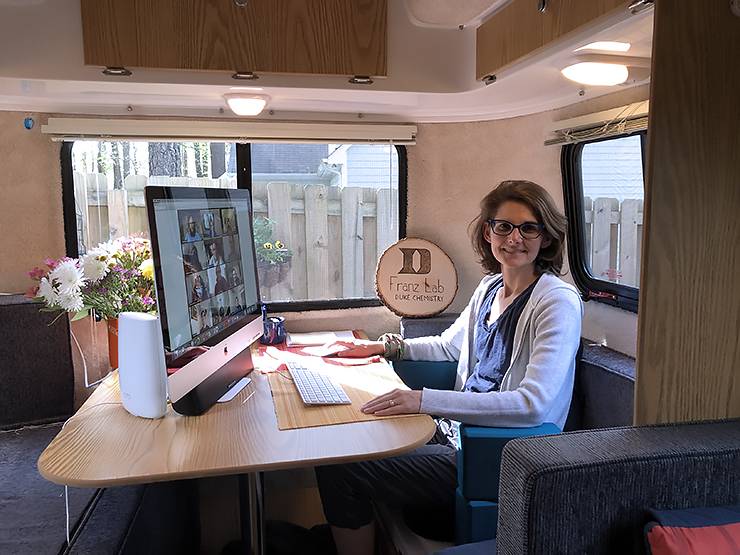 Over Easter weekend, Kathy Franz and her family took their 17-foot Casita camper to the Smoky Mountains for a short getaway. But before they hooked the trailer up and headed west, Franz, the chair of the Department of Chemistry, had to remove the computer monitors, office supplies and files that had been in there for much of the past year because the camper has become her cozy and functional backyard office.
"At first it was kind of a joke, but then it was like 'actually this works OK,'" said Franz, who works at home alongside her husband and two school-age children. "This provides another room in the house. When we realized we were going to be in this for the long haul, it made sense to set up some good work spaces."
Franz has found ways to make the space more comfortable by bringing in a space heater and electric blanket during the coldest days of winter and using ergonomic cushions and yoga blocks to turn the camper's bench into a comfortable place to sit. She's also added paver stones and birdfeeders to make the setting around the camper inviting.
"Now when I go to the office, I take my laptop and that's more mobile-feeling than at working here," Franz said. "Right now, I'm more set-up at home than I am in the office."
The Franz family has still used the camper for its intended purpose, taking trips last summer to Kerr Lake and the North Carolina mountains. But as a home office, the camper has helped everyone get the space they need.
"We joke that we got it as an investment in the family," Franz said. "We thought, if we got it, maybe we'd spend some good quality family time together, but we had no idea."
If you have your own unique remote workspace, tell us about it in the Facebook story below.
Send story ideas, shout-outs and photographs to Working@Duke through our story idea form or write working@duke.edu.