Duke Lemur Center Welcomes Five Infants
Meet the Newest DLC Arrivals Coconut Palm, Clancy, Malala, Atticus and Scout
As part of Baby Week 2021, the Duke Lemur Center has introduced its new arrivals. Most of these species are endangered, and each birth gives hope for the center's mission to advance science and biological conservation.

In addition, the DLC is now accepting tour reservations for the month of June with future dates added later this summer.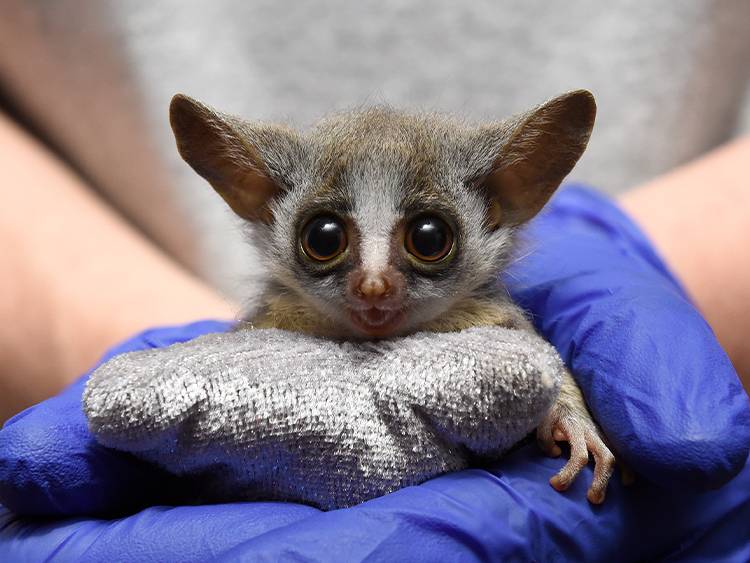 Coconut Palm | Mohol bushbaby
Bright-eyed and bushy-tailed, Coconut Palm is the first Mohol bushbaby (Galago moholi) born at the Duke Lemur Center in more than five years. Coconut Palm was born in the early hours of March 3. Bushbabies are the only non-lemur primate species currently housed at the DLC, so learning how to best care for Mohol bush babies has been a fun project for the center's experienced staff.
---

Clancy — a critically endangered mongoose lemur — was born on April 18 to parents Maddie and Duggan. While other mongoose lemurs born at the DLC have been given Spanish names, Clancy's name, which means "red-haired warrior" — is Scottish in origin to match his father's.
---

With fewer than 40 in human care in North America, every blue-eyed black lemur infant (Eulemur flavifrons) born is cause for celebration, but Malala's birth has an extra level of excitement. As the second offspring of the only pair of lemurs to be imported from Madagascar to the U.S. in 24 years, she joins her older sister Ranomasina as one of the most genetically important lemurs at the DLC. Like the rest of her family, Malala's name is Malagasy — the language of Madagascar — and means "beloved."
---

Atticus and Scout | Ring-Tailed Lemurs
For the first time since 2016, there are baby ring-tailed lemurs at the Duke Lemur Center. Since it has been five years since the last ring-tailed lemur infants, a new species-wide naming theme was established. Current and future ring-tailed lemur infants will be named after literary characters, beginning with these two from the American classic "To Kill a Mockingbird."  
---