Celebrating 90 Years of Nursing Innovation
Duke's School of Nursing evolves to meet the needs of nursing care
When Barbara Turner joined the Duke University School of Nursing faculty in 1993, the school was in the midst of reinventing itself. 
A few years after effectively closing to reshape its degree offerings, the school had 10 faculty members and around 50 students. But, Turner recalls, it had leaders who envisioned big things in the school's future.
"They told us where they saw the school going and that we should come along for the ride," said Turner, the Elizabeth P. Hanes Professor of Nursing and the school's longest-serving current faculty member.
As it celebrates its 90th anniversary this year, the School of Nursing has 92 faculty, 142 staff members and state-of-the-art facilities. It's ranked the #2 best graduate school for nursing and #3 for the best online graduate nursing program by U.S. News & World Report.  
A national leader in education and research, the school built a legacy of innovation, embracing fresh ideas and evolving to meet the needs of the nursing profession. Last year, the school had 1,174 students, $7.28 million in research grants from the National Institutes of Health and 74 graduates hired by Duke Health.
"The school has been around since the 1930s, but it still feels relatively young," said Dean Marion E. Broome, who will retire at the end of June.
Broome will be succeeded on July 1 by new Dean Vincent Guilamo-Ramos, who will be the school's first male and first Hispanic dean.
When the school welcomed its first class of 24 students in 1931, the main mission was to train nurses for the new Duke University Hospital. In the following decades, the school broadened its ambitions.
In response to demand for nurses as World War II approached, the school welcomed 84 new students in 1941, up from 58 the year before. Wartime classes eventually got as large as 121 students.
As health care advances required nurses with more specialized skills, Duke became a pacesetter in graduate education, creating the nation's first Master of Science in Nursing degree meant for clinical nurses instead of nurses bound for teaching roles.
The past several decades have seen the school continue to respond to needs of the nursing profession. To create more highly skilled nurses in rural areas, the school became a pioneer in online distance education in the 1990s, which paid off during the pandemic when the school needed to deliver world-class educational experiences online.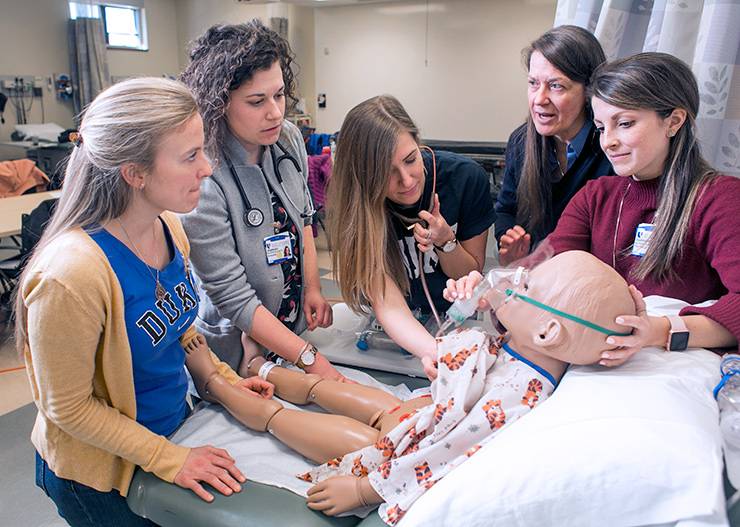 And to address a nationwide nursing shortage, the school added the 16-month Accelerated Bachelor of Science in Nursing program in 2003, opening up the profession to people with varied educational backgrounds. 
"To be where we are now, it's amazing," said Turner, the school's longest-serving current faculty member. "If you've got faculty and staff committed to a mission, anything can happen." 
Send story ideas, shout-outs and photographs through our story idea form or write working@duke.edu.