Duke Gardens to Reopen to Public on June 1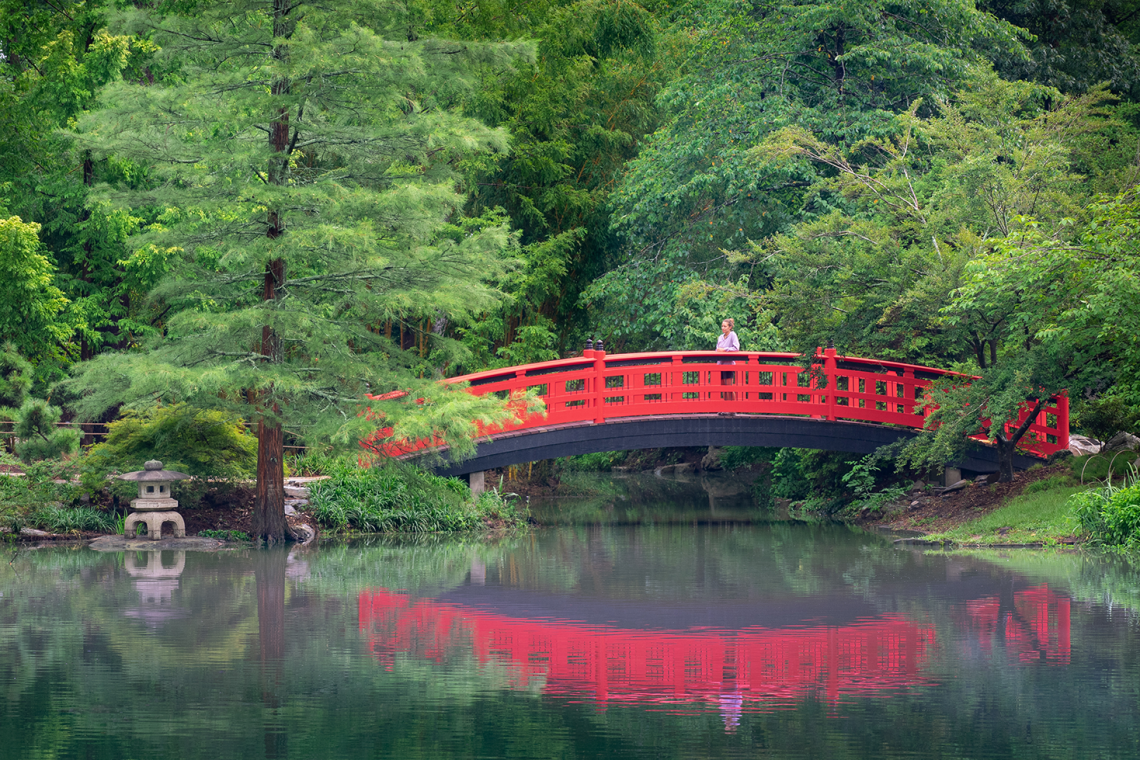 Sarah P. Duke Gardens will reopen to the public with a limited capacity beginning on June 1. The Gardens will be open to visitors daily from 8 a.m. to dusk. But parking will only be available in the Gardens' parking lot, with no weekend overflow available in nearby university lots. No buses, limousines or group visits can be accommodated in this phase.
This phase 2 reopening follows a closure of more than a year due to the COVID-19 pandemic, and a phase 1 reopening that began April 1, in which Duke students, faculty and staff have been able to visit during limited hours.
"We are excited to be able to welcome visitors to spend time in the beauty and serenity of Duke Gardens once again," said executive director Bill LeFevre, who worked with Duke University administrators to determine when and how to reopen as safely as possible.
Reducing capacity is a critical factor for everyone's health and safety during the pandemic. In a normal year, more than 600,000 visitors flock to the Gardens, and even the widest paths can be extremely crowded at peak times. Many of the Gardens' paths are only 2 to 4 feet wide, so maintaining social distance is extremely challenging, if not impossible.
Parking frequently reaches capacity on weekends. We urge phase 2 visitors to consider weekday visits or make flexible plans. People using public transportation or walking may enter through the main gate on Anderson Street or through any of the Gardens' pedestrian gates.
Visitors should still strive to maintain a 6-foot or greater social distance from other people or groups. But they will not be required to wear face coverings unless they are in a crowded area where they cannot maintain a safe distance from other visitors. Masks are also required in all restrooms, per Duke University's updated mask guidelines.
Visitors should plan to bring water or other drinks, since the vending machine will not be functioning, and the Terrace Café and Terrace Shop will not be open. The Doris Duke Center will also be closed, aside from its restrooms during limited hours.
Duke Gardens is unable to offer walking or trolley tours during phase 2, or any public events or gatherings. But online classes and other programs will continue.
"We appreciate how patient and understanding the public and our members and Gardens supporters have been during our closure," LeFevre said. "We know it has been frustrating to be unable to experience the changing seasons in person. But we look forward to sharing late spring and summer's many attributes, as well as some lovely new features added in the past year."
Duke Gardens will host several preview days by appointment for members and supporters preceding the June 1 opening. Read more about Gardens membership here.
Phase 1 access for Duke students, faculty and staff will continue through May, but timed tickets will no longer be required. The phase 1 hours will remain 10 a.m. to 4 p.m. Thursday through Sunday, with entry solely at the Memorial Gate on Flowers Drive. Visitors must bring their current Duke IDs to enter.
Duke Gardens is also grateful to be able to welcome back its volunteers, who provide valuable assistance with visitor services, horticulture and other critical tasks.
The reopening date and details are subject to change on short notice, as with all plans and policies during this unpredictable pandemic period.
Know Before You Go
Parking will be limited to the Gardens' lots, to control capacity during phase 2. There will be no weekend overflow parking. No buses or limousines can be accommodated in this phase.
Please bear in mind that attendance may be very high in the initial weeks of this reopening, and consider a weekday visit if you are able.
Please maintain a 6-foot distance from other visitors and Gardens staff at all times.
Visitors must use face coverings in the restrooms and when social distancing is not possible due to crowded outdoor areas.
Hand sanitizer stations are located throughout the Gardens. Please use them after touching handrails or other surfaces.
Restrooms located in the Terrace Gardens and Culberson Asiatic Arboretum will be open during limited hours. The Doris Duke Center restrooms will also be open. But the rest of the visitor center, as well as the gift shop and café, will remain closed.
Dog-walking is welcome before 10 a.m. or after 5 p.m. Dogs must remain on a leash 6 feet or shorter. More information here.
Bicycles will not be permitted inside the Gardens at this time. Bicycle racks are available in the main parking lot or at the Memorial Gate on Flowers Drive.
University parking at Duke Gardens is $2/hour. Please see this page for more information.