Retired Massachusetts Supreme Judicial Court Chief Justice Margaret H. Marshall to Receive Bolch Prize for the Rule Of Law
From protesting apartheid in her native South Africa to becoming first woman chief justice in Massachusetts, Marshall has been an influential voice in U.S. courts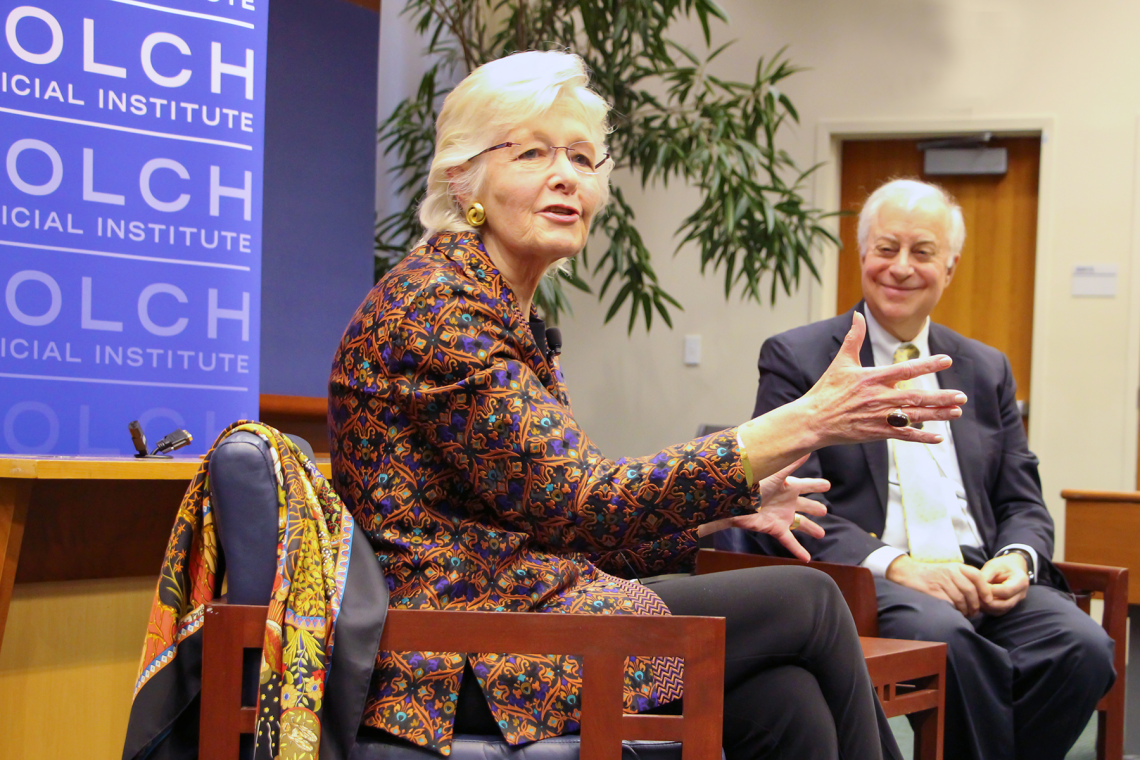 Margaret H. Marshall, a lifelong advocate for equality, justice, and the rule of law, will receive the 2021 Bolch Prize for the Rule of Law.
Marshall helped organize student protests against apartheid as a young woman in her native South Africa before emigrating to the United States and embarking on a career as a lawyer, later becoming the first woman chief justice of the Massachusetts Supreme Judicial Court. Her opinion in the groundbreaking decision in Goodridge v. Department of Public Health in 2003, which held that the Massachusetts Constitution prohibits the state from denying same-sex couples access to civil marriage, made the state the first to legalize gay marriage and laid the groundwork for a sea change in attitudes and law across the United States.
"Chief Justice Marshall is an extraordinary example of someone who has quietly and persistently worked to uphold the rule of law," said David F. Levi, director of the Bolch Judicial Institute at Duke Law School, which awards the prize. "Having witnessed and fought against the devastating injustices of apartheid, she has a deep sense of the ways in which the law can be used either to undermine or to protect equal treatment. She has dedicated her life to ensuring that the law in substance and administration promotes justice for all. Her example on and off the bench has inspired judges and lawyers in this country and in South Africa."
The Bolch Prize is awarded annually to an individual or organization who has demonstrated extraordinary dedication to the rule of law and advancing rule of law principles around the world. The recipient is selected by the Bolch Judicial Institute's Advisory Board. The prize includes a custom artwork and a significant monetary award. The first prize was awarded in 2019 to Supreme Court Justice Anthony M. Kennedy (retired).
Marshall will be honored during a prize ceremony program to be broadcast online in June. The recipient of the 2020 Bolch Prize, Dikgang Moseneke, former deputy chief justice of the Constitutional Court of South Africa, will also be honored during the broadcast. Details about the program will be available later this spring.
Born and raised in South Africa, Marshall obtained her baccalaureate from the University of the Witwatersrand in Johannesburg. While an undergraduate, she was elected president of the National Union of South African Students, a leading anti-apartheid organization at the time.
As a student, she would attend the trials of opponents of apartheid to "bear witness" to the injustices they faced under a corrupt legal system. She helped provide transportation so that families could visit loved ones incarcerated as political prisoners, many of whom, including Nelson Mandela and Dikgang Moseneke, were imprisoned for decades.
Marshall came to the United States in 1968 to pursue graduate studies at Harvard. She became a U.S. citizen in 1978 and obtained a master's degree from Harvard and a law degree from Yale. She practiced law for 16 years in Boston and became a partner in the Boston firm of Choate, Hall & Stewart.
In 1992, she was appointed vice president and general counsel of Harvard University, the first woman to hold that position. In 1996, Gov. Weld named her an associate justice of the Supreme Judicial Court of Massachusetts, the oldest continuously serving appellate court in the Western Hemisphere; in 1999 she became the first woman to serve as chief justice of that court.
"It was my distinct honor to appoint Margaret Marshall as a justice of the Supreme Judicial Court of Massachusetts, where she went on to be a great and long-serving chief justice — in fact, a breakthrough jurist on due process and equal protection issues specifically," said Bill Weld, who served as governor of Massachusetts from 1990 to 1998.
Her 2003 opinion in Goodridge v. Department of Public Health made global headlines, sparking both criticism and praise. While some states moved to bar same-sex marriage after Goodridge, public opinion began to shift in support of same-sex marriage and several other states moved to legalize it. In 2015, the U.S. Supreme Court extended the right to same-sex marriage to all U.S. states and territories in Obergefell v. Hodges.
"Chief Justice Marshall stands high in the ranks of internationally renowned jurists," said Justice Edwin Cameron, a retired justice of the Constitutional Court of South Africa. "Her stout-hearted defense of reason, justice, equality and fairness is crucial in these perilous times — not only in her country of birth, South Africa, but in her adopted United States of America. As a proudly gay man, I can never forget the awed admiration I felt when, for a sharply divided court, she handed down her eloquent judicial affirmation, the first ever of the right to equal marriage for LGBTIQ people. That tiny fragment of her courageous legacy well encapsulated the unflinching whole."