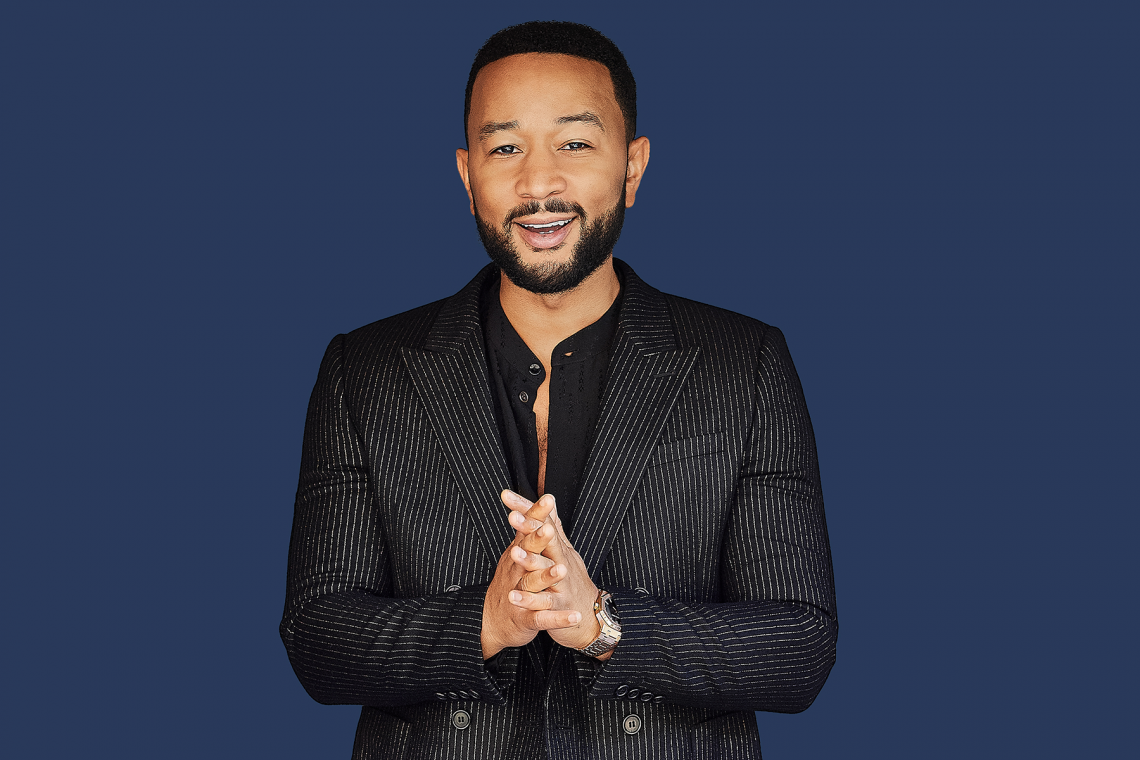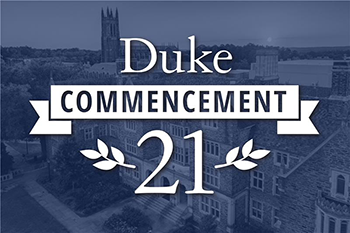 Multiplatinum-selling singer-songwriter, actor, producer and philanthropist John Legend will deliver Duke University's undergraduate commencement address Sunday, May 2, in Wallace Wade Stadium, President Vincent Price announced Tuesday. Duke will also award Legend an honorary degree during the ceremony.
It will be a return to Duke for Legend, who performed on campus alongside Kanye West during the 2004 last day of classes (LDOC) concert. The first African-American man to achieve "EGOT" distinction, having earned Emmy, Grammy, Oscar and Tony awards, Legend is also an active philanthropist and supporter of criminal justice reform.
"We are thrilled to have John Legend serve as our speaker at undergraduate commencement—and to have such an extraordinary group of honorary degree recipients, each of whom have made transformational contributions to our understanding of the world," said Price. "I know that their example will excite and inspire our graduates, and I look forward to welcoming them on May 2."
Legend's single "All of Me" from the 2013 album Love in the Future was a Billboard No. 1 hit and is currently tied as the highest certified track in the history of the Recording Industry Association of America.
Beyond his performing career, Legend is a principal of Get Lifted Film Co. and has been featured as a coach on The Voice since 2019. In 2015, he founded the nonprofit FREEAMERICA, a campaign to transform America's criminal justice system and amplify the conversation about mass incarceration at the local, state, and national levels.
Legend serves on the boards of directors of Harlem Village Academies and Management Leadership for Tomorrow, and on the advisory boards of the Quattrone Center for the Fair Administration of Justice at the University of Pennsylvania Carey Law School and Teach for All.
A native of Springfield, Ohio, Legend graduated from the University of Pennsylvania in 1999 with a bachelor's degree in English with an emphasis on African American literature.
Joining Legend in receiving honorary degrees May 2 are four distinguished individuals who have devoted their careers to advocating for civil rights, addressing domestic violence, advancing African American history and protecting the environment. 
President Price will also present honorary degrees to civil rights leader and activist Barbara Arnwine; Johns Hopkins University School of Nursing Professor Jacquelyn Campbell; Harvard University Professor of History and of African and African American Studies Evelyn Brooks Higginbotham; and former Administrator of the U.S. Environmental Protection Agency William K. Reilly.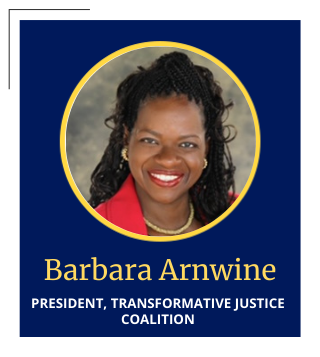 Barbara R. Arnwine, president and founder of the Transformative Justice Coalition, is internationally renowned for her contributions to critical justice issues including the passage of the landmark Civil Rights Act of 1991 and the 2006 reauthorization of provisions of the Voting Rights Act. Her work also includes women's rights, immigrant rights, judicial diversity, criminal justice reform, racial profiling, health care disparities and LGBTQIA rights.
A prominent leader in the civil and human rights community, Arnwine continues to fight for the preservation of affirmative action and diversity programs. She serves on the boards of directors of MomsRising and the African American Policy Forum. She also serves as co-chair and facilitator of the National Commission for Voter Justice, the Millennial Votes Matters Convenings and the Voting Rights Alliance. In late 2000, she created the Election Protection Program and in 2011 The Map of Shame of Voter Suppression. 
Arnwine earned a bachelor of arts from Scripps College and a juris doctor from Duke University Law School, where she was one of the first African-American female students. 
After graduating from Duke, she worked on affirmative action policies and helped open new legal aid programs throughout North Carolina. Later, Arnwine became the executive director of the national Lawyers' Committee for Civil Rights Under Law, a group founded by John F. Kennedy. Her concern for women's rights, and in particular, the rights of African-American women, led her to organize the National Conference on African-American Women and the Law.
Among her awards and honors are the Charles Hamilton Houston Medallion award (with co-honoree Justice Ruth Bader Ginsburg); the Vince Monroe Townsend, Jr., Legends Award; the Feminist Majority Foundation's Fearless Trailblazer Award; the Sojourner Truth, Woman of Truth award, the Gruber International Justice Prize, as well as the Hubert H. Humphrey Civil and Human Rights Award from the Leadership Conference on Civil and Human Rights. In recognition of her nationwide work to protect the voting rights of voters of color, in 2020 she was awarded the National Bar Association's 2020 Heman Sweatt Award and the SCLC of Southern California's 2021 Rosa Parks Award. 
Arnwine has served as the Charles Hamilton Chair for the North Carolina Central University School of Law and has also taught at Columbia University School of Law and the University of California Los Angeles School of Law. Since 1994 she has served on the Duke Law School Board of Visitors (currently as an honorary life member) and in 2011 she received the school's Charles S. Murphy Award, which honors a graduate's commitment to the common good through work in public service or dedication to education.
Jacquelyn Campbell, professor and the Anna D. Wolf Chair at the Johns Hopkins School of Nursing, is a national leader in research, advocacy, and policy in the field of domestic violence or intimate partner violence (IPV). The author or co-author of more than 300 publications and seven books on violence, health outcomes and nursing education, she is frequently sought by policy makers for her expertise regarding the health effects including health inequities of domestic violence on individuals, families and communities.
In 1985, Campbell developed the Danger Assessment, a widely used instrument that helps abused women and their advocates assess a woman's risk of being killed by an abusive partner and informs individual health care actions and safety planning measures.
Campbell was appointed to the U.S. Department of Defense Task Force on Domestic Violence and has testified before Congress and other local and state-level policy organizations. She was a member of the congressionally appointed U.S. Department of Defense Task Force on Domestic Violence.
Well known for her collaboration with other nursing scholars and mentorship of nursing students, Campbell served from 2008 until 2017 as national program director of the Robert Wood Johnson Nurse Faculty Scholars program, providing research funding and leadership training for 60 outstanding junior academic nursing scholars. 
Campbell was elected to the National Academy of Medicine in 2000 and has been recognized with numerous awards and honors. The Duke School of Nursing has recognized her with the Contributions to Nursing Science Award, Outstanding Alumna Award and the Harriet Cook Carter annual lectureship.
Campbell earned a bachelor of science in nursing from Duke, followed by a master of science in nursing from Wright State University and doctor of philosophy from the University of Rochester.
She is a member of the board of directors of Futures Without Violence, is an active member of the Johns Hopkins Women's Health Research Group, and has served on the boards of five shelters including the House of Ruth Battered Women's Shelter.
Campbell's daughter Christina (Campbell) Endrud T'95, son-in-law Nikolas Endrud E'95, and son Bradley Campbell T'97 are all Duke graduates, and her granddaughter Grace Endrud is a current Duke undergraduate student (class of 2024).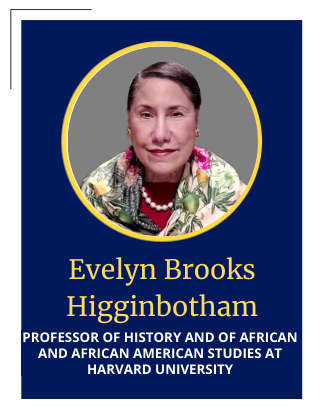 Evelyn Brooks Higginbotham is the Victor S. Thomas Professor of History and of African and African American Studies at Harvard University, where she has been a tenured faculty member since 1993. From 2006 until 2013 she chaired the university's Department of African and African American Studies, and in that role founded and coordinated its Social Engagement Initiative.
From 2018 until 2020, she chaired Harvard's History Department, the first African American to hold this position.
A leader in African-American history, Higginbotham is the national president of the Association for the Study of African American Life and History, which was founded in 1915 by Carter G. Woodson, known today as the "Father of Black History." Higginbotham began her teaching career as a public-school teacher in Milwaukee, Wis., and in Washington, DC, before moving to the university setting. At the special invitation of Duke University, she taught at the Duke Law School during the 2010-2011 academic year as the inaugural Visiting John Hope Franklin Professor of American Legal History.
Higginbotham's writings span the field of African-American history and are inclusive of women's history and religious history. She is noted especially for her two theoretical conceptualizations: "the metalanguage of race" and the "politics of respectability." Higginbotham thoroughly revised the classic African American history survey From Slavery to Freedom, which was first published by John Hope Franklin in 1947. She is the co-author with Franklin of this book's ninth edition and most recently the tenth edition, which came out in June 2020.
A pioneering scholar in African-American women's history, she authored the prizewinning book Righteous Discontent: The Women's Movement in the Black Baptist Church 1880-1920. She also co-edited with Henry Louis Gates, Jr., the 12-volume African American National Biography. Most recently her article, "History in the Face of Slavery: A Family Portrait," was featured in January 2021, when she was the honoree of the Winter Family Benefit of the New England Historical Genealogical Society and American Ancestors. Higginbotham received the National Humanities Medal from President Barack Obama in 2015 for "illuminating the African American journey."
William K. Reilly's career has spanned public service, non-governmental organizations, and private sector finance. For more than 20 years he was a senior adviser to TPG Capital, an international investment partnership. During his tenure with TPG, he was the founding partner and CEO of Aqua International Partners, a private equity fund dedicated to investing in companies in the water sector. Before joining TPG, Reilly was the first Payne Visiting Professor at Stanford University.
Reilly served as administrator of the U.S. Environmental Protection Agency from 1989 until 1993, during which time he led efforts to pass a new Clean Air Act and headed the U.S. delegation to the 1992 UN Conference on Environment and Development in Rio de Janeiro.
From 1970 until 1972 Reilly was a senior staff member at the White House Council on Environmental Quality. President Bill Clinton appointed Reilly as a founding trustee of the Presidio Trust of San Francisco. President Barack Obama appointed him as co-chair of the National Commission on the BP Deepwater Horizon Oil Spill and Offshore Drilling, as well as to the President's Global Development Council, for which he headed the working group on climate smart food security.
He served as president and later chairman of the board of World Wildlife Fund, president of The Conservation Foundation, and director of the Rockefeller Task Force on Land Use and Urban Growth.
Reilly is the chair of the board of advisors for Duke's Nicholas Institute for Environmental Policy Solutions and has chaired the boards of the Global Water Challenge and the ClimateWorks Foundation. He serves on the executive committee of the U.S. Water Partnership, the board of the Center for Strategic and International Studies, and the board of the Union of Concerned Scientists. He has also served on several corporate boards, including those of DuPont, ConocoPhillips, and Royal Caribbean.
He served in the U.S. Army from 1966 until 1968, attaining the rank of captain. Reilly received his bachelor's degree from Yale, doctor of law from Harvard Law School and master of science in urban planning from Columbia University.
This year's commencement exercises in Wallace Wade Stadium will be open only to graduating undergraduate students and their pre-registered guests. The ceremony will be streamed for live viewing online at: https://commencement.duke.edu/.  More information about Duke's commencement ceremony is also available at: https://commencement.duke.edu/.