A Conversation About Reparations
Live event marks the finale of the "Arc of Justice" podcast series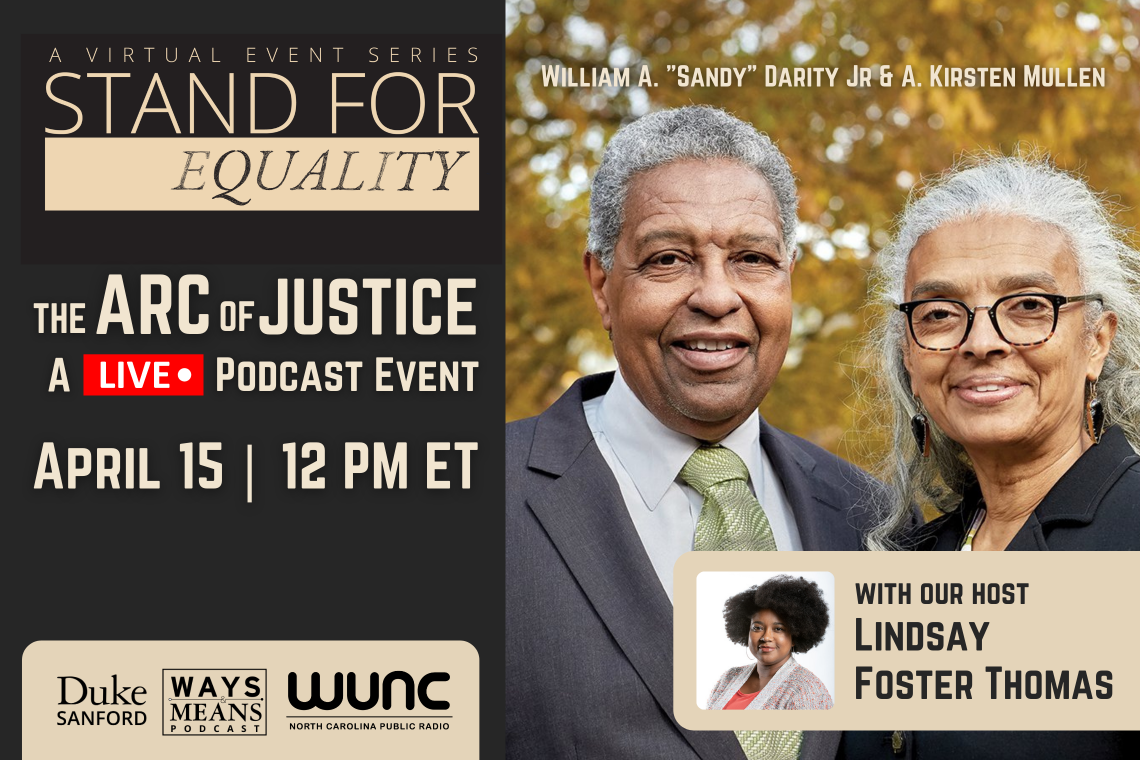 A vast wealth gap separates white and Black Americans, and it didn't come about by happenstance.
The special podcast series, "The Arc of Justice: From Here to Equality," tells the story of how a string of government policies thwarted Black progress while boosting white prosperity.
"Federal policy lies at the heart of the racial wealth disparity that we observe today," says Duke economist William A. "Sandy" Darity Jr.
What can be done about the stark inequality that has resulted? And could reparations for Black Americans play a role? Darity, co-author A. Kirsten Mullen and special guests will tackle those questions from noon-1:15 p.m. Thursday in a special live podcast event that marks the finale of the "Arc of Justice" series. The event, which will be recorded, takes place over Zoom and will feature an audience Q&A.
Darity and Mullen are co-authors of the book "From Here to Equality: Reparations for Black Americans in the 21st Century." They'll be joined by other leading experts to discuss the case for reparations, how reparations have worked in other countries, and the nuts and bolts of how a reparations program might work in the U.S.
Lindsay Foster Thomas of North Carolina Public Radio/WUNC, host of the "Arc of Justice" podcast, will moderate the event.  
Additional special guests include:
Cicely L Fleming, an alderwoman in Evanston, Illinois, who recently made news by voting against a measure that had been described as a reparations bill. Fleming will discuss recent events in Evanston, including why she voted as she did.
Thomas Craemer, who experienced reparations firsthand growing up in Germany. That experience shaped his interest in U.S. reparations, which he now pursues as a public policy professor at the University of Connecticut.
Mary Frances Berry, a University of Pennsylvania historian and former member of the U.S. Commission on Civil Rights, who will join Duke historian Adriane Lentz-Smith for a discussion on the history of the U.S. reparations movement
To attend, pre-register here.
The event is a "Stand for Equality" event in Sanford's 'Stand For' Series, funded through a gift from the William R. Kenan, Jr. Charitable Trust and offered through Duke's Forever Learning Institute. The "Arc of Justice" series is produced in partnership with North Carolina Public Radio/WUNC. It is made possible through support from the Duke Office for Faculty Advancement with funding from The Duke Endowment.