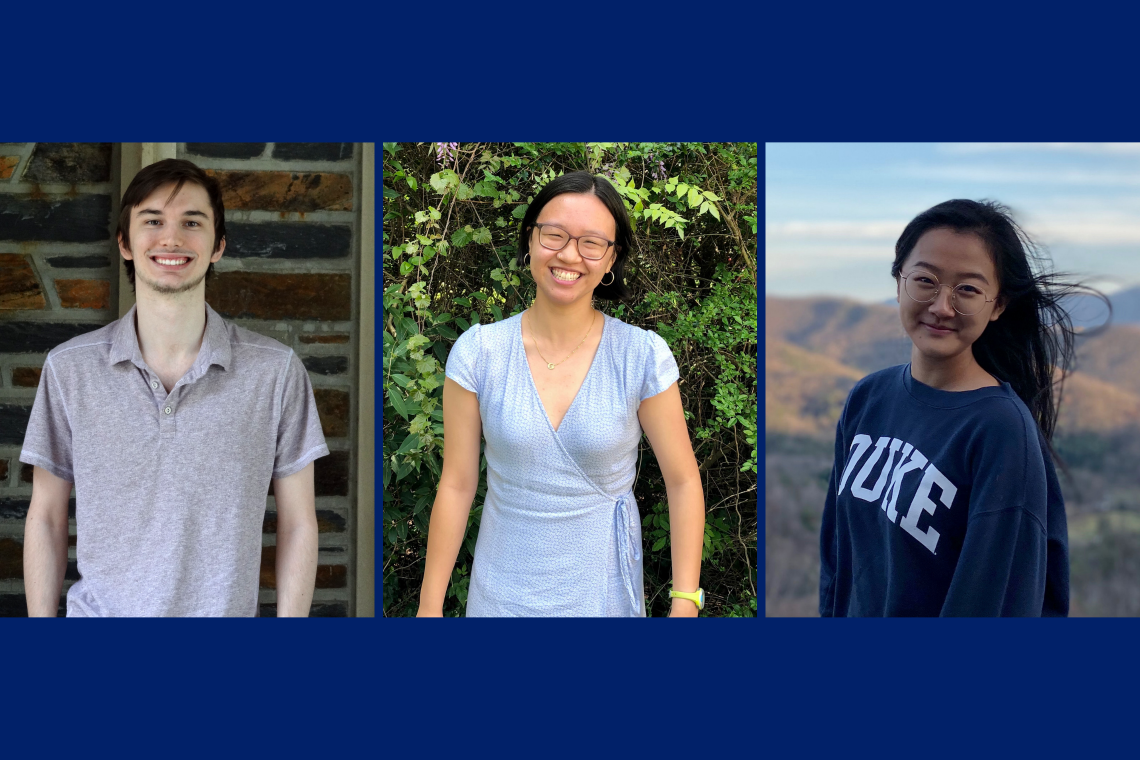 In a challenging year for collaboration, three members of the Class of 2022 are being honored for using the moment to ask big research questions and produce scholarship that shows originality and creative thinking.
Katherine Gan, Logan Glasstetter and Xinyu (Norah) Tan are the recipients of this year's Faculty Scholars Awards, the highest bestowed by Duke faculty on undergraduates with a record of independent research and scholarship.
Working across three different disciplines, the students have already produced impressive research accomplishments, doing studies on friendship and creativity, biomedicine and polymers and data science.
All three found ways to collaborate on this research with faculty and student mentors despite COVID restrictions.
"The committee was impressed with the ways in which, in this difficult time, these students displayed extraordinarily nimble thinking and proved able to work at the highest level both individually and collaboratively," said history professor Sarah Deutsch, the chair of the Faculty Scholars Committee. "They generated fresh ideas and new collaborations, and garnered extraordinary respect from their faculty, mentors and peers."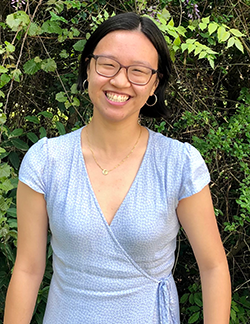 A gender, sexuality and feminist studies major, Katherine Gan has done independent scholarship focusing on poetry and building friendship and communities of care. That long-standing interest has proven to be particularly valuable to the Duke community during this pandemic.
Described by Professor Jennifer Nash as a "deeply brilliant, intellectually curious scholar," Gan has been involved with several projects created around the intersection of friendship and artistic production. That has led to an independent study project with Nash to do a literature review of scholarship across many disciplines on the intersection of love, care and friendship.
Gan has translated this scholarship into action with a focus on creating environments for women -- and women of color specifically-- to feel supported. The efforts have ranged from teaching and developing the syllabus for a house course this spring on "Moving Towards Our Collective Care and Liberation;" creating a Poetry Lab to help young women and non-binary people process traumatic events and foster community through poetry; and developing a Feminism and Media program through the Duke Women's Center.
Her senior honors thesis, conceived after the March 16 shooting of eight people in Atlanta – six of whom were Asian women – asks how Asian/American women make sense of their own bodies and experiences in a historical, political, and social context. One goal, Gan said, is to cultivate an appreciation of 'life' and Asian/American women that is delinked from spectacular death and violence.
"Poetry, literature, and film is crucial, in my view, to understand and value Asian/American women and their bodies while they are living, not only after they die or are proximate to death," Gan said.
A recent recipient of the Mellon Mays Undergraduate Fellowship, Gan will pursue a Ph.D. degree in gender studies, ethnic studies or English after graduating, where she can continue her research on Asian/American women's sustaining of life through art.
Gan said the research experience has been an important part of her time at Duke, allowing her to find new academic interests and collaborate with both faculty members and students.
"The most meaningful part of my Duke experience has been support and mentorship – both formal and informal – from professors, staff, graduate students, and my closest friends," Gan said. "My academic interests have evolved throughout my time at Duke, which is only possible with the encouragement, affirmations, love, and care of my mentors and friends, for who I am incredibly grateful."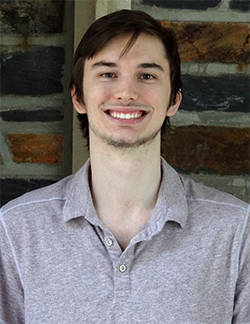 Logan Glasstetter is a biology and chemistry double major researching the force-coupled behavior of salient, polymer-embedded chemical structures, including those relevant to organometallic catalysis and rational design of degradable polymers. He works in the labs of professors Stephen Craig and Katherine Franz and as an undergraduate trainee at the NSF Center for the Chemistry of Molecularly Optimized Networks.
Glasstetter was praised by faculty for his scientific maturity, high standards, ability to work independently and the "gusto" with which he approached projects. Craig said he first met Glasstetter when the student joined a project on how mechanical forces distort the environment around a metal center embedded within polymer matrices. The hope was Glasstetter could use the project to learn his way around doing science in a lab. Instead, Craig said, Glasstetter "drove the project home" and ended up being a joint first author on the research paper.
While his primary research interests have focused on polymer chemistry, Glasstetter has studied a range of biomedical disciplines through his coursework, including pharmacology, immunology, chemical biology, pathology and biopolymers.
In fact, he has explored the use of polymer theory in a biological context through Lucia Strader's graduate course "Biopolymers to Disease" offered this spring semester.
"The class was an interdisciplinary literature-based course," said Strader, associate professor of biology. "Logan enriched our discussions by bringing a chemistry-centric focus to many of the topics. His sharp insights into the principles underlying coacervate formation were particularly helpful in our discussions."
This summer, Glasstetter intends to further unify his broad base of biomedical knowledge with his understanding of polymers through a research fellowship at the Mayo Clinic in Rochester, Minn. His research will focus on the intersection between regenerative medicine, biomaterials, and orthopedics.
In the future, with his sights set on becoming a physician-scientist (MD/PhD), Glasstetter hopes to combine his basic science intuition, bottom-up molecular perspective, and knowledge of polymer behavior under force into a toolkit for the study of clinically relevant fields, such as biomaterials design, protein phase separation, force-actuated drug delivery, or mechanobiology.
A mathematics and computer science major, Norah Tan spent last summer doing remote research with Duke faculty after her DukeEngage program was cancelled. This work formed the basis of her major research accomplishments over the past academic year.
Pratt School professor Jeffrey Krolik shared that Tan and his graduate student Jessica Centers worked together to develop new techniques for analyzing the power spectra used in data storage devices such as magnetic recording and Flash memory systems.
Meeting every week during the summer with electrical and computer engineering postdoctoral fellow Ahmed Hareedy, Tan and Centers started on a course project, but ended up developing a solution to an important problem. Their work was accepted for publication by the IEEE Transactions on Communications, the leading journal in the field, and for presentation at the Non-Volatile Memories Workshop. It was a rare undergraduate paper presented at the workshop, and the only one that was a finalist for the workshop's Memorable Paper Award.
In another project, Tan worked with Professor Robert Calderbank, a leading scholar in quantum error correction theory, one of the most important fields in quantum computing today. In this work, Tan found an original and elegant solution to a problem in quantum benchmarking, an important aspect of improving the performance of quantum computers. The paper is now submitted to "Designs, Codes and Cryptography," a leading mathematics journal, on which she was the first author.
Calderbank said Tan was as good as any of the best undergraduates that he has taught at Princeton and Duke. "She is already an independent researcher," Calderbank said. When Tan goes to graduate school, "she will hit the ground running from her first day."
The experience of making an original research contribution to quantum computing has inspired her to pursue Ph.D. studies in that field, Tan said.
The experience has also been valuable in other ways. An international student from China, Tan has not been able to return home since the outbreak. But doing research "with these amazing scholars has really enriched my life, and I feel very lucky to have found my passion along the way."