Working in a New Normal: Managing Tech from a Distance
OIT's Christian Holder, who once solved tech issues in-person, now handles most issues from his campus office
Name: Christian Holder
Position: Device Support Analyst, Office of Information Technology (OIT)
Years at Duke: 3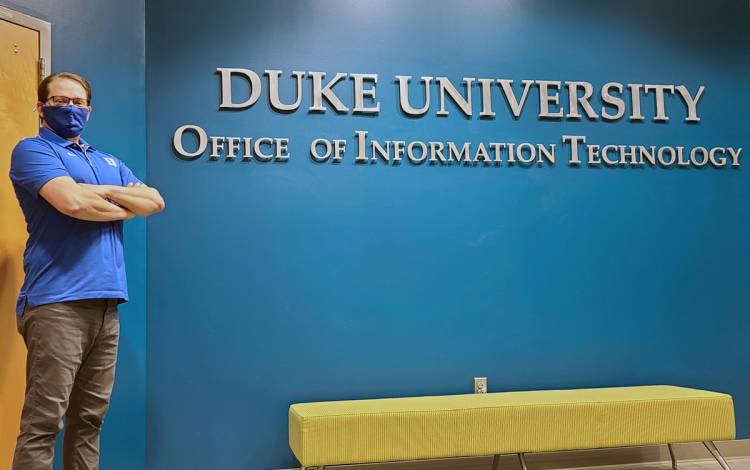 What he does at Duke: Holder is part of an OIT team assigned to various schools, departments and units across campus to provide technical support. He keeps computers, printers and other devices running smoothly for the Duke University Police Department.
Holder assists about 160 Duke University Police Department employees with software updates and helps troubleshoot issues with web cameras, keyboards and remote connections to the VPN, Duke's virtual private network that allows employees and students to create a secure connection from their computer to Duke.
"I've always been into computers and everything electronic," Holder said. "To be able to share that knowledge and make life easier for my colleagues brings me joy."
How has his job changed since the pandemic: Holder no longer fixes technology issues in-person.
He uses a program called "ScreenConnect" to gain remote access to colleagues' computers. Through "ScreenConnect" and talking with coworkers by phone, Holder walks staff through software updates, sets up webinars and fixes issues with Microsoft Outlook.
"It's not as easy as sitting down next to someone, but it gets the job done," Holder said. "I can still show and explain why your computer is acting up or why Zoom isn't working. A calm voice on the phone is helpful when dealing with something as frustrating as computer problems."
What aspect of your work are you most proud of during these challenging times: Holder continues to work at OIT's office in the American Tobacco Campus five days a week to collect deliveries of new laptops, printers and other devices to support the university-wide tech needs. He also assists OIT colleagues who are working from home by collecting computers and other hardware in need of repair from schools, departments and units.
"Some people have childcare and other responsibilities stopping them from coming in, so I'm happy to step up and be on campus," Holder said.
At the start of the pandemic, Holder installed security and operating software on dozens of MacBook Pro laptops and then distributed them to employees in various departments.
"We moved fast so employees could continue their work without a hitch," Holder said.
TV show or series that has gotten you through: Holder and his wife, Lorin, watched the first two seasons of "The Mandalorian." The Disney+ show follows a bounty hunter traversing through the "Star Wars" universe with "Baby Yoda," an infant of the same species as the character Yoda.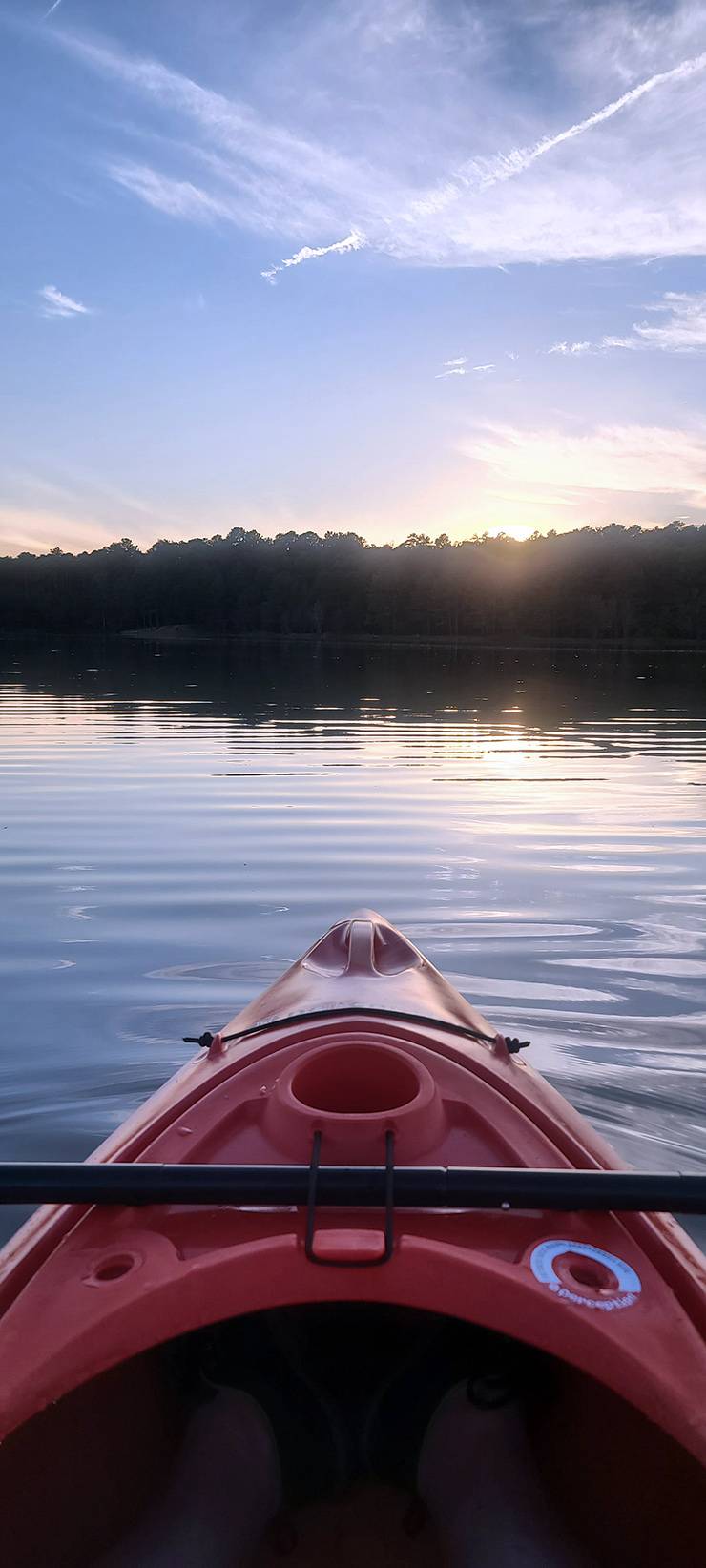 "The show completely transports you out of our world," Holder said. "My wife and I got sucked in."
How he is practicing well-being: Holder and his wife began a new hobby of camping and kayaking. They took trips last summer to Jordan Lake State Recreation Area, Nantahala National Forest and Falls Lake State Recreation Area.
"It's nice to leave technology behind," he said.
Lesson learned during COVID-19: While Holder works from the American Tobacco Campus, almost all of his colleagues continue working off-site. He misses impromptu conversations with colleagues about weekend plans and lunch breaks at Only Burger that happened before the pandemic – and won't take those for granted when the virus is no longer a threat.
"I never realized how much I value those personal connections," he said.
How are you working in a new normal? Tell us about it by writing to us or completing this story idea form.