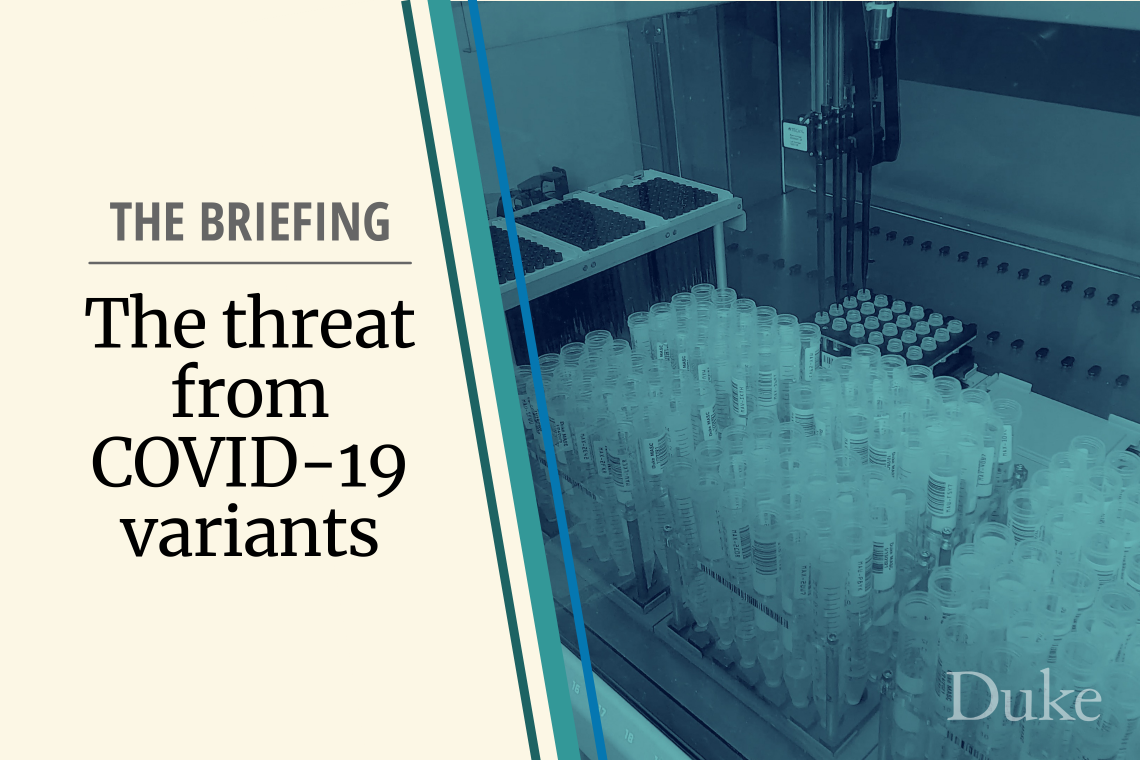 This summer will likely see a flurry of new COVID vaccinations for teens and adolescents, clearing the way for a return to school in the fall, a Duke expert said Thursday.
Children have not yet been eligible for vaccines, but trials targeting those youngsters are expected to conclude soon with positive results, said Dr. Mark McClellan, a Duke University physician and economist and former commissioner of the federal Food and Drug Administration.
Even as public health experts continue to roll out vaccines and root out emerging virus variants, the eventual vaccination of the younger population is a promising step forward, said McClellan, who directs the Duke-Margolis Center for Health Policy.
McClellan spoke Thursday during a virtual briefing for journalists. Watch the briefing on YouTube.
Here are excerpts:
ON WHEN SCHOOL-AGE KIDS WILL GET VACCINATED
"I think it's likely that adolescent children, high school age, teenagers, will have an opportunity to be vaccinated. Partly it's going to depend on the risks that we're facing. Do we have the virus, the variants under control."
"We should see a lot of progress on reopening in the summer. That's when it will be relatively easy. The weather will be best. … It will be a good opportunity to test out how much we can start going back to going to sporting events and concerts … real steps towards normalcy."
"As we head into the fall, aiming to get schools fully back open, I think vaccination of older kids … is not only feasible but could be very helpful in containing further outbreaks into the fall and winter."
"The studies … especially for Pfizer and Moderna vaccines, should be done in a matter of weeks, potentially in time for informing vaccination heading into the fall."
"For younger kids it's a little more complicated. First off, they're lower risk. It's important to expand out the testing in older kids first. But there's some additional studies that need to be done. None of these studies in children will be as enormous as the ones used for the original approvals for the vaccines. What we're looking for now are two main things:
Do the vaccines generate a strong immune response in kids like they do in adults? People are generally expecting the answer to that to be yes.
Are there any indications of safety issues? We need big enough studies to detect that and following kids who are vaccinated. But those studies should be done in a matter of weeks."
"For younger kids, it's not just a matter of testing safety and efficacy with the vaccines we have. You have to think about dosing. Younger kids typically have stronger immune responses so the dose that works in a 12-year-old or a 15-year-old is not likely to be the dose that will work in a 2-year-old or a 5-year-old. Those are the studies getting underway now. Not only about safety and immune response but getting the dose right. So that's probably going to a bit more time. I would expect that if we have COVID under good control, we're probably thinking about 2022 before younger kids might get vaccinated, just to make sure we have the doses right."
ON THREAT POSED BY EMERGING COVID-19 VARIANTS
"The variants are a real threat. It is something we need to be vigilant about going forward in the pandemic. But I do think they can be managed. It is going to take some continued vigilance and monitoring the variants as they emerge and making sure we're applying our ability to determine how effective our vaccines and other treatments are."
"That's something, a system we don't really have in place yet. In the meantime, the best approaches we have are the ones everyone knows about – the masking, the distancing steps to prevent the variants or any COVID from spreading, and, of course, accelerating vaccination as quickly as possible. The more people are vaccinated, the more people take steps to prevent further infections, the fewer chances there are of variants emerging and taking hold."
ON THE CDC'S NEW 'VARIANT OF CONCERN' DESIGNATION
"It's an important notice. These are all variants that appear to be growing in prevalence. We don't fully understand their implications for vaccines or severity of disease. But when you see these variants starting to grow, that's an early warning signal that we need to understand them better. We need to do some further testing to make sure the vaccines do work well against them."
"These are things to be concerned about. Just about all the variants we've seen so far seem like can be managed with our current vaccines and current policies, augmented by this vigilance and maybe modifying our treatments and doing booster vaccinations down the road. But that's why it's so important to detect these early."
ON COVID-19 TESTS SLOWING AS VACCINES ACCELERATE
"It does make it harder and I am concerned about what's been a leveling off or even a downturn in testing. Some of that we should expect; fortunately, we're having a lot fewer cases of COVID. But if you look around the country, there are some parts of it where we're still having pretty high positivity rates, meaning there is a significant amount of COVID out there that we probably aren't detecting as early and comprehensively as we should."
"Just to remind people, if they do have symptoms that could be COVID, there are ways to get tested."
"There is testing available; it's free. It's very important for both containing your own risk and for these public health purposes, too."
"What was so hard to do in the past year, we had such a large spread of COVID, we really couldn't really get ahead of the virus. We really couldn't do containment. Things like contact tracing and the like. What we have much more of now are these tests that can be done rapidly, other types of screening tests like something called pooled lab testing. … That kind of capability more widely is also a very important part of testing going forward."
"I would like to see the testing numbers not go down in the proportion of cases; I would actually like to see them go up until we're actually sure we're containing the virus as we try to reopen schools, as we try to get back to work, as we try to get back to our lives. And that will also help us detect the variants earlier."
ON WHEN WE CONSIDER THE PANDEMIC OVER
"I think we're going to be with this for a while. While I'm very hopeful we'll be able to get back to a lot of normalcy this summer and on through the year ... that doesn't mean that COVID is going to completely go away. To live with the virus and do it in a way that has minimal impact on our lives … we have to get that vigilance system in place so we're monitoring for the occurrence of variants and we're able to quickly take action if needed."
"Also remembering that even if we get a lot of people vaccinated, there are still some Americans who won't be, so there is some risk especially in congregant settings where people get together – unfortunately, especially in underserved, lower-income minority populations where we see so much greater impact of the pandemic so far."
"There will be some continued need for those testing steps and those surveillance steps … as well as maybe a need to pull back to a little bit more distancing and a little bit more restrictions. Hopefully that won't happen much and if it does need to happen, it can done very locally."
"I think these are all manageable problems if we take the right steps."
The expert:
Dr. Mark McClellan
Dr. Mark McClellan is a physician and economist who directs the Duke-Margolis Center for Health Policy, where he works on strategies and policy reforms to improve health care. He was commissioner of the U.S. Food and Drug Administration and administrator of the Centers for Medicare & Medicaid Services. Dr. McClellan serves on the boards of Johnson & Johnson and Cigna (each company is involved in aspects of the COVID-19 response).
mark.mcclellan@duke.edu
Duke experts on a variety of other topics related the coronavirus pandemic can be found here.
Follow Duke News on Twitter: @DukeNews