Price: University Plans 'People-First' Investments to Grow in Its Second Century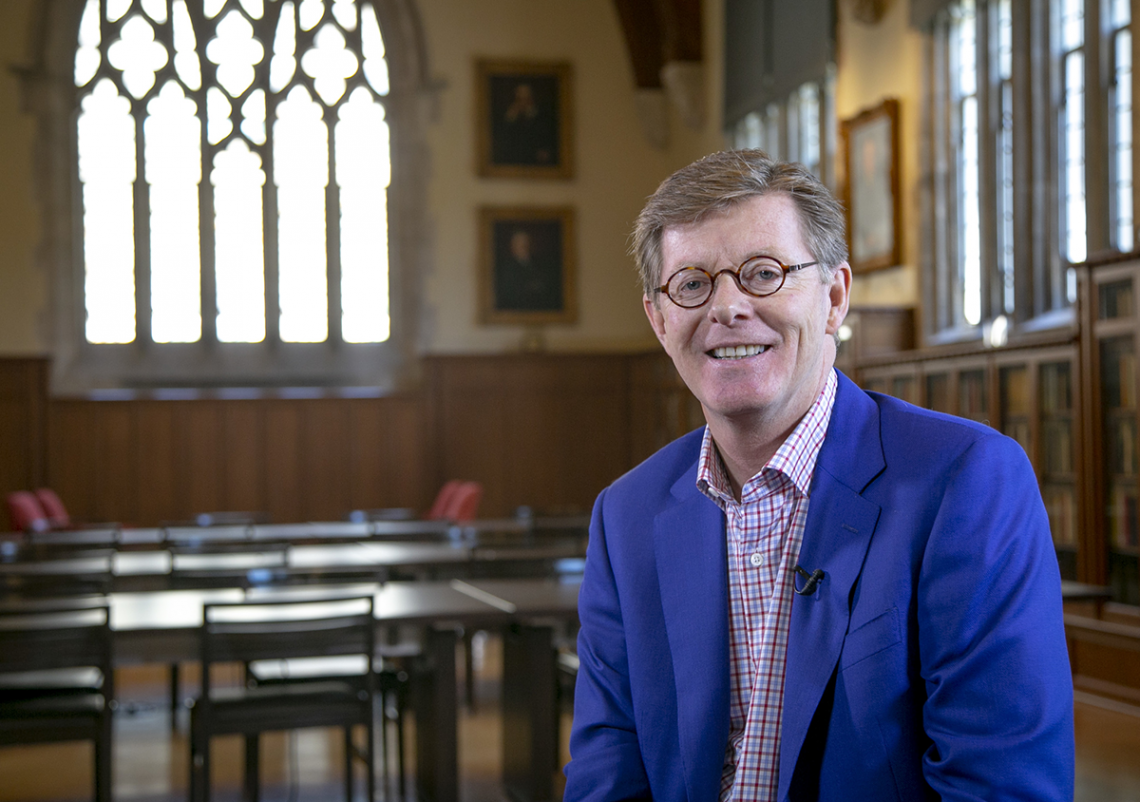 With the campus still facing pandemic challenges, President Vincent Price spent a moment looking ahead, telling faculty that the vision for Duke as it approaches its second century "begins and ends with Duke's people and is centered around community."
"It's rooted in the understanding that our university is only as strong, as healthy, as collectively capable and accomplished as our faculty, students, staff, clinicians and alumni throughout the world," said Price, speaking at the annual address to the faculty, presented in conjunction with the March Academic Council meeting. (For a full text of the speech, read it on Duke Today.)
"It represents a 'people-first' shift of emphasis in our investments: Less emphasis on investing in buildings—the physical infrastructure—and more emphasis on investing in the people who work and teach and study and live in those buildings—our human infrastructure."
During the talk, Price updated faculty on the status of the five tenets of his strategic framework in "Toward our Second Century." For some historical guidance, Price reached back to another pandemic challenge in 1918. As the "Spanish Flu" swept the nation, classes continued but wearing masks and quarantines were common on the Trinity College campus.
"Perhaps most remarkably, in the midst of the flu pandemic, Trinity faculty members and administrators were actively engaged in articulating a new vision for the future—and indeed, just few years later, in 1924, their small liberal arts college was transformed into our research university, one that would go on to win the world's respect," Price said.
Price's hope is the framework will allow the university to make another leap forward as it begins its second century in 2024.
He outlined plans for new investment across the university. That begins with investing in faculty scholars, not just in science and technology, which is part of one focused initiative, but also across the disciplines and with an eye on excellence through diversity.
The financial hit the university took during the pandemic presents one challenge to those plans, but Price said the cost-cutting measures the university implemented during the pandemic will make money available for strategic growth ahead. "Our pruning is undertaken to vitalize Duke, to enable new, vigorous and strategic growth when conditions are conducive."
New investment in students is as essential as in faculty, and Price cited several success stories in boosting financial aid and expanding access to the university to a wide range of students.
But he added a word of caution about rising financial aid demands: "These overall patterns obscure increased financial pressure on families in middle and upper-middle tiers of the income distribution. They are also costly, achievable only with a financial-aid budget that has been growing extraordinarily rapidly—projected to increase by 10 percent next year alone—and will need to be addressed to ensure that the provost's funds earmarked for strategic investments are not unduly impinged."
And Price also cited the need to invest in staff, noting Duke's commitment to increase Duke's minimum wage and expand parental leave. Other staff investments are expected in the future. He told the council that "when you are challenged to retain excellent staff, that hurts the faculty as well."
Price said Duke was "on a trajectory to recover from the pandemic and enter a post-COVID environment better equipped than ever to lead in global higher education." But he added some cost-savings measures reduced redundancies and will provide long-term benefits. The university must be "efficient, thoughtful, and strategic in our expenditures, and at the same time creative and equally strategic in our search for new revenues."
The goal is to enter Duke's second century better prepared to produce scholarship and learning that will position the university to lead in solving large, complex issues that will command much of the world's attention in the decades ahead.
"The issues that we face today—systemic racism, climate change, the financial and social headwinds of a changing, post-pandemic world—will not be addressed in one year, or 10 years, or even a quarter century," Price said. "They will define the course of the next 100 years to come. But I hope that when some future Duke president a century from now goes digging through the archives, the story of this extraordinary moment will be that we rose, all us together, to meet the challenges of our day, and prepared well to seize the opportunities of the coming decades."
Following the talk Price answered questions from the faculty on several issues:
Price said Duke will continue to study lessons from remote learning during the pandemic with an eye toward developing innovative educational opportunities both on campus and in a wider global network. He said good things did come out of the pivot to remote learning, but the experience was not optimal and not what Duke would want if it had time to develop a plan. Nobody, he said, should judge remote learning from just the past 12 months. "The negative piece is that what we've seen to date is a product of building a lot of the airplane while flying it. We shouldn't confuse this with an optimally flown airplane."
Duke would continue to explore international initiatives. Pointing to Duke Kunshan University in China and the Duke-NUS Medical School in Singapore, Price said these gave Duke a stronger and valuable global presence, "but neither of them constitute a global strategy." He added that he and Provost Sally Kornbluth will work with others to develop that strategy, one that fit the needs and realities of a post-COVID world.
Price expressed concerns about China's human rights violations but said Duke's involvement with Duke Kunshan still produces benefits for the students and for Duke, China and the world beyond.
There are lines that if crossed by the Chinese government would make Duke Kunshan "unworkable," he said. For example, closure of a VPN connection that allows Duke Kunshan faculty and students open access online across the world to seek information and discuss issues controversial in China would be unacceptable, he said.
"We have been able to deliver to students what we had promised and hoped for," Price said. "We're constantly monitoring the situation there, but right now, we don't want to step back from vision that took us there."
In other Academic Council business, university leaders updated faculty on academic plans for summer and fall 2021. Summer plans include for-credit classes and approved co-curricular activities such as internships, labs and academic programs such as Bass Connections and Data+.
Fall plans are still contingent on pandemic conditions and the advice of the Centers for Disease Control and state health officials, but vice provost for undergraduate education Gary Bennett said the university anticipates offering in-person learning. To maintain flexibility, class registration for fall courses has been delayed to June or July, he said.