Last Week to Complete University Survey on Anti-Racism, Equity Issues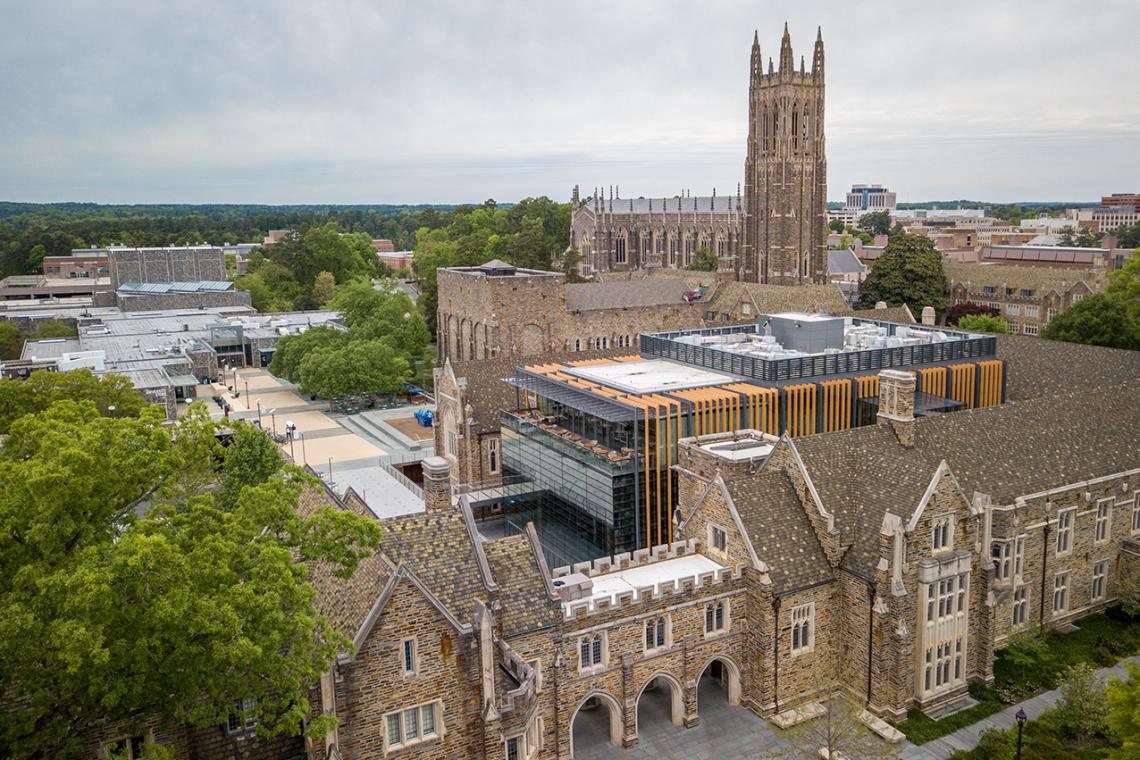 UPDATE, 4/20: This survey, one of the few university surveys across the nation that involves all members of the university community, will provide valuable information as Duke develops policies and initiatives to create a more effective and welcoming campus community. Deadline for filling it out is midnight, April 26. Access to the survey is only available through a unique URL sent to your Duke email.
The first-ever university-wide climate survey will be foundational to establishing new policies and practices to build a more equitable campus community, survey organizers said.
But as comprehensive and as important as the survey is, it's only going to be as effective as the number of faculty, staff and students who participate, they add.
"The survey will be foundational for our anti-racism and equity work in the future," said Kimberly Hewitt, vice president for institutional equity. "This will set the baseline for how we will measure progress on this work. It's a significant commitment arising out of the promise of the Juneteenth statement that we would ask these questions of the university community in taking action against systems of racism and inequality on campus."
The survey will be sent to around 35,000 university faculty, staff and students this week. While the School of Medicine and School of Nursing will participate, the survey will not include the full Health System, which conducted its own Checking in With You Survey in December 2020.
A year of anti-racism and equity work in departments and other units has produced effective results. Earlier this month, President Vincent Price in addressing the Academic Council pointed to progress across the campus both in developing programs and networks to continue this work at the grass-roots level, and in basic metrics such as faculty hiring.
But Price cautioned that significant work remains to weave this effort "into every aspect of our institutional strategy and culture." Hewitt and Abbas Benmamoun, vice provost for faculty advancement, said this survey will play a critical role in that work.
"We are making progress in some areas, but climate and culture remain a challenge for us," Benmamoun said. "This survey will undoubtedly uncover a number of challenges that the institution will need to address, and it will need to do so in an evidence-based manner. From the survey information, we will be able to develop approaches to the issues that will emerge."
While the survey comes out of the university's anti-racism initiative, it will cover a range of equity issues. Benmamoun said participants will be able to comment on the full range of discrimination, harassment and other issues overseen by the Office of Institutional Equity definition.
Students, faculty and staff will have slightly different questions on their surveys to meet the particular experiences of each constituency, but the core questions about campus culture will be the same across the board to allow for comparisons across constituencies.
Furthermore, the data will allow some identifications of areas of discrimination and equity that schools and other large units need to pay attention to. Since the survey will be a regular project, Hewitt said the expectation is that improvements will be seen in future years.
At the same time, candid responses are essential to the survey's effectiveness. To maintain confidentiality, no information that could be traced back to an individual will be made public, said David Jamieson-Drake, assistant vice provost for institutional research. All data from small departments and work groups will be reported in aggregate so no person or subgroup is singled out or identified.
"We've done hundreds of surveys, and never once has anyone been identified in their responses," Jamieson-Drake said. "But because of the sensitive nature of the issues in this survey, we are setting all the rules at a level where people should feel comfortable responding candidly."
Organizers say they hope to get significant numbers of responses from each university constituency. Faculty recently completed a campus culture survey, done every five years, but Benmamoun said this survey would provide information more specific to anti-racism and equity efforts.
The survey will provide data and information to inform our decisions that affect the different members of our community, Benmamoun said.
"The information we receive in this survey, along with the ones in future years, will help us measure progress, or a lack of progress, on anti-racism and equity over time."
The same holds for students. Hewitt said capturing the student experience was essential to developing new policies and approaches to meet the needs of the entire campus.
"This survey is supposed to be an encompassing picture, and the student experience is essential to that," Hewitt said, adding that graduate and professional students are often also university employees and the survey should reflect those multiple roles. "It's very important that this particular survey not leave anyone out."
A report on the survey responses including trends and outcomes will be made public for the university community this summer.