PUBLISHED
Duke Will Remain Test-Optional for Undergraduate Admissions for 2021-2022 Application Year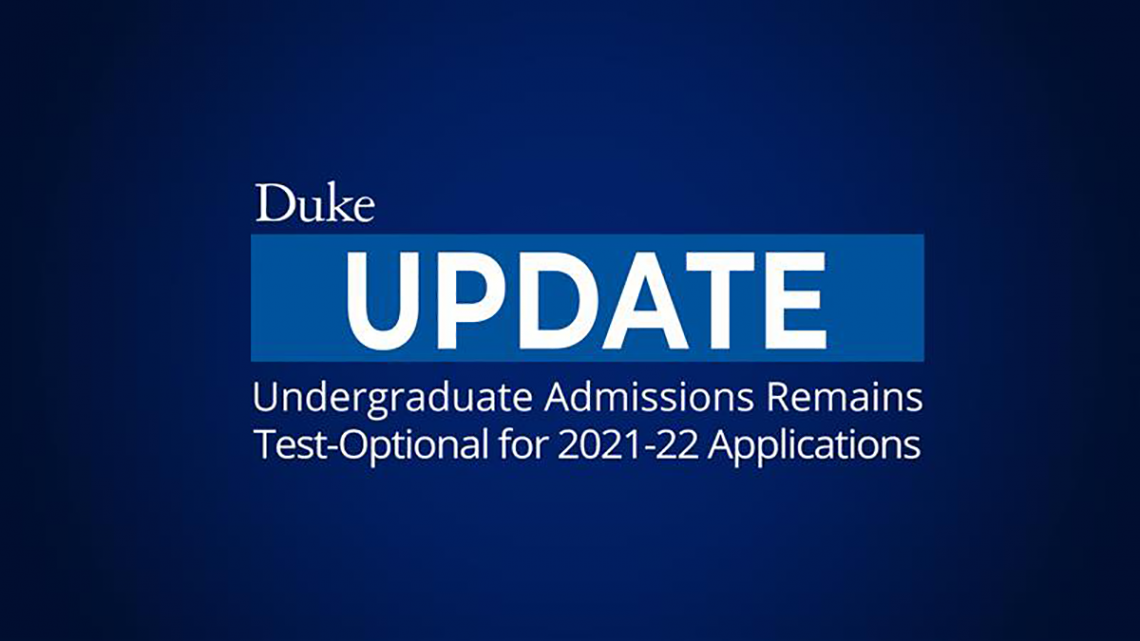 Prior to the 2020-21 admissions cycle, Duke required that all applicants submit either SAT or ACT scores as part of their application. In response to the challenges of accessing standardized testing due to COVID-19, Duke waived the testing requirement for students applying in 2020-2021. Given the uncertainty of testing availability in 2021 and the continued disruptions related to COVID-19, Duke officials have decided to extend the test-optional policy for another year. For 2021-2022, both first-year and transfer applicants may choose whether or not to have test scores considered. 
Students who are unable to or choose not to submit SAT or ACT scores will not be disadvantaged in our consideration of their applications. Our holistic review has always considered SAT or ACT scores as only one factor in our multifaceted evaluation process along with many others including the student's coursework and performance in secondary school, letters of recommendations, involvement in meaningful activities, and personal essays. We will continue to assess the future role of standardized tests in our admissions process, particularly with respect to the impact of these tests on our ability to recruit and enroll students from historically excluded backgrounds. 
We will continue to consider SAT and ACT scores as part of the application of students who choose to submit them and, as always, will accept self-reported scores for purposes of assessing an application; scores sent from testing agencies will be required only from students enrolling at Duke. We will continue to recommend tests of English such as DET, IELTS, PTE, and TOEFL for non-native English speakers and students not currently studying in English-language curricula who wish to demonstrate further evidence of their English proficiency.