Duke in Pics: Plantings Continue to Beautify Campus
On a grey morning, Facilities staff brings color to a part of West Campus
On a gloomy Wednesday morning, the three planters in the center of Crown Commons received an infusion of life. When the six-person crew from the Landscape Services unit of Duke Facilities Management showed up, the planters were empty except for the thin sweet bay magnolia trees that jutted up from the dark brown soil.
About 90 minutes later, the planters were home to 48 new plants, including red twig dogwoods and clethra.
While the pace of life on campus has been altered by the pandemic, the campus itself has remained beautiful because of the work of teams such as the Landscape Services staff.
"A lot of people will come by and thank us, from students to employees," said Horticultural Specialist Elizabeth Moore. "They see us out here on campus, and they're really appreciative."
Take a look at scenes from the recent Crown Commons project and learn a more about the work that goes in to keeping Duke's campus as colorful as ever.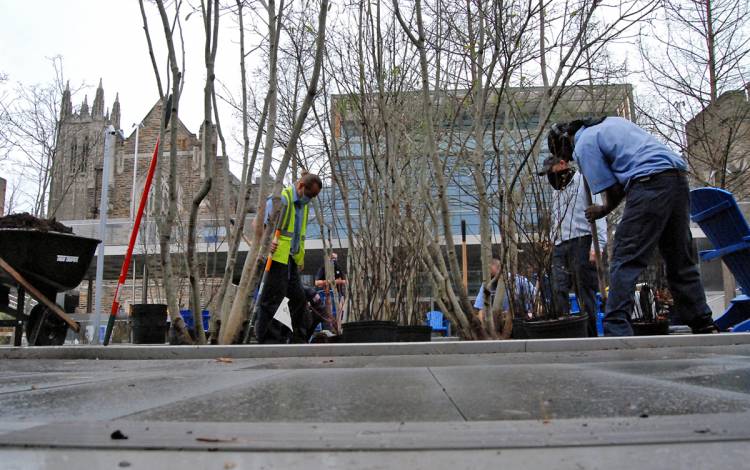 Built in 2016, Crown Commons offers a comfortable outdoor space just a few steps away from the Brodhead Center and the Bryan Center Plaza. Originally, the planters at the center of the commons held tall ornamental grasses, which both softened the paved space and added vertical elements. But over time, the grass became hard to keep within the boundaries of the planters, so Duke Landscape Architect Mark Hough envisioned filling the spaces with a more varied set of plants.
Members of Duke's Landscape Services team planted red twig dogwoods, clethra and muhly grass.
"They'll start growing immediately and by May, they'll really fill in," Moore said.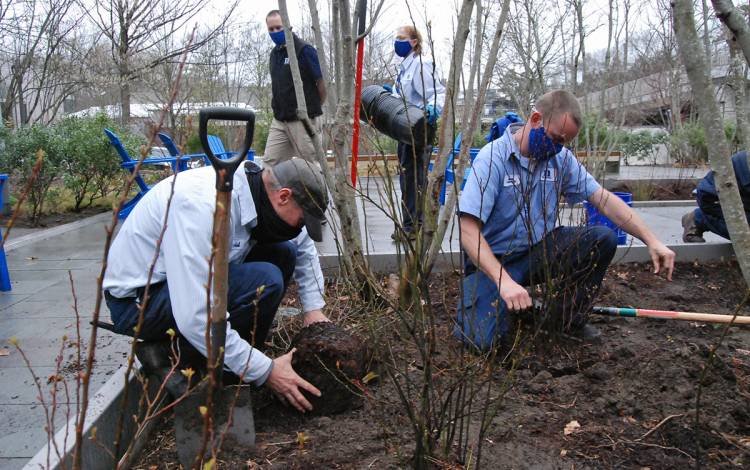 Landscape Specialist David Totten, left, and Senior Grounds Equipment Operator Jeremy Herndon, right, shake loose soil from plant that are going into the planters. The work of digging holes, nestling in the plants, adding mulch and cleaning up moves remarkably fast. And with work to do elsewhere on campus, there's little time to waste.
"With the people we work with, we stay on task, we know how we work and when were together, jobs get done in no time," said Senior Grounds Equipment Operator Corie Booker. "This was a smaller job, so it went kind of fast."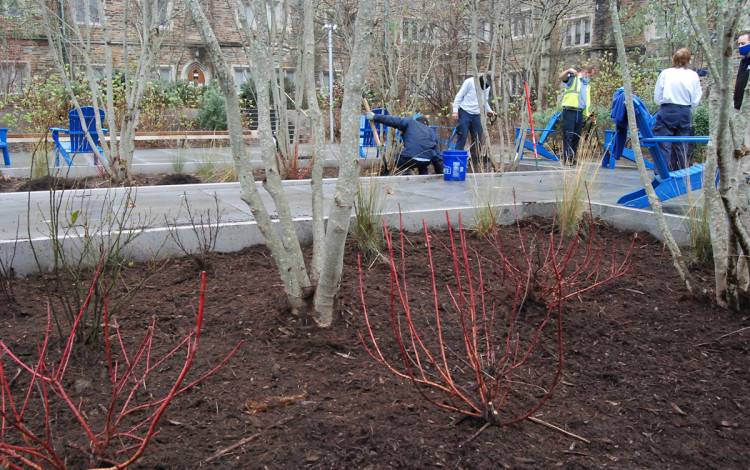 When fully grown in, the red twig dogwoods will provide pops of color, the clethra will sprout feathery, pale blooms and the muhly grass will add soft texture.
With a few weeks left in the spring semester, foot traffic through the Crown Commons is light, so the plantings can push through their early awkward phases without much of an audience.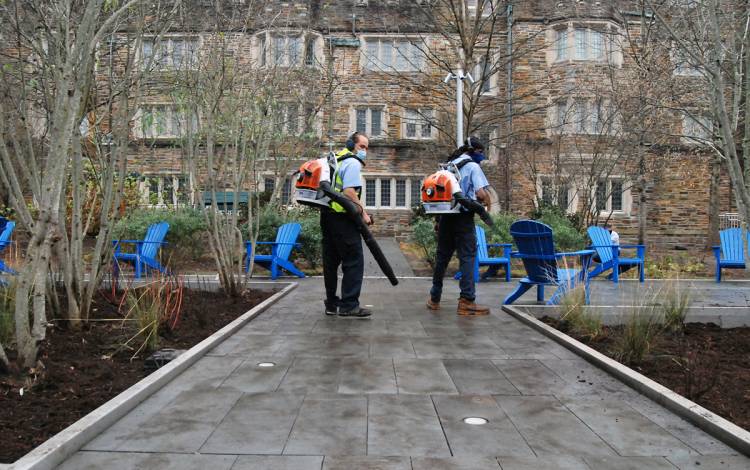 Senior Grounds Equipment Operators Baxter Remington, left, and Chadrick Rochelle, right, blow off the Crown Commons after the work is complete. By 11 a.m., roughly an hour and a half after the team started work on the project, there's no sign the crew was there.
"We hate to break stride," Remington said. "Once we know the game plan and we have an idea of what we need to do, we start popping plants in holes."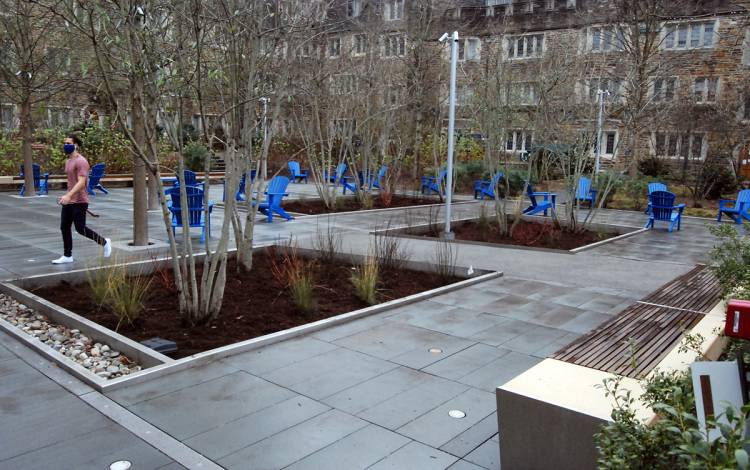 While Duke's campus has been far less busy than usual, Remington said the Landscape Services team has been able knock out an especially high number of projects. And on a campus where cherry blossoms are exploding, a recently planted row of weeping willows rises next to Page Auditorium and lush grass on Academic Quad – which was revived by a recent project – Remington said it's hard not to take a moment to stop and enjoy the results of their work.
"On Academic Quad, after we took the rope down, we'd see kids out there enjoying it," Remington said. "That's what makes us happy."
Help share the proactive and extensive work being done by all Duke community members during the COVID-19 outbreak. Send ideas, shout-outs and photographs through our story idea form or write working@duke.edu.