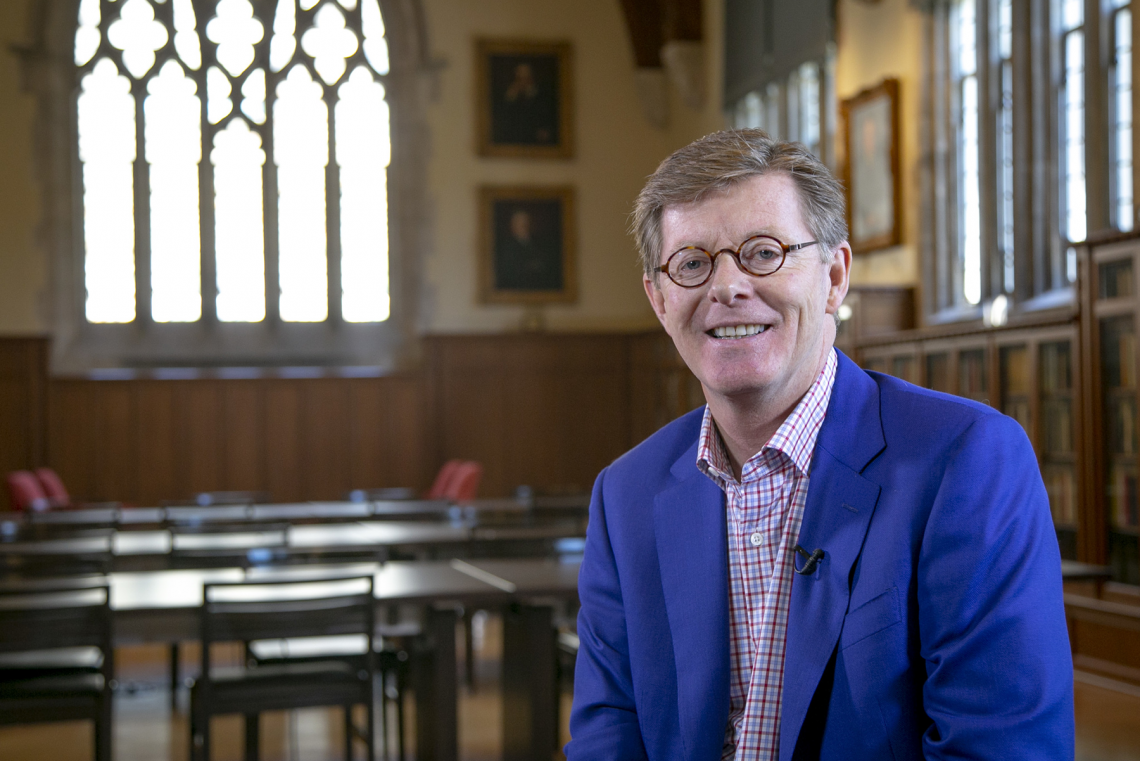 The Duke University Board of Trustees has reappointed President Vincent E. Price to a second five-year term beginning July 1, 2022, Chair Jack Bovender announced Saturday.
"Since arriving at Duke, President Price has set about developing and executing a vision for Duke's second century that will guide us toward an even more exceptional future," said Bovender. "Already these efforts have seen results—in the leadership team he has assembled, the renewed commitments to equity and inclusion, the strategy for science and technology, partnerships with Durham, the public health response to COVID-19, and so many other areas. As the chair of the presidential search committee that brought President Price to Duke, I am particularly delighted to join my colleagues in reappointing him for a second term and look forward to all that he and his team will accomplish in the years ahead."
The reappointment was supported by a committee chaired by Trustee Allyson Duncan that included trustees, faculty, staff and students. Since November, the committee has engaged in a comprehensive review process, consulting widely with students, faculty, staff and alumni, as well as community and higher education leaders. The committee also received input from nearly 200 individuals across the Duke community.
"I am extraordinarily grateful to the members of President Price's review committee and the trustees, faculty, staff, students, alumni and members of the community who shared their perspectives in interviews and feedback," said Duncan. "The initiatives that President Price has overseen—and the challenges he has confronted—touch every corner of university life, and it is fitting that we had such an inclusive review process for his first term. It was clear to our committee that President Price has strong support from stakeholders across the Duke community and is eager to embrace and learn from the feedback."
Since arriving at Duke in 2017 from the University of Pennsylvania, where he served as provost, Price has focused on bolstering Duke's organizational culture and distinctive institutional strengths while also supporting and guiding the institution's continued evolution and improvement. He has also led the university through the unprecedented challenges of COVID-19 and put a renewed focus on creating a more vibrant and inclusive campus culture.
After a comprehensive planning and assessment process, Price in 2018 produced Toward Our Second Century, his strategic framework for the future of Duke, which prioritized Duke's people and their talents and growth. Toward Our Second Century has driven a series of transformational activities at Duke, including initiatives to build a more equitable and just campus; to better refine and communicate Duke's core values and root them at the center of the university's culture; to invest in elevating Duke science and technology; to support the continued development of Duke Arts; to enhance the living and learning environment and improve student residential life; and to engage more strategically, openly and effectively with leaders in the region to lift Durham and the Triangle.
During Price's presidency, Duke has experienced significant fundraising success, with gifts to the university totaling more than $500 million annually in each of the past three years. Price has also overseen the recruitment of several new senior leaders—including Executive Vice President Daniel Ennis, Vice President for Institutional Equity Kim Hewitt, Vice President for Alumni Engagement and Development Dave Kennedy, Vice President and Vice Provost for Student Affairs Mary Pat McMahon and Vice President for Durham and Community Affairs Stelfanie Williams.
Price has also put renewed emphasis on anti-racism and equity as major priorities for the university. He has collaborated with senior university leadership and stakeholders from across the Duke community to identify and implement actions designed to combat systemic racism at Duke and beyond.
Amidst the COVID-19 pandemic, Price has overseen the development of a public and community health strategy that has allowed the university to resume much of its campus activity while keeping students, faculty, and staff safe. Duke has been recognized in the national media as a leader in these efforts. He has also created twin administrative strategy teams focused on the immediate challenges of returning to normal operations and the long-term financial and strategic considerations presented by the crisis.
Price has been active as a leader in higher education. He serves on the boards of the Consortium of Financing for Higher Education (COFHE), the Research Triangle Park, the National Humanities Center, Duke University Health System, and DUMAC, Inc. He is the vice chair of the Atlantic Coast Conference Board of Directors, and he chaired the reaccreditation committee for Dartmouth College in 2019-20.