Students Find Interdisciplinary Exploration and Connection in Winter Breakaway Courses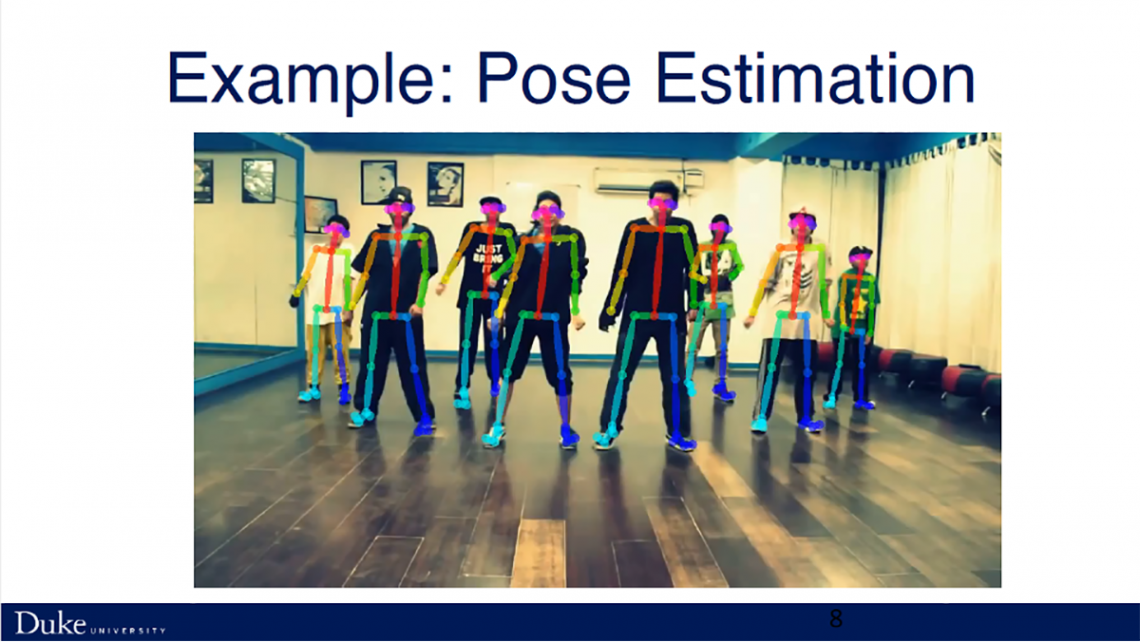 More than 1,000 Duke students from across the globe logged on to Zoom over the first two weeks of January to participate in an academic gateway for students of any major to explore new topics in a short form and without the pressure of grades
Open to all Duke students- undergraduates, graduates, and professionals, Winter Breakaway offered 13 different programs focusing on topics including computational thinking, mindfulness, policies in the technology sector, intercultural competencies and navigating difficult conversations.
With heavy student interest in the program, faculty said they saw the value of learning that was accessible to a broad audience. David Carlson, an instructor in Winter Breakaway's AI for Everyone and an assistant professor in the departments of Civil and Environmental Engineering and Biostatistics and Bioinformatics said the AI for Everyone sessions aligned "with our goal to infuse computational thinking across all programs of study." 
Students agreed. "AI for Everyone has greatly helped me in my empirical work for my master's thesis because it helped me to understand the granular details and concepts that make up natural learning processing and transformers," said Eric Kim, a master's student in political science. "It also will help me to understand how we can harness machine learning for future research and solving practical public policy problems."
AI for Everyone had more than 300 participants from across Duke from first-year undergraduates to students in advanced degree programs. Sarah Glomski, a Pratt first-year student, explored new degree options. "Before the Winter Breakaway, I was debating whether I should pursue a minor in math, my biggest hesitancy being that there didn't seem to be that many applications for higher level math out in the real world. But now that I've seen how this entire up-and-coming industry (machine learning) is centered around math and computations, I'm much more inclined to continue down that math minor route."
While the AI course was popular, Winter Breakaway also offered programs from the humanities, social sciences and other disciplines. The Working Across Cultures course was intended is to better prepare Duke students to enter a globalized workforce. "Through trainings on global leadership, cross-cultural communication and cultural awareness, and panels discussing career planning, workplace skills, and recent alumni experiences, participants interacted in thoughtful ways that will help them meet their future workplace goals," said Amy Bowes, a lead instructor at Winter Breakaway and the operations director of the Global Education Office.
"My Winter Breakaway experience has reduced some of the anxieties I had concerning my majors and future career," said Satya Khurana, a Trinity sophomore, "After participating in the Working Across Cultures program, I know that learning Spanish and French through my Romance Studies major will open the doors of tons of global organizations, including the United Nations."
"This program was a nice on-ramp back into the semester after the break. The short format and practical skill-focused aims gave me the chance to enhance my knowledge and skills about cross-cultural communication," Megan Cook, a master's student in the Nicholas School, mentioned, "I didn't sign up specifically for this reason, but I also really enjoyed meeting students from so many different programs and levels across Duke.  I really only interact with my cohort of graduate students, so I appreciated hearing from others."
Winter Breakaway was developed this year in response to the extended break between semesters. The positive feedback from program instructors and student participants opens doors for possible future offerings.
"The program's success demonstrates the huge demand for more flexible, modular and global ways to learn," said Associate Provost Noah Pickus, who led the development of Winter Breakaway.