Social Justice Activist Rev. Starsky Wilson to Highlight Duke's MLK Commemoration Events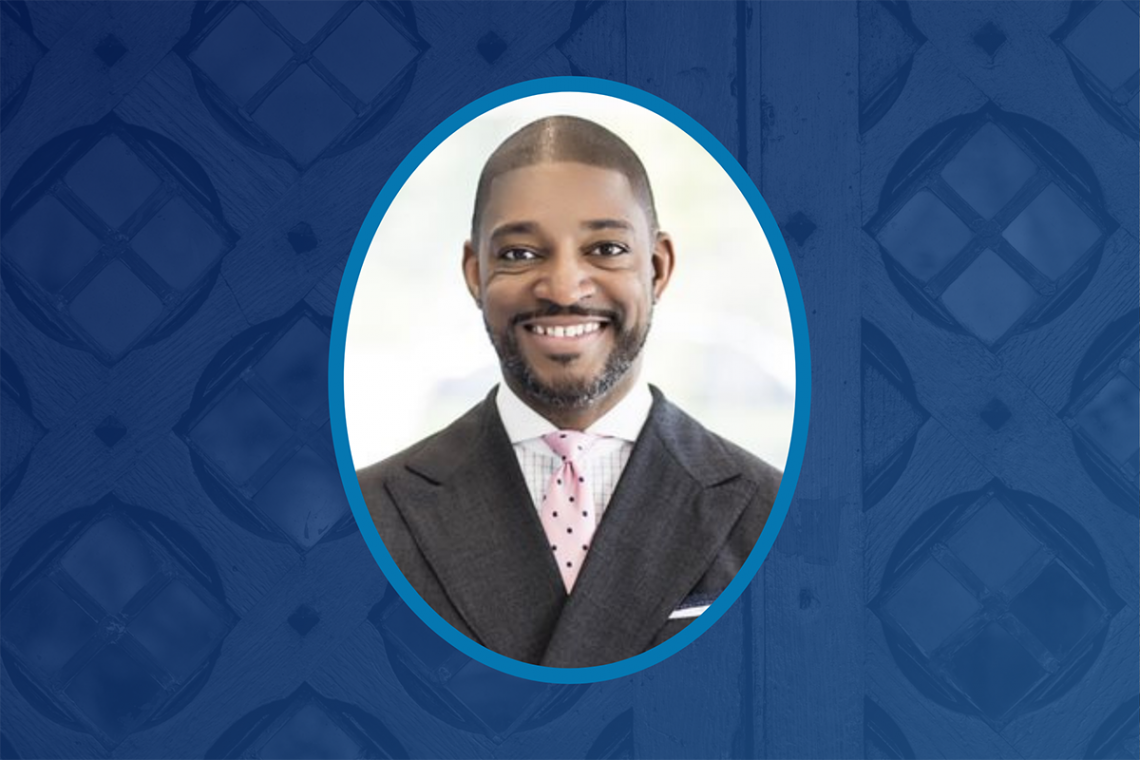 The Rev. Starsky Wilson, a nationally recognized children's rights and racial equity champion who in December succeeded Marian Wright Edelman as president of the Children's Defense Fund (CDF), will deliver the keynote address for Duke University's annual Martin Luther King Jr. commemoration on Sunday, Jan. 17. 
Wilson, an activist and philanthropist who served as chief executive of the church-linked Deaconess Foundation in St. Louis from 2011 until his new appointment, will speak on "Voices of the Movement," the commemoration theme. The program, usually attended by hundreds in Duke Chapel, is being presented online this year.  
Wilson served as co-chair of the Ferguson Commission, a group that recommended reforms after the 2014 police shooting death of Michael Brown in Ferguson, Missouri. The commission's report called for sweeping changes in policing, the criminal justice system, child well-being and economic mobility.
Wilson, who holds a Doctor of Ministry degree from Duke, has described himself as a "street preacher" at heart. He says he is now honored to serve young people through CDF at a time when "it's a little too easy to forget about crafting policy for children who don't get to vote, don't have lobbyists and can't make campaign contributions … child well-being and racial justice are intimately and forever intertwined. ..." 
Read more about Wilson in an interview in Duke Divinity School's "Faith and Leadership."
The annual program will link "voices of wisdom from the past and hope for the present that guide our pursuit of a more just world," according to a committee statement. Other highlights of the virtual program include performances by John Brown's Jazz Ambassadors, The Collage Dance Company and Duke student dancer Akylah Cox, as well as greetings from Duke University President Vincent Price, Chancellor for Health Affairs Dr. A. Eugene Washington, Durham Mayor Steve Schewel and Duke Black Student Association Co-President Tobi Akinyelu.
The program, streaming from 3 p.m., can be viewed here.
"We have worked hard to reimagine the MLK program in a virtual format this year in a way that will inspire and engage our community during this difficult time," said Kimberly D. Hewitt, vice president for Duke's Office for Institutional Equity. "We are very excited about our keynote speaker. Dr. Wilson is the kind of leader who particularly reflects the legacy of Dr. King as a pastor, visionary and someone who is deeply committed to the well-being of children."
Rubenstein Scholar and St. Louis native De'Ja Wood, a Duke senior, says she is excited that Rev. Wilson will be sharing insights from his leadership of the Ferguson Commission. "The annual MLK Commemoration at Duke provides the space for the university to acknowledge the ongoing fight for racial justice within our own community and the world at-large and for community members to consider how we can support this fight at Duke and in our surrounding communities," she said.
Other campus events include:
11 a.m., Sunday, Jan. 17, Duke Chapel: The Rev. Dr. Luke A. Powery, dean of the chapel, is the preacher during the chapel's regular worship service, which will include a litany of prayers related to the MLK commemoration. View on the chapel website.
1 p.m., Monday, Jan. 18, a virtual Unity Walk from the Mary Lou Williams Center near Duke Chapel to K-Ville with guest speakers. Register here.
3-4 p.m., Wednesday, Jan. 20, panel discussion on the current wave of athletes' social justice activism, led by Etan Thomas, a former NBA player and author of the book "We Matter: Athletes and Activism," and facilitated by Duke Men's Basketball Operations Director Nolan Smith. Panel members will include Mark Anthony Neal, James B. Duke Distinguished Professor of African and African American Studies; Jenna Frush, a master of theological studies student at Duke Divinity School and medical student at Duke. Register here to view on Zoom. Questions for the panelists may be submitted in advance to sharon.caple@duke.edu.
Learn more about this year's commemoration at http://mlk.duke.edu.