Social Justice Activist Rev. Starsky Wilson Calls for a Bold Child-Focused Agenda During MLK Event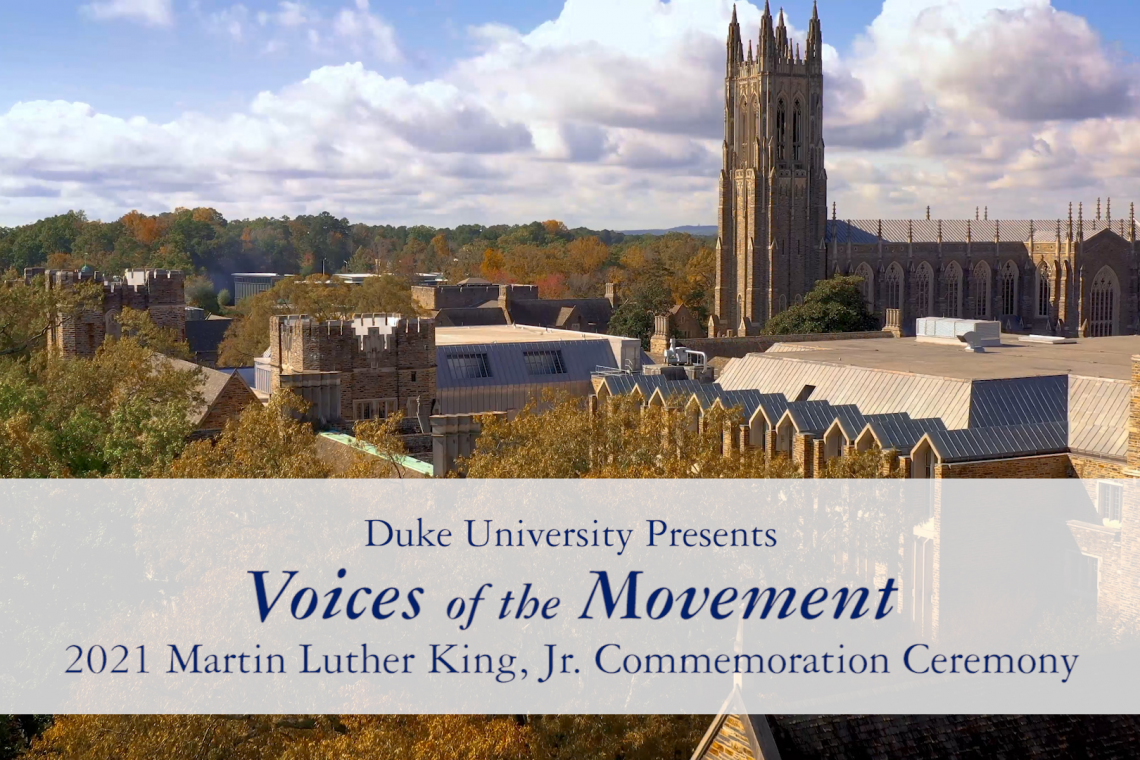 The Rev. Dr. Starsky Wilson, a nationally recognized children's rights and racial equity champion who in December succeeded Marian Wright Edelman as president of the Children's Defense Fund (CDF), called for a child-focused agenda of New Deal dimensions in his keynote address for Duke University's annual Martin Luther King Jr. commemoration, streamed on the web beginning Sunday afternoon.
Wilson, who holds a doctorate in ministry from Duke, recently moved to Washington, D.C., to lead the CDF. He shared how he and his 12-year-old son had been shaken by images of the violence and vandalism during the Capitol attack on Jan. 6.
In their new home just a few miles from the Capitol, the family watched on television as police responded to a crowd of 2,000 people who claimed to be saving America, and Wilson said he wondered how the riot would affect his son.
"As I saw him the next day in virtual school talking about the event, I recognized something else going on with him," Wilson said. "There was an evolution of a breakdown of the symbols of the American dream."
A critical symbol of that dream, he said, is the peaceful transfer of power.
While noting that we still hold to the notion of economic mobility as also key to the American dream, he said we haven't been serious about wage and wealth support for the accumulation of assets that would assure a better future for minority children.
"We have not marshaled the will for universal basic income or marshaled the will for child allowances or marshaled the will to make permanent the kinds of (COVID) relief that equalize the humanity of children and adults ..."
Wilson said the nation can't settle for gradualism at this "unique and tumultuous time of transition in American life," amid a pandemic and insurrection. Swinging for the fences is what is called for instead, he said, reflecting on the words in Rev. Dr. King's "Letter From Birmingham Jail."
"It is time for us to put together the pieces of the American dream. This is King's call for 2021, not to be happy with going back to the normal that was killing our children, not to be happy to go back to that which divides. But to put back the pieces in a way that we can remember how we were broken and in doing so we might live faithfully the call to beloved community, live faithfully into our unfulfilled hopes and we might indeed live what King later centered as an appropriate reality and new American dream."
Before taking the presidency of the CDF, Wilson served as chief executive of the church-linked Deaconess Foundation in St. Louis from 2011 to December, 2020. He also served as co-chair of the Ferguson Commission, a group that recommended reforms after the 2014 police shooting death of Michael Brown in Ferguson, Missouri.
The program, usually attended by hundreds in Duke Chapel, was presented online this year, and can be viewed here.
Other virtual events this week include:
1 p.m., Monday, Jan. 18, Virtual Unity Rally hosted by Duke Athletics, with Duke President Vincent E. Price joining other speakers from the university community, including several student-athletes. Register here.
3-4 p.m., Wednesday, Jan. 20, virtual panel discussion on the current wave of athletes' social justice activism, led by Etan Thomas, a former NBA player and author of the book, "We Matter: Athletes and Activism," and facilitated by Duke Men's Basketball Operations Director Nolan Smith. Panel members will include Mark Anthony Neal, James B. Duke Distinguished Professor of African and African American Studies, and Jenna Frush, a Master of Theological Studies student at Duke Divinity School and medical student at Duke. Register here to view on Zoom. Questions for the panelists may be submitted in advance to sharon.caple@duke.edu.