7 Things to Do Virtually at Duke This Spring
Listen to concerts, create art, attend talks and more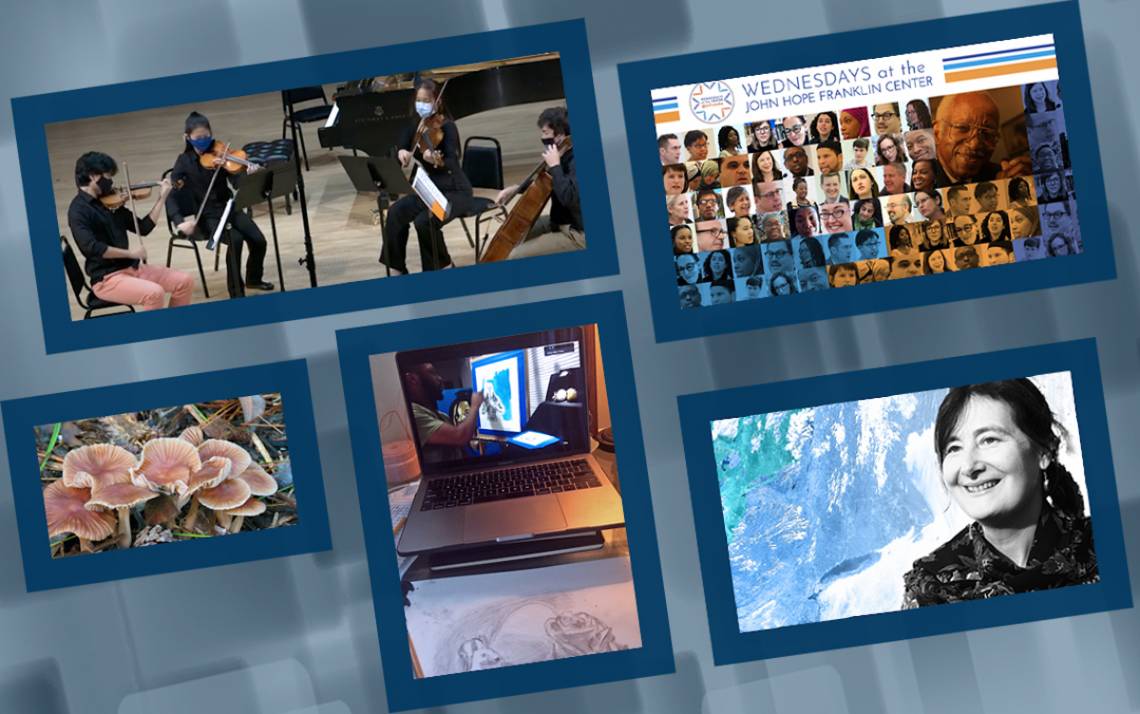 As a child, Bibi Gnagno grabbed a palette of watercolors and spent afternoons painting abstract shapes and landscapes.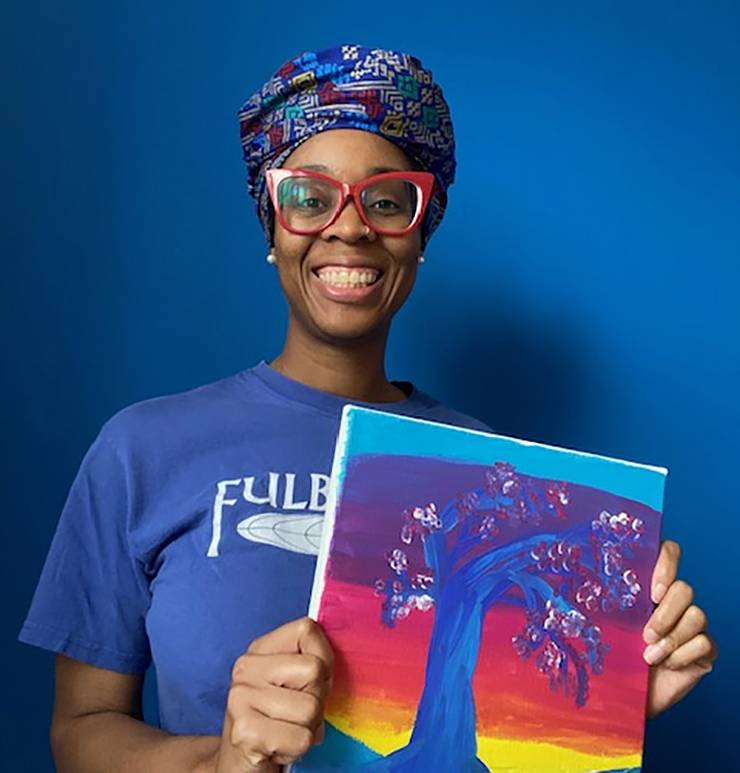 Gnagno revisited her childhood love last November when she participated in a free landscape painting class hosted by DukeCreate, a series of online workshops with an instructor who leads staff, faculty and students through a creative activity.
"Art liberates and comforts me," said Gnagno, director of academic engagement for global and civic opportunities with the Duke Academic Advising Center. "It lets me know I'm not alone. I liked the sense of community all of us participating in the call had. We were engaging in art together."
DukeCreate classes vary in topic from Drawing 101 on Feb. 3; basketry with a twist on Feb. 17; and "Yoga for Creativity" on Feb. 25.
With in-person public events postponed or canceled for the spring semester, Duke departments, schools and units are providing plenty of virtual programming to keep you connected to campus from home.
Imagine a more hopeful future

Norman Wirzba, the Gilbert T. Rowe Distinguished Professor of Christian Theology and senior fellow at the Kenan Institute of Ethics, will spend the spring semester interviewing leading scholars for a web series "Facing the Anthropocene." "Anthropocene" refers to the current historical time, in which humans are the dominant influence on climate and the environment.
Every Thursday at noon through April 15, Wirzba will speak to a scholar studying economics, history, anthropology, theology, environmental humanities or other discipline to examine the conditions under which a hopeful future can happen.
Find more information on "Facing the Anthropocene" here.
Watch movies from a comfy couch

Duke Cinematic Arts is offering a block of seven films that you can stream for free through Feb. 7.
Wong Kar Wai, a director from Hong Kong, is known for his lush visuals, atmospheric music and romantic narratives. Some films in the series include "As Tears Go By," about a mob enforcer torn between romance and loyalty, and "The Hand," about a shy tailor's assistant enraptured by a mysterious client.
If you want to watch a film, claim a separate ticket for each film. Claiming the free ticket will unlock the film for up to 10 days, or until Feb. 7. Tickets are available on a first-come, first-served basis.
Duke Cinematic Arts is offering the films through its Screen/Society program. Learn about the films and how to watch them here.
Get insights for your garden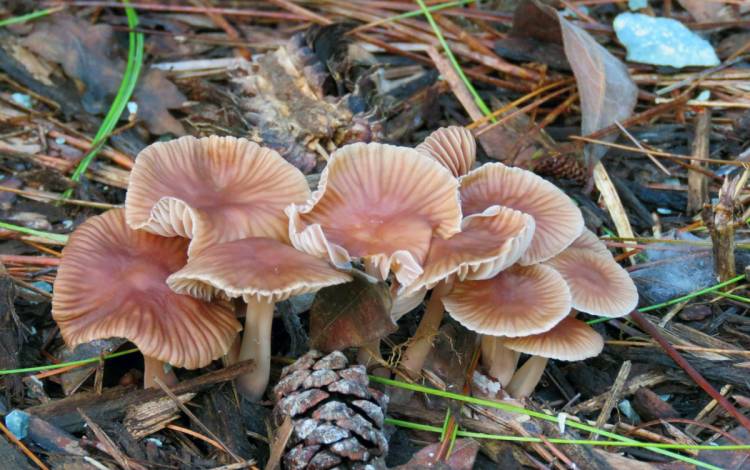 The Sarah P. Duke Gardens are closed, but you can learn from horticulture experts during "Walk on the Wild Side" on the first Thursday of every month. Horticulturists and curators will discuss winter plants, hedges, plants native to North Carolina and more.
Horticulturist Maegan Luckett will talk about fungi and their uses in medicine and folklore on Feb. 4. Then she'll be joined by Curator Annabel Renwick on March 4 for a discussion about plant names, wild plants and cultivated horticulture, so you can make informed decisions about what to plant in your garden.
Check the Duke Events Calendar for other events.
Let your book worm shine
Duke Libraries' Low Maintenance Book Club has encouraged Amy McDonald to read outside her typical selection of contemporary fiction.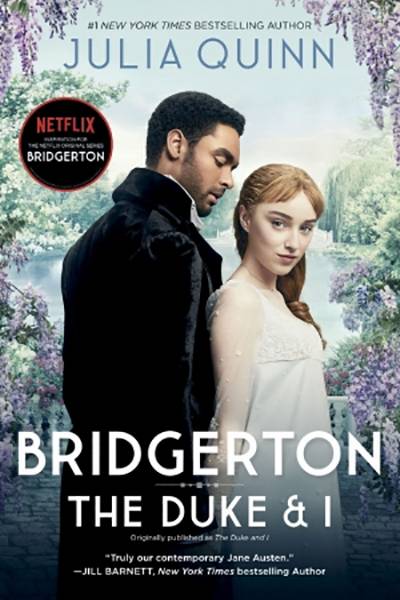 Since participating in 2019, she has read horror stories by Shirley Jackson, Charles Dickens' "David Copperfield" and Mariana Enríquez's short story collection "Things We Lost in the Fire."
"There's always a crowd of people from across Duke that I don't know participating in the club," said McDonald, assistant university archivist for Duke University Archives. "We're all coming together to have some fun and share our opinions. It's a nice moment together."
Duke Libraries organizes the Low Maintenance Book Club, which meets two to three times each semester, to reflect on novels, short stories, graphic novels and poetry. The club is open to students, staff and faculty.
The club's next meeting is at noon on Feb. 16 when participants will discuss "The Duke and I" by Julie Quinn, the basis for the Netflix series "Bridgerton." All are welcome, no matter how much of the book is read.
Learn from scholars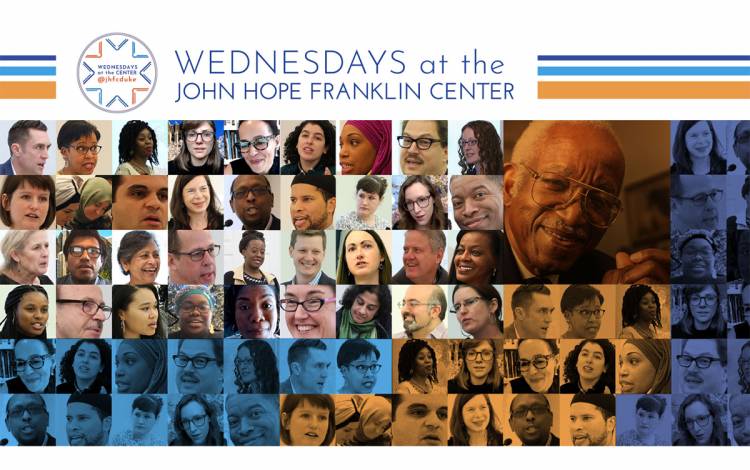 The John Hope Franklin Center's "Wednesdays at the Center Series" invites Duke community members and general public to hear scholars, artists and other experts discuss their work. Every topic during the spring semester series addresses structural racism and racial inequality.
The series begins Feb. 3 with a talk by Mark Driscoll, professor of East Asian Studies at the University of North Carolina at Chapel Hill, on "Extra-acting and Extracting Whiteness: Why Asians called Euro-Americans 'Enemies of Heaven' in the 19th Century."
Each event in the series occurs on Zoom at noon on Wednesdays. The full schedule of events will be posted online.
Find serenity in beautiful music

Enjoy online showcases of Duke's most talented student and employee musicians through the Department of Music's "Best of Biddle" virtual concert series.
The Department of Music will debut a new video of performances almost every Friday at 7:30 p.m. during the spring semester. Videos are also available on demand.
Previous performances include R. Larry Todd, the Arts and Sciences Distinguished Professor of Music, playing Beethoven's "Piano Sonata in A Major, Op. 2 No. 2," the Fall 2020 Undergraduate Showcase and Duke Opera Theater's "A Night of Italian Opera."
See the schedule and watch performances here.
Got something you would like for us to cover? Send ideas, shout-outs and photographs through our story idea form or write working@duke.edu.