Special Delivery: An E-Newsletter of Fun
Colleagues start e-newsletters to stay connected while working remotely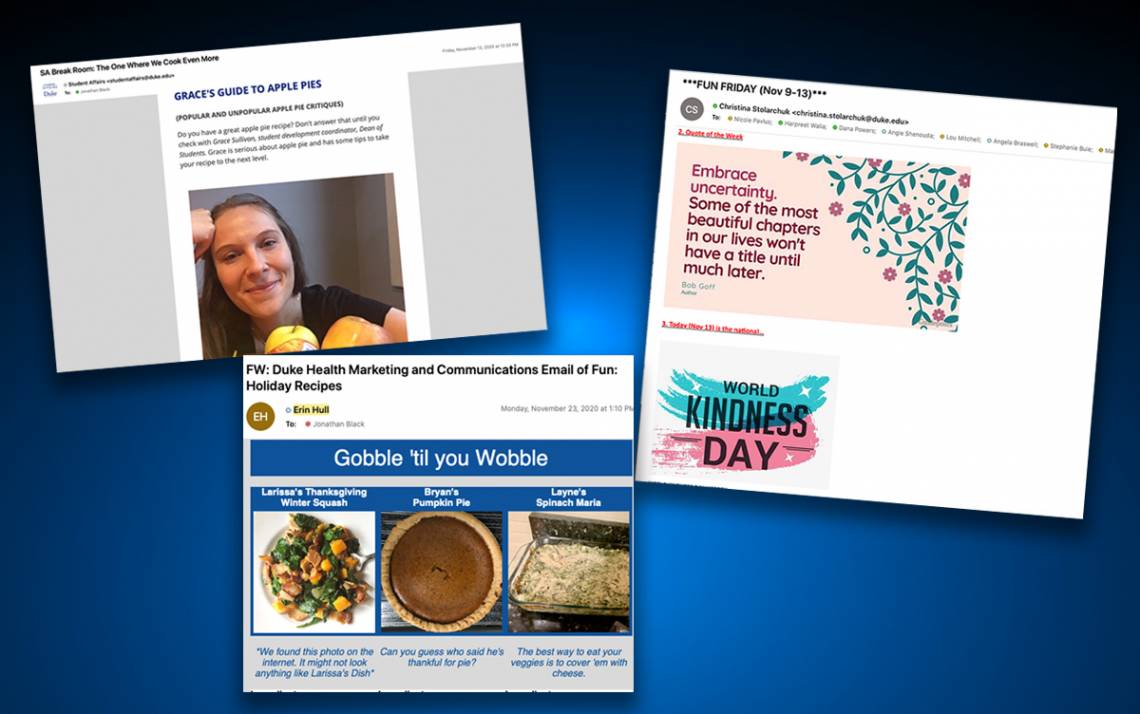 As the days of working from home accumulated, Christina Stolarchuk was feeling more and more disconnected from her team in Duke's Gastroenterology Clinical Research Unit.
She missed impromptu conversations at the coffee maker, decorating cubicles for birthdays and out-of-office adventures with colleagues such as last year's trip to the North Carolina State Fair.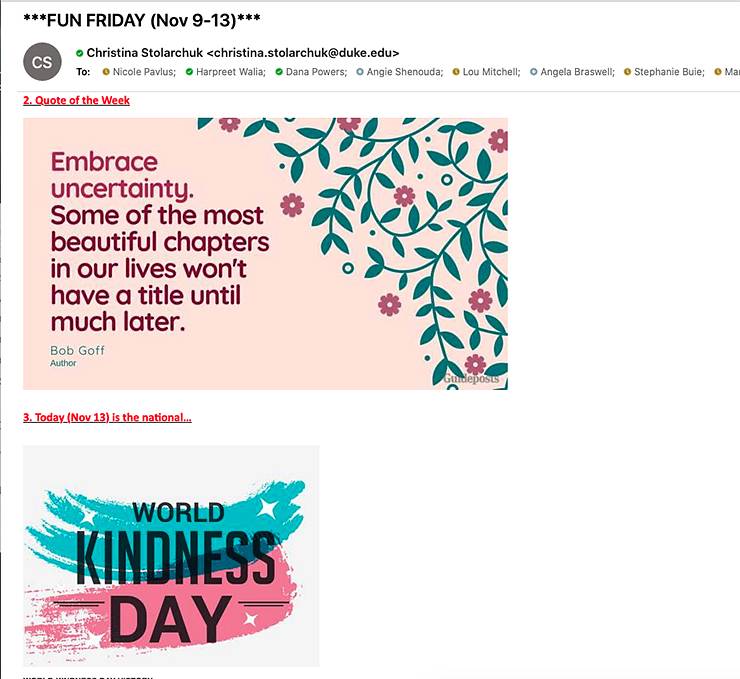 "We're a very close group, and it felt weird for us not to be interacting as much," said Stolarchuk, clinical research trial coordinator. "I missed all of us putting smiles on each other's faces."
To help get her team more connected, Stolarchuk started the "Fun Friday" e-newsletter in late October. The mailing arrives in the inboxes of 15 colleagues every Friday and includes a meme, "This Week in History" segment, interesting YouTube channels to check out and funny Amazon reviews that Stolarchuk or others find and share.
"Folks love it," Stolarchuk said. "It's just something fun and silly during this tough year."
As many Duke staff and faculty continue to work remotely to limit the spread of COVID-19, colleagues are creating e-newsletters to stay in touch, offer a bright spot in uncertain times and get to know coworkers.
"SA Break Room"

Student Affairs employees use their e-newsletter to unite the division's 500 employees, some of whom continue working on campus and some from home.
Student Affairs' Collaborative Learning and Communications (CLC) team launched "SA Break Room" in March to share light-hearted content about colleagues and other news every other Friday.
"We realized pretty early on that we would be missing that casual walk by someone's desk to say hello or share a funny story," said Kristin LoBiondo, communication specialist for the CLC team who co-manages the e-newsletter. "We wanted to keep that sense of workplace community."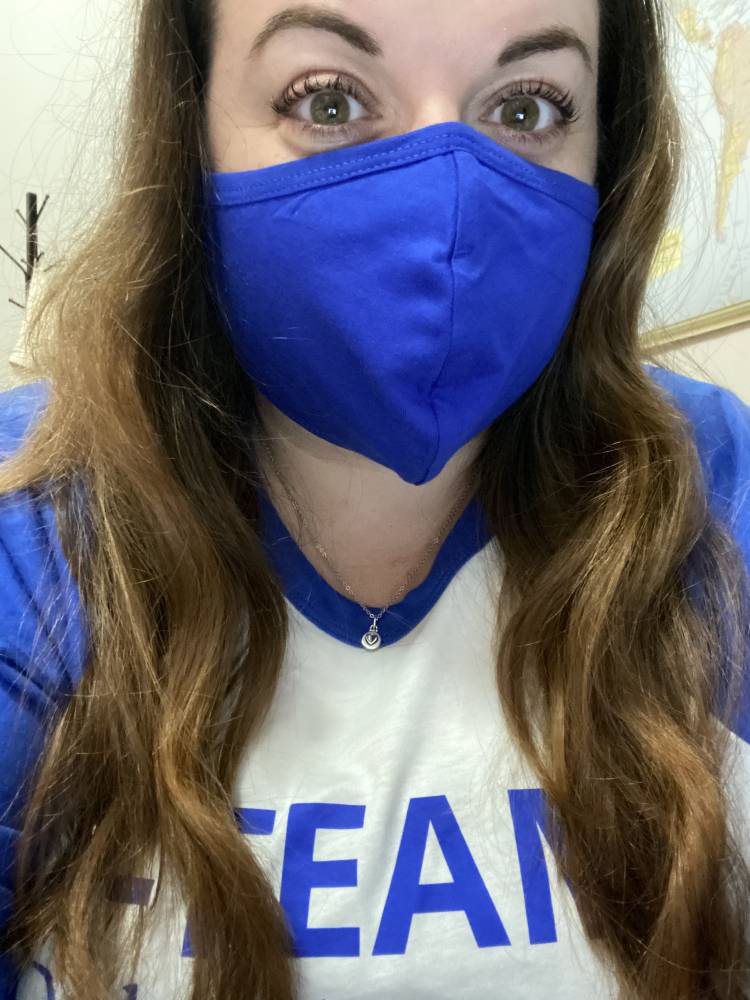 Each email includes a curated list of "5 Songs to Listen To," along with Q&As with employees, themed photo challenges, recommendations for hiking spots and cooking tips. The team launched a coordinating Microsoft Teams space, also called the "SA Break Room," to allow staff members to continue the conversation between editions of the email.
LoBiondo; Kyle Fox, CLC's creative director; and Tara Carty, assistant director of Conference and Event Services and affiliate to the CLC team, meet once a week to plan the theme of the e-newsletter.
The team keeps a spreadsheet of employees and their interests so she knows whom to contact for topics such as decorating, cooking or crafts.
"There are folks in the division that I've never met in person that I feel more connected with now because I've read about them in the newsletter," LoBiondo said. "We're getting a glimpse into someone's life. It feels a bit like a virtual hug."
"Team Video Challenge"

Duke Population Health Management Office (PHMO) employees are showing off their creativity with a new video component to the pre-existing e-newsletter, "PHMO Pulse."
Every month, "PHMO Pulse" goes to roughly 225 people working at PHMO. The e-newsletter includes updates about work policies, department events and, since September, the "Team Video Challenge."
PHMO's Work Culture Task Force created the "Team Video Challenge" as a way for colleagues to connect with others while working remotely.
The challenge tasks a different team each month with creating a video based on a theme. Team members then submit 15 to 20-second clips representing subjects such as time off activities and how employees practice self-care.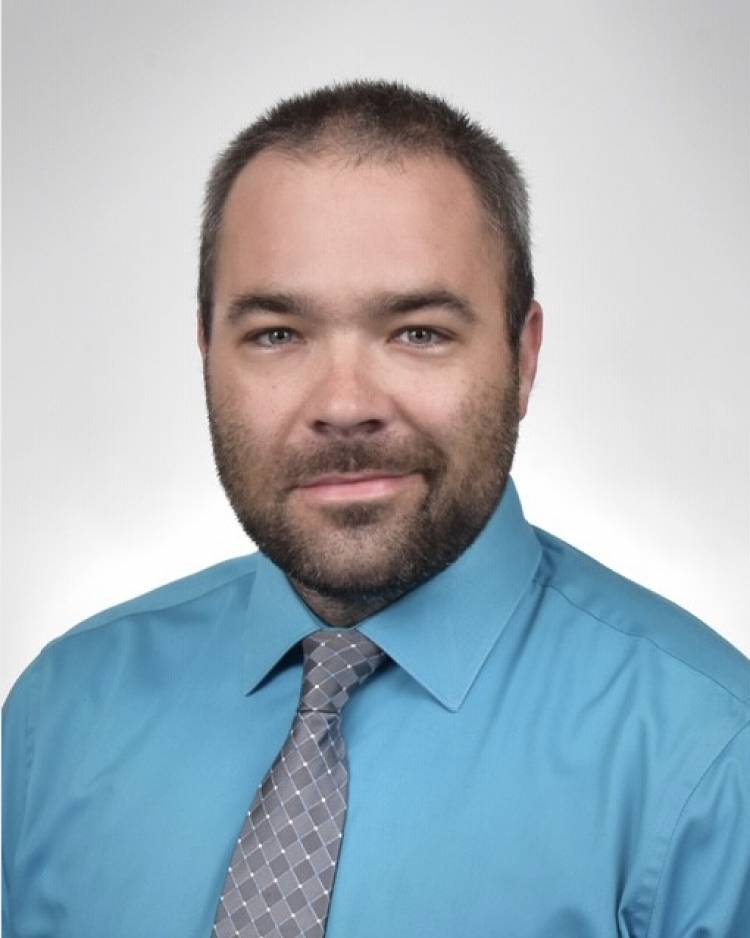 Logan Cason, marketing communication specialist for PHMO, collects clips and turns them into a three to five-minute video montage. He links the video to the top of "PHMO Pulse" because the e-newsletter has a high level of engagement with a nearly 65 percent open rate.
"We've got an amazing, energetic group of employees at PHMO," Cason said. "Adding the video element to the newsletter shows that our colleagues are one of the best things about Duke."
Since September, PHMO teams have started a friendly competition to see who can create the most creative video content for the "Team Video Challenge." PHMO's Quality, Education & Staff Training team recorded the first video of themselves swimming, mowing their lawns and visiting the beach for a summertime theme.
The Medicare team followed in October by showing off talents such as baking, painting and volleyball. Then the Gap Closure team talked about how walking, online shopping and lawn care helps well-being.
"We have a responsibility to keep our camaraderie up so we can all continue working together comfortably," Cason said.
"Email of Fun"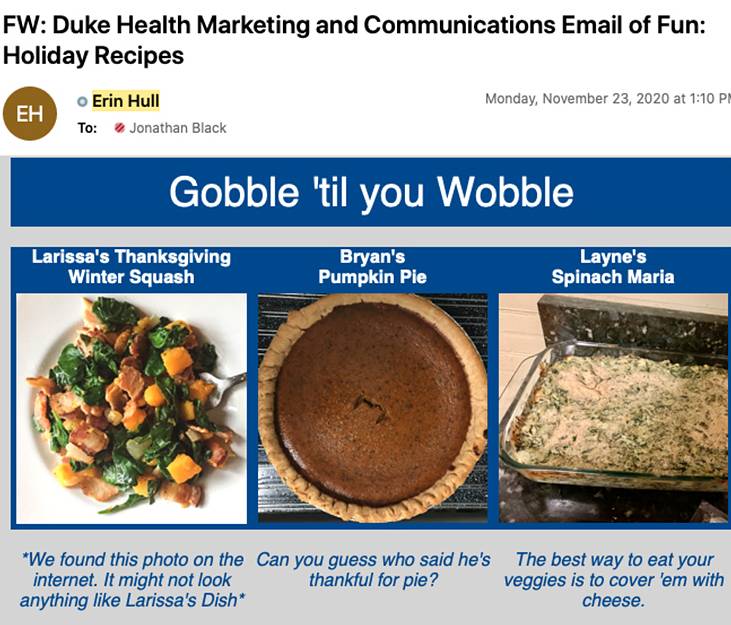 Lindsay Kenton and Erin Hull missed break room lunches, walks around University Tower and spur-of-the-moment chats as people visited in the Duke Health Marketing & Communications office.
To replicate those light-hearted moments and allow new team members to get to know their 40-some colleagues, Kenton and Hull started the monthly "Email of Fun" e-newsletter in August.
"I wanted us to build a sense of community," said Kenton, senior physician content specialist for Duke Health. "It's been uplifting to focus on something that is purely for fun."
Every "Email of Fun" focuses on different themes such as recipes and favorite seasonal activities. For a "Back to School" themed mailing, Kenton and Hull collected school photos of colleagues and assigned them superlatives like "Most Likely to Cheer You Up," "Best Smile" and "Most Creative."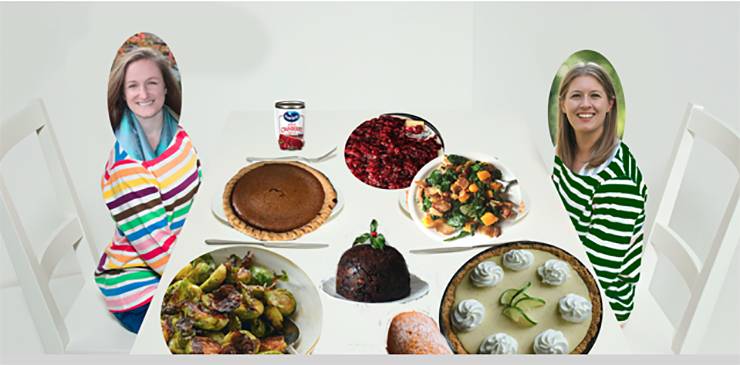 The e-newsletter includes a survey where employees can submit photos and content for the next e-newsletter. December's topic is "Getting to Know Our Team Members."
Hull, videographer for Duke Health, said the e-newsletter has helped her get to know colleagues by bonding over mutual hobbies like hiking, running and gardening.
"The newsletter has kicked off conversations over email and in our staff meetings," Hull said. "It makes communication feel almost normal again when you can hop on a call with someone and chat for a few minutes about their plants."
Got something you would like for us to cover? Send ideas, shout-outs and photographs through our story idea form or write working@duke.edu