300 Episodes Later, 'Left of Black' Celebrates 10 Years
Webcast creator and Duke Professor Mark Anthony Neal highlights Black history, art and academia
Mark Anthony Neal was waiting for his order at a restaurant one afternoon in 2011 when a man he didn't know approached him.
"He said, 'I just saw you on TV talking to Cornel West. That was so cool,'" recalled Neal, the James B. Duke Distinguished Professor of African and African American Studies.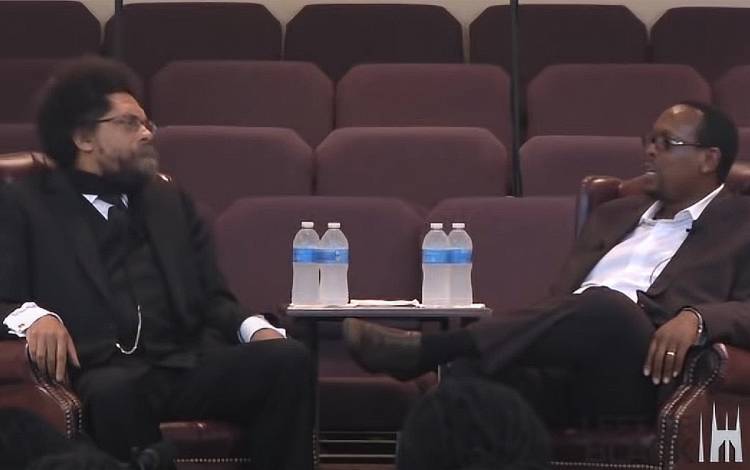 Neal spoke with West, a philosopher and political activist, in Raleigh for the first season of his webcast "Left of Black," a web series featuring interviews with Black Studies scholars. The interview debuted on YouTube and aired on the local channel Durham Television Network.
"That is still one of the most important moments to me when thinking about the 10 seasons of Left of Black," Neal said. "We wanted to make Black studies accessible to other folks. That random interaction showed we were accomplishing our mission."
Neal and a group of Duke staff created "Left of Black" in 2010 to highlight boundary-pushing work by scholars in Black studies, history and art. A decade later, the webcast has completed nearly 300 episodes with about 400,000 views and recently launched its 11th season.
The Left of Black series began with a chance collaboration.
In 2009, Neal was working with University Communications to film a video on the legacy of Michael Jackson when he met Camille Jackson, a writer for University Communications at the time. Camille Jackson saw Neal's natural charisma in front of the camera and floated the idea by Neal a few weeks later to start a series about Black art, history and academia.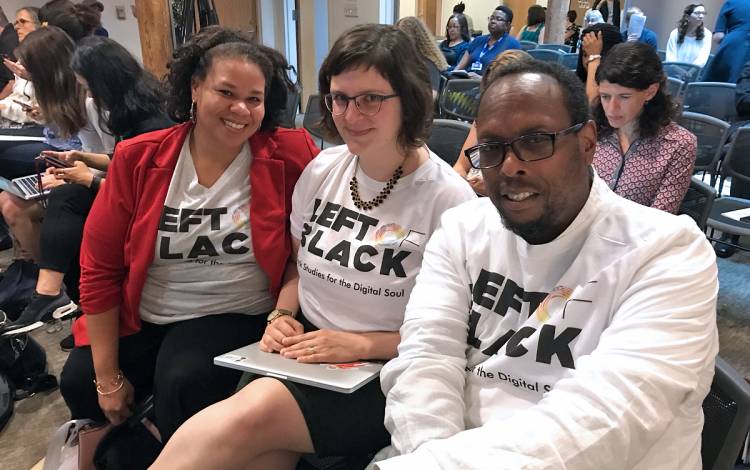 "I remember we were standing outside the boardroom of the Allen Building and he immediately said 'OK' when I mentioned the idea," said Jackson, now director of communications for the Office of Information Technology (OIT). "I thought there might be follow-up questions. He was so into it. He already had a name ready to go."
Neal chose the title "Left of Black" in response to a radio program in Washington, D.C. called "Right of Black," a politically conservative news program focusing on issues relevant to the Black community. He wanted "Left of Black" to focus on topics like gender, sexuality, equality and other progressive topics.
Neal and Jackson needed a filming location. They enlisted the help of Catherine Angst, who was working in video production for the John Hope Franklin Center at the time, to film the series.
In the basement of the John Hope Franklin Center, Angst turned what was a storage area into a roughly 15 feet by 5 feet production space with room for Neal and a guest to sit with a table between them. Prior to the pandemic, Neal interviewed most of his guests in-person. Some episodes were filmed over Skype or Zoom.
The show premiered on YouTube on Sept. 13, 2010 with scholars Zelda Lockhart; director of LaVenson Press in Hillsborough, which publishes work by women of color, and Stephane Dunn; a professor at Morehouse College. During "Left of Black with Zelda Lockhart and Stephane Dunn," Neal discussed Lockhart's novel "Fifth Born II: The Hundredth Turtle" and Dunn's research on Black churches.
Angst filmed the episode and the entire first season with one camera.
"Everything was an experiment in those early days," Angst said. "We had to decide on a set, lighting, what sort of footage we could use. I had to figure out filming, Mark had to prepare for his interviews and Camille was organizing everything. We were moving at such an agile pace."
The first season finished in May of 2011 with Neal interviewing Cornel West. The West episode remains "Left of Black's" most popular episode with nearly 31,000 views.
With other seasons, Neal, Jackson and Angst sorted out kinks and smoothed over their filming process. Angst found a second and third camera. She added historical photos to highlight the topic to include in videos.
Neal and Jackson scheduled interviews with Black studies scholars and artists visiting Duke, North Carolina Central University and the University of North Carolina at Chapel Hill.
Some of Neal's favorite conversations have been with author Marc Lamont Hill, writer and commentator Melissa Harris-Perry and Carrie Mae Weems, a contemporary artist who has worked with the Nasher Museum of Art on multiple occasions, most recently for the museum's "Resist COVID / Take 6" exhibit.
In 2018, Neal added a host, Sasha Ann Panaram, an assistant professor at Fordham University, who received a Ph.D. from Duke, to fill in on some episodes.
"The best conversation is when we might ask two questions and then completely ignore our notes for the rest of the interview," Neal said. "We try to steer the talk away from topical, news cycle items because we want our conversations to resonate with people no matter what is happening in the world."
Koritha Mitchell, an associate professor of English at The Ohio State University, has watched "Left of Black" since the first season. Mitchell considers "Left of Black" a form of professional development.
"Mark asks genuinely good questions," Mitchell said. "He exposes me to new ways of learning and thinking. Everything I should be aware of in Black studies is right there on the show."
Left of Black's 11th season is underway. The season is filming on Zoom with the help of Eric Barstow, multimedia director of the Franklin Humanities Institute, who replaced Angst, who moved to a new position as director of communications at the Duke Global Education Office.
Barstow equipped Neal's office with an artificial light and movable microphone to improve the video and audio quality. Barstow also sends a "cheat sheet" to guests with tips for filming. They've filmed 22 episodes so far during the pandemic.
"The quality of Left of Black isn't dipping because we're doing the show remotely."
While conversations are now virtual, Neal said the spirit of the show continues to celebrate and showcase Black thought to everyone.
"We're creating a way to capture a cornucopia of Black intellectual thought," he said. "'Left of Black' remains a loving space if we're filming in-person or on our screens."
Got something you would like for us to cover? Send ideas, shout-outs and photographs through our story idea form or write working@duke.edu.