[SECOND UPDATE]: Memorial Service for Former Vice Provost James Siedow Will Be Held Nov. 15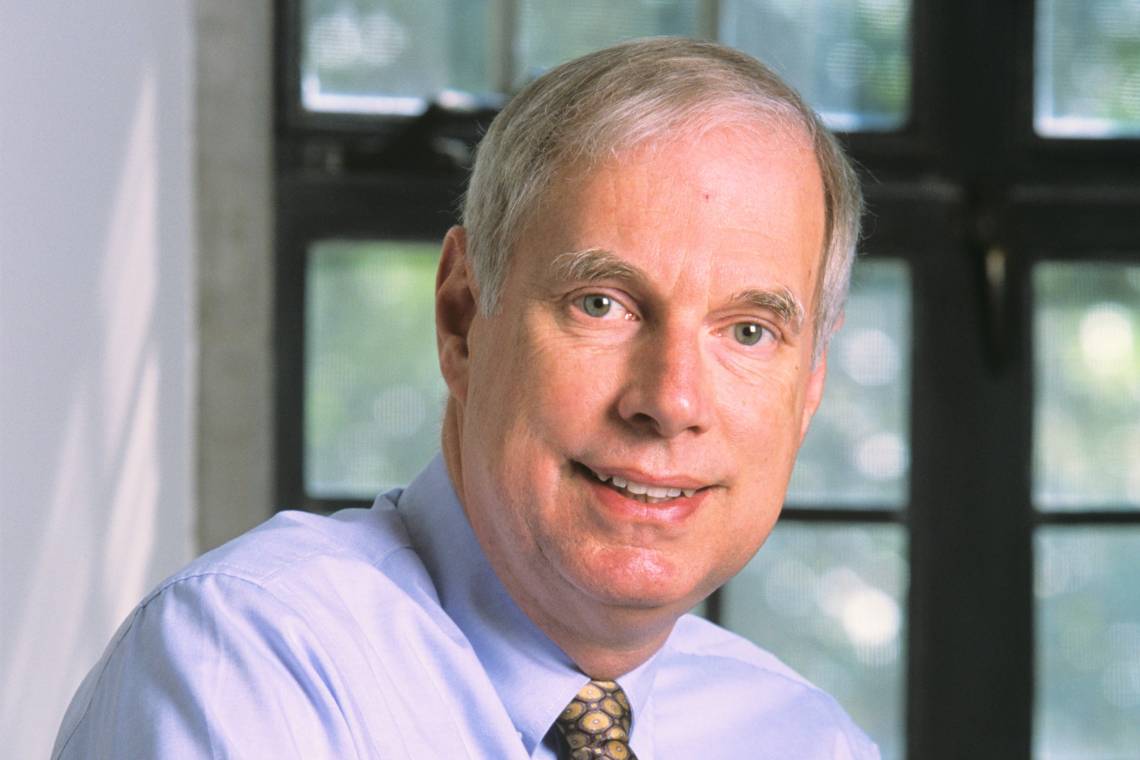 [UPDATE] The memorial service planned has now been rescheduled for 3 p.m. Monday, Nov. 15, in the Doris Duke Center of the Duke Gardens.
*     *     * 
James (Jim) Siedow, Duke's former vice provost for research and a longtime biology professor known for his kindness and quick, Texan wit, died on Sunday, November 15 in Durham's Croasdaile Village after a long battle with Parkinson's disease. He was 73.
Over the course of his 40-year career at Duke, Siedow made various contributions to our understanding of plant growth. Siedow is the author or coauthor of more than 125 scientific papers on plant respiration, the process by which plants convert the food they make through photosynthesis into the energy they need to grow.
During his tenure as the head of Duke's research enterprise, Duke's research expenditures more than doubled and the university rose in the ranks to become one of the top 10 research institutions in the nation.
One of his major contributions to plant science was working out the details of an alternative form of energy production, known as cyanide-resistant cellular respiration, which was thought to play a role in helping plants survive stress.
"Jim paid a critical role in botany, and later biology, inasmuch as he was often the only professor who could form a bridge over the chasm that separates field studies from molecular studies," said professor and dean emeritus Bill Schlesinger, who rose through the ranks alongside Siedow.
Siedow was born and raised in Houston, Texas. He graduated Phi Beta Kappa from the University of Texas at Austin in 1969 with a bachelor's degree in chemistry and botany, then went on to earn a Ph.D. in biochemistry at Indiana University in 1972.
There, he met his future wife of 46 years, Mary Dunn Siedow, who was pursuing a Ph.D. in literacy education.
Siedow did postdoctoral research at the University of Michigan and Rice University before joining the Duke faculty in 1976. Here, he taught classes ranging from introductory biology to biophysical plant physiology, receiving the Trinity College Distinguished Teaching Award in 1984.
"He was a remarkable person in so many ways; a world-class scientist, an effective and focused leader and a beloved mentor and teacher," said professor emeritus Norman Christensen, whose office was adjacent to Siedow's in the basement of the Biological Sciences building for 15 years. "We were a daily feature in each other's lives," Christensen said.
Christensen recalls the years they spent co-teaching an introductory biology course, "referred to by some as the Jim and Norm show." One time, Siedow "convinced one of our teaching assistants to don a gorilla outfit and jump out of a side closet during one of my lectures," Christensen said.
"My favorite Jim tale relates to his 40th birthday party for which a group of us had arranged the appearance of a clown, Rainbow the Clown to be exact," Christensen said. "After making balloon animals and performing similar feats, Rainbow started in on stand-up comedy. Jim was standing next to him and matching him joke for joke. This continued until at some point, Rainbow paused, turned to Jim and said, 'I work alone!'"
Siedow was promoted to full professor in 1987. He became increasingly involved in service to the university and national engagement, shifting his responsibilities from the lab to administration, and later testifying before Congressional committees about university research funding.  
From 1988 to 1989 he spent a year in Washington, DC, as program director at the National Science Foundation. He then chaired Duke's Academic Council from 1994 to 1996, and was the dean of faculty development in Arts and Sciences from 1997 to 1999.
While serving on the Academic Council, he gave Duke's then-president Nan Keohane a plaque that remained on her desk throughout her presidency. The plaque read: "Have you consulted the faculty?"

Siedow became Vice Provost for Research in 2001, overseeing the Office of Research Support, which provided grant administration for non-medicine faculty, and the Office of Corporate Relations, which seeks research partnerships with industry.
While most of the growth in Duke's research during Siedow's tenure was on the medical center side, research expenditures on the campus side grew 73%. By the time Siedow stepped down in 2014, he was managing the annual distribution of more than a billion dollars in research funding.
"I came in at a time when the federal funding spigot looked wide open and ready to run," Siedow told Duke Today in 2013.
In describing Siedow's tenure, then Provost Peter Lange said: "The growth in research funding has been superb. Less apparent, but no less noteworthy, has been the growth of multidisciplinary scholarship, the sharply increased numbers of larger multi-investigator grants, and the broadening and deepening of the university's research portfolio. Jim's quiet and effective leadership has been crucial to the faculty's outstanding research and grant efforts."
Despite having to manage increasingly complex federal regulations and guidelines for university research, Siedow said he "tried to create an atmosphere of service to the researchers. We've focused on how we can do things, not why we can't do things."
Siedow was elected a Fellow of the American Association for the Advancement of Science (2002), and a Fellow of the American Society of Plant Biologists (2007), where he also served as president.
Students and colleagues remember the impact he had on their lives.
Plant physiological ecologist Chantal Reid says that when she was a graduate student at Duke in the mid-1980s, Siedow taught a popular graduate-level course where his "view of a plant was a generic stick figure." Years later she had the opportunity to co-teach with him, and while he had embraced new pedagogical tools, he "still drew on the board his stick figures for a plant."
Fellow plant molecular biologist Xinnian Dong remembers Siedow for his generous proofreading help, as he often offered a second pair of eyes for her manuscripts and grant proposals.
"I personally consider Jim a born editor," Dong said. "It was hard at first to figure out his slanted chicken scratch handwritings. But his suggestions always made sense and better than my original writings. I learned so much from Jim through these back-and-forth exchanges."
Biology professor Tai-ping Sun remembers his mentoring and feedback when she first starting teaching plant physiology as a new assistant professor in the 1990s. "Jim sat in all my lectures," Sun said.
Norman Christensen, founding dean and professor emeritus at Duke's Nicholas School of the Environment, says it was Siedow's vote of confidence that helped him make the difficult decision to leave the botany department and take the reins of the newly created Nicholas School, combining forestry, geology and ecology.
"Jim's encouragement, his assurance that I had the leadership skills and imagination to match the challenge, was very important," Christensen said.
"Jim was known for his quick wit, colorful turn of phrase, and meticulous attention to whether his books were lined up evenly or all of the clocks in the kitchen read the same," Schlesinger said.
Friend and colleague David McClay, a biology professor who worked down the hall from Siedow his entire career, recalls, "a discussion with Jim could become quite intense, and often he would stop, pause, and come back with 'What's your point?' So you learned that you couldn't ramble with Jim."
Siedow was an avid fan of men's and women's basketball at Duke, modern arts and dance, and birdwatching. Before his wife Mary fell ill with cancer, they enjoyed hosting meals around the "big table" in their dining room, inviting friends for slideshows of their many travels, and dancing together at Duke holiday parties.
"Duke underwent so much change during Jim's 40-year tenure, and he was an important agent for much of that change," Christensen said.
Siedow will be buried next to his wife Mary in a private ceremony at St. Matthew Catholic Cemetery. A memorial service will be planned in the future.