With Duke Health's Assistance, There's a New Home for a Durham Family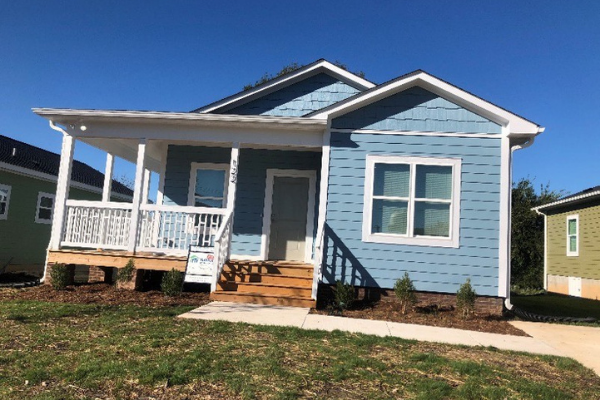 A Durham woman and her sons are proud homeowners, thanks in part to a home sponsorship from Duke Health.
During a virtual dedication on Oct. 23, Duke Health team members joined Habitat for Humanity of Durham staff and board members to congratulate Crystal, who asked that only her first name be used, on becoming a first-time homeowner.
"Duke has been thrilled to be a part of Habitat, and many of us have had the opportunity to participate in builds over the years," said Katie Galbraith, president of Duke Regional Hospital, and interim head of community health for the Duke University Health System. "Congratulations on your special moment, Crystal. You are part of our Duke Health family."
Duke Health has been supporting home sponsorship since 2015. Duke University has partnered with Habitat for Humanity of Durham for 25 years through the Duke Office of Durham and Community Affairs, Duke Chapel, the chapel's congregation and the Duke student chapter of Habitat. Over the years, at least 20 homes have been built by Duke-sponsored entities, according to Sam Miglarese, deputy chief administrator to the vice president for Durham and Community Affairs.
To become eligible for homeownership through Habitat for Humanity of Durham, applicants must be Durham County residents for at least six months and meet several other requirements including being willing to invest 250 hours of sweat equity. These hours are achieved by helping construct their own homes and the homes of their neighbors. Crystal said she enjoyed participating in the build and learning about all the tools used in construction.
"I'm looking forward to my boys having a place to call home," Crystal said.