Who Are Your Trusted Sources for Information on Voting?
Two Duke scholars on where they look for information on the election process.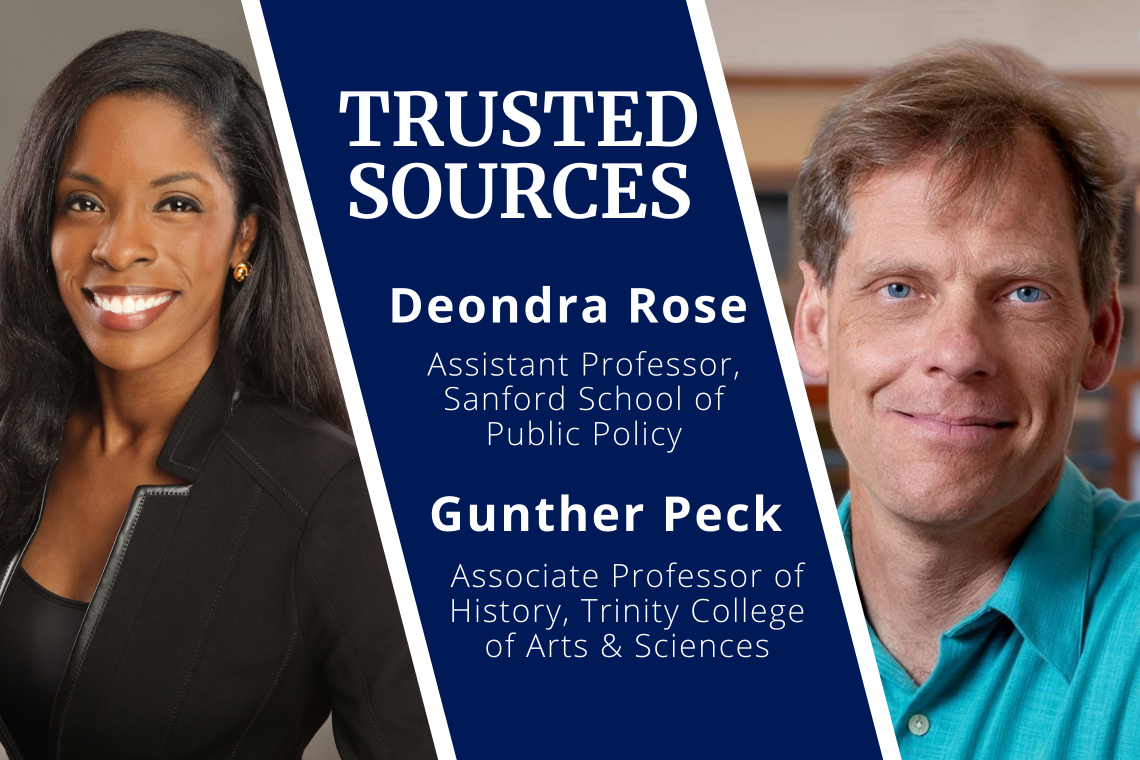 The 2020 election stands out for many reasons, including voter confusion. For reliable information about the voting process this election season, Deondra Rose, assistant professor at the Sanford School of Public Policy and research director of POLIS, turns to a range of sources:
WEBSITES
•    Our own vote.duke.edu website offers a wealth of information. From the homepage, students, staff and faculty can find the information they need to register to vote, request an absentee ballot and even sign up to receive voting information and updates from the Duke Votes student team.
•    A crucial first step for many would-be voters is to check to see if they're registered! This is especially true for many young people who may move more frequently, for instance from a campus address to an off-campus address. Vote.org offers a tool that shows if you're registered to vote and –if you are – the address that you're registered under. 
MEDIA
•    The Washington Post's "How to vote in your state" portal offers a user-friendly interface that takes you through a series of simple questions (e.g., In which state do you live? Are you registered? Do you plan to vote by mail, or in person?). Then it shows you the key deadlines that you need to know and also offers a wealth of additional information.  
INFORMED COLLEAGUES
•    One other thing that I'd really underscore is that, in North Carolina, people can register and vote at the same time during the early voting period, now through October 31. People can also update their addresses and vote during early voting. I learned that from my wonderful colleagues Asher Hildebrand and Don Taylor—my fourth trusted source!
---

For information on election issues in North Carolina and the South, historian Gunther Peck, director of the Hart Leadership Program, consults a range of online resources.
WEBSITES
•    Democracy North Carolina sends twice-weekly updates about the ever-shifting legal landscape concerning election rules in our state, including contentious issues such as how absentee ballots are being counted. In addition, Democracy NC provides a really terrific overview of state-wide candidates and their stands on particular issues that affect all NC citizens. And they are scrupulously non-partisan.  
 
•    My second source of democracy and election-oriented information is the Institute for Southern Studies. I especially appreciate their online publication Facing South, which presents some of the best investigative journalism in our region. I don't always agree with everything I read in Facing South, but I trust them to tell hard truths, unvarnished with the spin that many for-profit cable networks peddle. 
 
•    My third source for information on democracy topics in NC and beyond is Politifact, founded and led by our own Bill Adair, director of the DeWitt Wallace Center for Media and Democracy. Bill is a trusted friend, but what I love most about Politifact is how it has become a vital antidote to the ever-expanding media universe of misinformation that masquerades as news on the web and in cable news.