How COVID-19 Has Changed the Way We Meet
Many people are meeting a bit more, but the sessions are shorter in length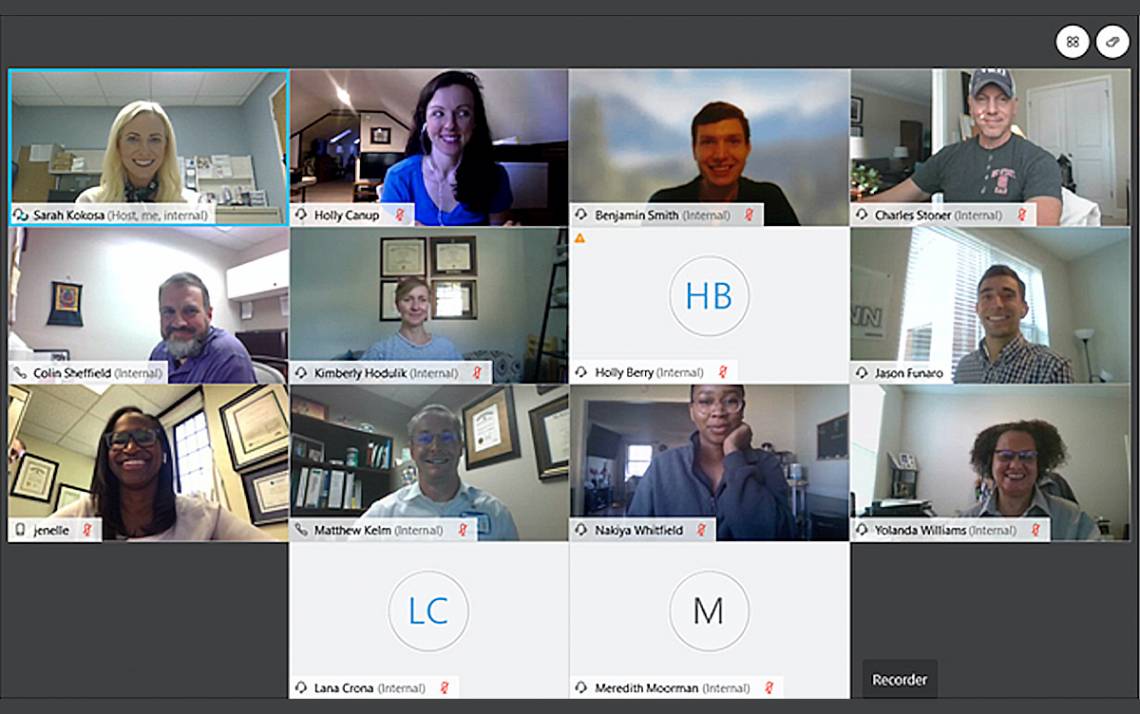 A new routine of virtual meetings has helped Sarah Kokosa and the team of Duke Health pharmacists feel more connected than ever.
Every other Wednesday, 30 ambulatory pharmacists spend about 30 minutes over WebEx troubleshooting billing issues, virtual patient care and new workflows. Before switching to virtual meetings in March, the group was lucky to get a quarterly meeting with 15 pharmacists.
"We are spread out across Duke's campus, so it was hard for us to find a set time and location to meet in person," said Kokosa, clinical pharmacist for the Duke Endocrinology and Bone Densitometry Clinic. "The pandemic forced our hand into finding an alternative way to gather. We're now meeting more, and our information sharing has improved because of it."
Kokosa is part of the majority of people across the country who are meeting slightly more since the outbreak of the pandemic. In a July report, the National Bureau of Economic Research shared that the average number of meetings a person has each week rose from roughly six to seven meetings. Meanwhile, the average length dropped from an hour to about 48 minutes.
"We're needing to have more meetings because we don't see each other for those impromptu conversations," said Don Shortslef, practitioner for Duke Learning & Organization Development. "COVID-19 has completely upended the way we meet and communicate."
Learn how staff and faculty meeting styles have evolved since the onset of the pandemic.
Getting people talking

Before March, the School of Medicine's Office of Curricular Affairs weekly in-person staff meeting included updates about weekend activities, kids and pets.
Now, when Amy Ward begins the meeting on Zoom with about 25 in attendance, a subdued round of greetings follow.
"In all my different meetings, people are quiet," said Ward, director of the Office of Curricular Affairs. "It seems like we're losing steam and losing energy. It takes some pulling to get the conversation going."
Learning & Organization Development's Shortslef attributes this quiet nature of virtual meetings to the challenge of conversations through a screen. It is difficult to see and hear more than one person clearly at a time, so people stay quiet because they don't want to talk over someone.
And, meetings no longer come with a change of scenery and break from the office.
"Meetings were a time where we could get up, stop staring at a screen and interact with someone face-to-face," Shortslef said. "You're not getting that break in your day anymore. It's a continuation of staring at the screen. That's not going to make people as enthusiastic as they once were."
Ward has started using icebreakers and asking others to do the same.
During one gathering, colleagues submitted baby photos in advance and the group spent part of the meeting trying to match the photo with the employee. For another meeting, Ward's 9-year-old daughter showed off Halloween decorations. Another time, people shared bucket list items.
"It's still very important for the team to have these casual moments together," Ward said. "The more we can connect, the more energized and passionate we'll feel when we work together."
Feeling 'better prepared'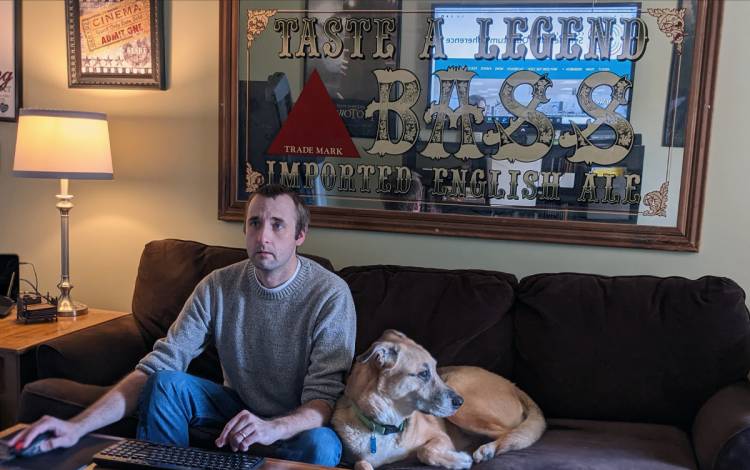 As a grants and contracts administrator for Duke Chemistry, Mike Conti organizes two meetings each month with Duke scientists to review deadlines, finances and rules tied to grants for research projects.
When the meetings occurred before the outbreak, Conti left his laptop behind so he could focus on the dozen other people in the room. If questions came up that Conti didn't have the answers to, he'd answer them later in the day when he could look up the grants.
"I always found having a computer sitting open during a meeting to be distracting for others, even if you did have it for work purposes," Conti said. "I didn't want to appear rude."
Having the roughly 100-page grants a click away is an unexpected benefit for Conti during virtual meetings. Conti, whose computer screen is projected on his 50-inch television, has the grants open for when questions arise about budgets, timelines for article publications and deadlines for grant renewals.
"Running these meetings has gotten easier now that I'm working from home on this large screen where I can clearly see everyone and have my materials in front of me," Conti said. "I feel better prepared and can answer more questions without having to follow-up."
More patience for interruptions

During virtual meetings, Shortslef of L&OD has seen and heard construction noise, cats walking in front of the camera and children playing in the background.
Shortslef said these sorts of interruptions are now mostly disregarded in some circumstances as people develop patience for scheduling conflicts and technological hiccups.
"It's important to remember we're not working in a controlled environment anymore," he said. "Interruptions happen. People are unavailable during times they were typically free in the workplace because of personal responsibilities. We're rolling with the punches more."
Since Vanessa Turnier's been working from home as a staff assistant for finance and payroll for the Thompson Writing Program, she's been coordinating around her 8-year-old daughter Elise's schedule.
Elise attends virtual school from her Orange County home from 8 a.m. to 2:30 p.m. in the same room where Turnier works. While her daughter is in school, Turnier responds to emails, puts together the next semester's teaching schedule and manages payroll for the Thompson Writing Program. Turnier schedules meetings after school to avoid interruptions.
"My meeting window has considerably shrunk since I've been working from home," she said. "Everyone in my office is understanding of each other's scheduling limitations. We just have to be open about our limitations. We're all trying our best to figure out this new world together."
Is there a career or productivity topic you would like for us tto cover? Send ideas through our story idea form or write worworking@duke.eduking@duke.edu.