Duke students haven't always known how or where to report incidents of hate and bias, or the range of options available for how such incidents could be addressed. Thanks to an ambitious set of recommendations from a Student Affairs Hate & Bias Working Group significant steps are being implemented to provide greater transparency, accountability and coordination around hate and bias issues in the student community.
These include:
Establishing a Student Ombuds office with two full-time ombuds. Scheduled to open in Spring 2021, the office will serve as a central clearinghouse for undergraduate, graduate and professional students to access a wide range of resources and options for reporting and resolving such incidents.
The creation of a Community Incident Response team to more directly serve students and student groups impacted by bias, and provide greater awareness of administrative actions taken whenever possible. This team replaces and expands on the work of the Student Affairs Undergraduate Bias Response Advisory Committee, and will be launched in October 2020.
The launch of an Undergraduate Campus Climate Committee to foster a more equitable and inclusive culture at Duke. In partnership with the Office of Institutional Equity and University Communications, this committee will establish definitions, reporting options, investigation processes and resolution procedures for incidents of hate and bias. The committee will be co-chaired by Joyce Gordon, director of Jewish life and Annie Kao, assistant vice provost for undergraduate finance and administration.
"As we seek to reduce incidences of hate and bias within the student community at Duke, we need to ensure all students know where to turn if something does in fact occur."
-- Mary Pat McMahon
"As we seek to reduce incidences of hate and bias within the student community at Duke, we need to ensure all students know where to turn if something does in fact occur," said Mary Pat McMahon, vice provost and vice president for campus life. "We have different avenues through which Student Affairs might investigate and respond to an incident, and we want our range of responses to more proactively foster dialogue, affirm our values of equity and inclusion, and support impacted students."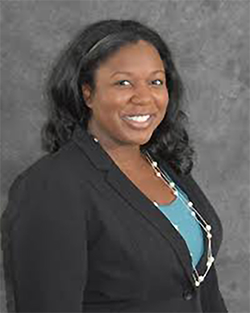 McMahon and Vice Provost of Undergraduate Education Gary Bennett convened the Hate & Bias Working Group, which was led by Clay Adams, associate dean of students and director of parent and family programs, and Jeanna McCullers, senior associate dean of students and director of the Office of Student Conduct. Building on the momentum of earlier hate and bias task forces and committees, the working group convened this summer to review and revise the undergraduate student harassment policy to include more concrete response protocols to address incidents of hate and bias.
"Clay and I had already been meeting with partners around campus to hear how they were dealing with hate and bias issues, from how incidents were being triaged to anti-hate and anti-bias training," said McCullers. Those conversations took on greater urgency this spring following George Floyd's murder and the wave of national protests that followed.
As part of Duke's multifaceted commitment to understanding and confronting racial injustice, McMahon and Bennett tapped McCullers and Adams to create a working group of stakeholders from across the university.
"When we started these conversations back in January, we had not dreamed of a working group to address these issues," McCullers said. "We just knew we wanted to open up the conversation, and invite community-based perspectives and responses to dealing with hate and bias from a proactive rather than a reactive perspective. When the working group was formed, we heard not only from those partners we'd already been talking to, but from others who were interested in and dedicated to the work."
While recognizing the constitutional primacy of free speech, the working group noted that even when words or actions don't violate campus conduct policies they can still contribute a hostile campus climate. Students had also expressed frustration about the lack of clarity for how incidents are reported and resolved, and a desire for alternative options to disciplinary hearings and sanctions.
"This generation of students are not necessarily looking for a punitive approach toward their peers' behavior, but they do want ways for individuals to understand that they have had a negative impact or caused harm to the community," Adams said. "Adaptive and restorative practices are already being utilized across campus, and it's an approach that is aligned with the fundamental mission of the institution, which is education and citizenship within the community."
The working group's report recommended a wide range of short-term and longer-term actions, including:
Updated protocols for reporting and responding to incidents of hate and bias, including a more systematic approach to ensure that relevant offices and individuals are made aware of those reports, from initial intake through resolution.
Greater clarity and student-centered communication about options for reporting incidents of hate and bias, how reports are investigated, and the potential and actual disciplinary actions and outcomes.
Mapping existing educational resources and preventative practices already taking place across campus focused on diversity, equity and inclusion.
Producing an annual report summarizing all reported incidents of hate and bias, including how they were resolved.
Conducting a historical review of past anti-hate and anti-bias initiatives and recommendations, including an assessment of why past recommendations were or were not implemented.
Creating two full-time ombudsperson positions to serve as neutral, impartial and confidential resources for students to learn about all options available to them based on their needs (the current student ombudsperson, Ada Gregory, fulfills this role in addition to her full-time job as associate director of the Kenan Institute for Ethics).
"The working group has positioned us to make meaningful change that responds to calls that we ensure a healthful campus climate," Gary Bennett said.
Ada Gregory and others on the working group said they appreciated the explicit focus on action and implementation.
"Hate and bias are not new issues, and many of us have been working on them for years," Gregory said. "At a time when national events have shown us that we are not only responsible but obligated to help create a more equitable and just world, the work we did this summer provides a roadmap for doing that in the Duke community. This is not the work of a task force; it's the work of our lifetime."