While We've Been Away …
Despite changes due to COVID-19, innovative work continues across Duke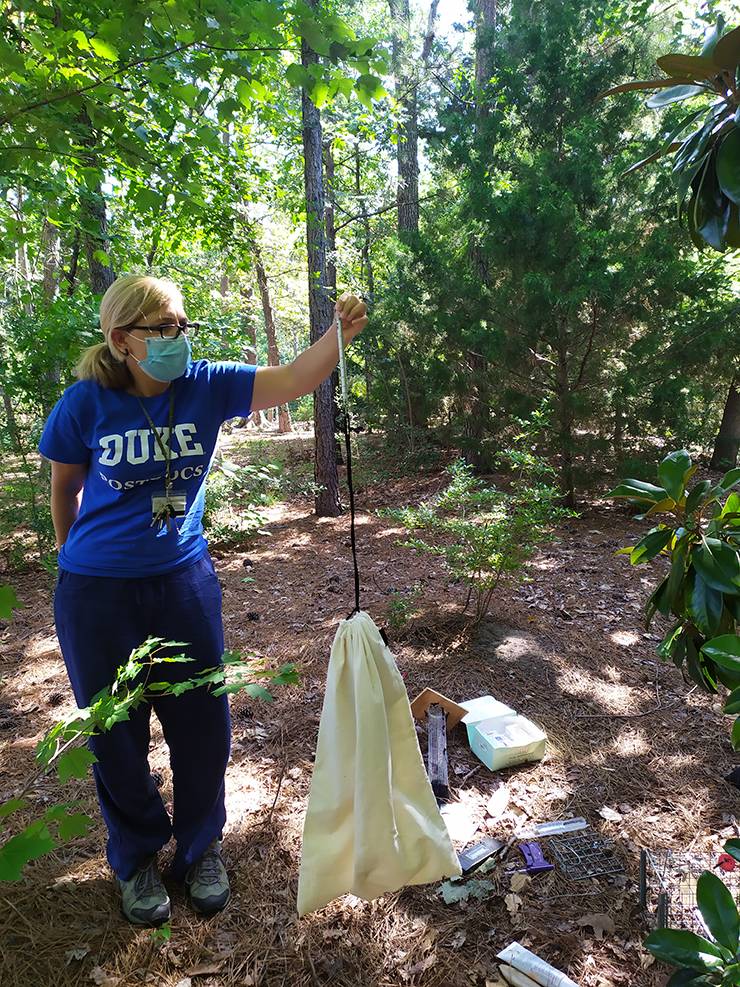 In April, when COVID-19 left most students, faculty and staff learning and working remotely, Duke University's campus was eerily quiet. But Rebecca Rimbach, a post-doctoral researcher in Duke's Department of Evolutionary Anthropology, was still on campus, setting traps for gray squirrels deep in Duke Forest and in the wooded corners of West Campus.
Several times a week, she lured squirrels into cages with peanut butter, apples and walnuts to study the behavioral and physiological differences between those that live side-by-side with people and those that don't. After weighing the squirrels, tagging them and taking blood samples to assess their health, she let them go unharmed.
"I loved being outside," Rimbach said of her socially-distanced research trips. "It was peaceful."
Rimbach's work shows that, while COVID-19 disrupted its familiar rhythm, the larger song that is life at Duke kept going. Whether by way of conversations with colleagues from units across Duke or visits to different parts of campus, it's easy to be reminded that, as Duke staff and faculty, we're a part of a large community of learning, healing and exploration, where interesting things happen all the time.
With many of us working remotely, we'd probably like our connection to the larger work of Duke to be stronger. So with that in mind, here's a look at some of the interesting and innovative work that's been happening around Duke while we've been away.
Turning the Lens Around
When nine continuing education students started the "Anytown, USA" documentary filmmaking course at the Center for Documentary Studies in February, they thought they'd spend the next several months capturing the stories of a small North Carolina town.
But in August, when the class shared its work online, the stories told ended up being their own.
Taught by award-winning filmmaker Randy Benson, "Anytown, USA" asks a group of documentary filmmaking students to turn their focus on one small town. This year, the group was to embed itself in the eastern North Carolina town of Windsor.
Not long after the first class session, the COVID-19 pandemic made traveling to Windsor unwise. So Benson opted to have students use their skills to make a films about their own stories.
"Every one of us was in the same place, spiritually, emotionally, psychologically," Benson said. "That was the driving force that ended up being behind all the films. Just because we weren't in a physical place together, we're all experiencing the same thing, but differently."
So each Monday, the class met via Zoom and learned about documentary filmmaking philosophies and production techniques. The work produced stories about subjects ranging from a chicken quarantined after moving to a new farm, to a student who couldn't be with her dying mother due to the pandemic.
"Throughout this quarantine, people have felt alone," said Center for Documentary Studies Courses Director Michael Betts. "One of the things we noticed about our students is that they are hungry for any kind of community. And Anytown provided that."
New Ways to Celebrate
One of the highlights of the year for the Duke Talent Identification Program (Duke TIP) are the recognition ceremonies in May and June.
Part of Duke TIP's Talent Search Program, which connects young gifted students with guidance and academic opportunities, seventh-graders take the SAT or ACT test. Those that hit score benchmarks are invited to recognition ceremonies held on college campuses across the country that feature chances to meet other Duke TIP participants, interact with a prospective school, and hear their name called.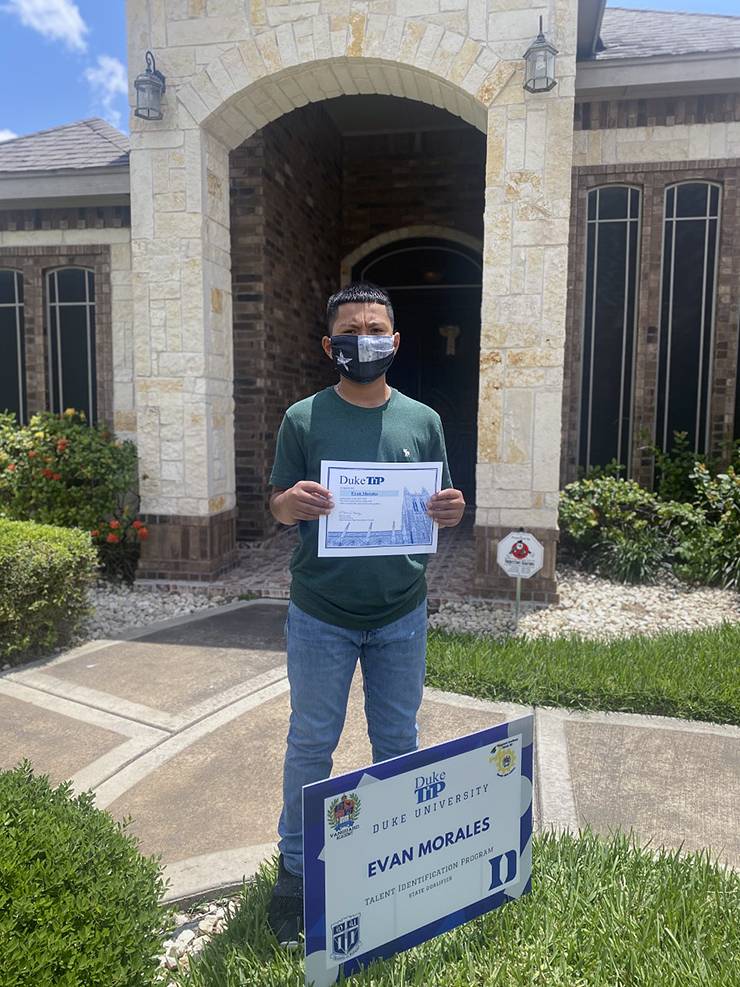 "It's a very cool experience for our families," said Duke TIP Recognition Coordinator Sarah Beth Potter.
This spring, 10,576 students from 46 states were invited to Duke TIP's 28 ceremonies. But as the pandemic derailed plans for in-person ceremonies, organizers searched for an alternative.
They came up with a virtual celebration toolkit that brought the Duke TIP recognition ceremony experience to the students themselves.
"We wanted to ensure that their achievements were acknowledged and celebrated," Potter said. "In a time that's already tumultuous, we wanted to provide something that was positive, accessible, and inclusive."
The online toolkit, which celebrants could access through a link sent via email, featured a downloadable certificate they could print at home, social media photo frames to help them share the news, a list of all of the honorees and a video featuring congratulations from Duke TIP staff members and TIP distinguished alumni, including NPR's Mary Louise Kelly 
"We wanted it to be fun for our families," said Duke TIP Web Administrator Elizabeth Simmons, who helped put together the toolkit. "We invited them to start celebrating and enjoy their accomplishments whichever way they could."
Worth the Wait
After more than a decade of planning, fund-raising and design, the R/V Shearwater, the newest research vessel for the Duke University Marine Lab, arrived in Beaufort in November. After a handful of trips, the onset of the COVID-19 pandemic forced the 77-foot catamaran to spend months moored at the lab.
In July, after coming up with a comprehensive safety protocol, the R/V Shearwater returned to the sea to study how Cuvier's Beaked Whales off of Cape Hatteras react to sonar systems used by the U.S. Navy. It was a welcome opportunity for Duke University Marine Lab staff and faculty to see first-hand what their newest resource can do.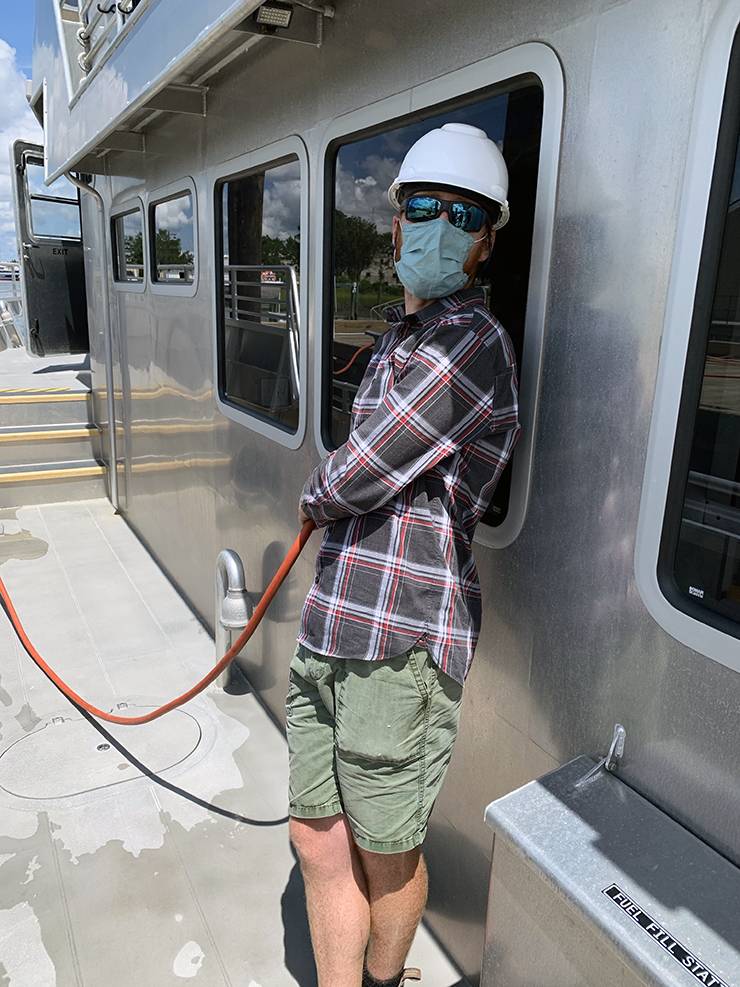 "She's super maneuverable," said Matthew Dawson, the boat's captain. "When you're trying to stay around marine mammals, that becomes extremely important."
The new safety protocols limit the ship's capacity to three crew members and a four-person scientific team, down from the normal 12. Before each voyage, passengers must self-isolate for two weeks and get a COVID test. Once onboard, they adhere to the same social distancing, hand hygiene and masking rules found in all of Duke labs.
"It does make the offshore research challenging, but it is still doable," said Duke University Marine Lab's Marine Operations Manager John Wilson.
The ship's stable twin-hulled design and ability to make 700 gallons of fresh water per day, means multi-day whale study trips were especially comfortable. But for the crew onboard, the mere fact that the R/V Shearwater could leave port was thrilling enough.
"This project is complicated enough as it is," said Doug Nowacek, a Nicholas School of the Environment and Pratt School of Engineering professor who was the chief scientist on the cruise. "You have to worry about finding the whales, you have to worry about the weather, and then COVID-19 comes in and you think, really? It was frustrating to be sure. But with many dedicated and resourceful folks, Duke figured out a way to operate safely and allow the science to proceed. We're tenacious about this work, so we pushed through."
Help share the proactive and extensive work being done by all Duke community members during the COVID-19 outbreak. Send ideas, shout-outs and photographs through our story idea form or write working@duke.edu.