A 'Transformative Leader' Takes Over Student Conduct
Jeanna McCullers takes helm at a time of change, emphasizing education and accountability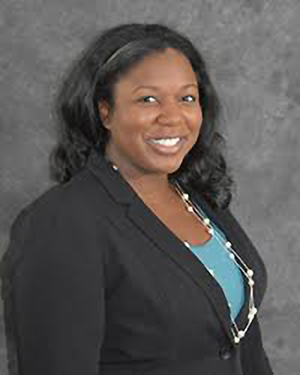 After a four-month long national search, Duke found its new director for the Office of Student Conduct (OSC) already making her mark at the university: Jeanna McCullers, then Duke's associate dean of students for Title IX and bias incident management. It was a matter of McCullers having the right experience — and the perfect vision — for leading OSC into the future.
"I have no doubt that Jeanna is the transformative leader we need in this role," Vice Provost and Vice President of Student Affairs Mary Pat McMahon said when announcing the search results. "She's already been an invaluable partner to many areas at the University and has an incredible ability to collaborate. She impressed the search committee with her plan to fully engage the entire Duke community in the student conduct process by focusing on accountability and education." 
According to McCullers, the feeling was mutual. "One of the motivating factors for me to accept the position was the direction Student Affairs was moving in and the vision of its senior leadership," she said. "It aligned with what I believed an office of student conduct should look like." The Office of Student Conduct is responsible for investigating and resolving alleged violations of university policies. McCullers originally joined the OSC in 2017, and was named its leader on June 1 of this year.
A lawyer and seasoned administrator with extensive experience bringing people together and advocating fairness for all, McCullers wants to use this same approach to help the OSC adapt to today's changing cultural environment.
"With all of the movements taking place right now, people aren't sure what will come out of it. But we do know that something different needs to happen," McCullers said. "We're thinking about how we can exist in community with each other and how we can hold each other accountable. We're testing different approaches to figure out what's sustainable over the long-term."
While conduct offices have always focused on student behavior, their scope has expanded over time in response to new legislation and now includes sexual misconduct, liability and due process. McCullers believes the best way to address all of these issues is to create a student conduct model based on the values of fairness, community, adaptable conflict resolution and pro-active student engagement.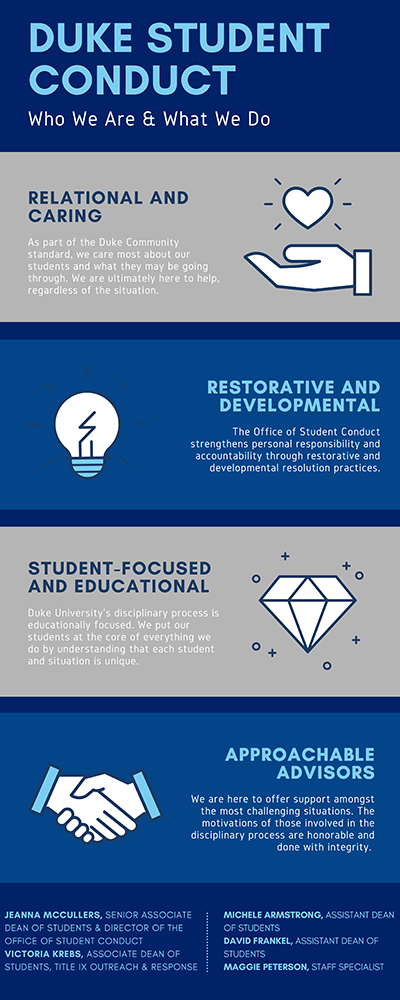 "We want everyone who goes through the process to have an equal opportunity to ask questions and articulate their point of view," McCullers said. "This doesn't mean everyone is going to be happy at the end, but it does mean that we've done all we were supposed to do."
Aware that research has highlighted the need to involve peers in all aspects of the conduct process, McCullers also wants her office to engage the campus community in heading off incidents before they require adjudication.
"It's not as simple as reporting violations and asking us to set things straight," she said. "We need to come together and answer questions like, 'Where do we all belong in a community? What does that look like? Who do we think we're supposed to be as a whole and how do we get there?'"
Adaptable conflict resolution is another technique McCullers has used with great success in the past. This approach includes restorative practices and recognizes the impact of conduct violations on the wider community — often leading to tailored resolutions that recognize the needs of all parties involved.
Positive reinforcement will anchor her approach to student involvement. "We want to engage students in more meaningful and positive ways. To do that, we need to do a better job of connecting them to the issues and causes we're engaged in. We're always going to be here for the reactive addressing of conduct matters, but we want to give equal space for student involvement before transgressions arise." As an example, she references the relationship OSC is building with Duke Student Government to support peer-initiated processes that address conduct matters.
All of these changes will depend on a practice that McCullers has long believed in: respectful conversations that challenge people and motivate them to reflect.
"Student conduct is an issue everyone needs to address," she said. "Once we get the entire campus community to realize that reflective conversation is a requirement for all of us, then we can create standards for what our culture will be at Duke and how we define accountability and ethical behavior."