Iconic West Campus Building Named After a Duke Pioneer
Wilhelmina Reuben-Cooke came to Duke in 1963 as one of the "First Five" Black undergraduates, breaking barriers and entering classroom buildings that had previously been closed to Black students.
Now, her legacy as a pioneer at Duke and as a leading lawyer, law professor, university administrator and trustee for both Duke University and The Duke Endowment, will be celebrated by the renaming of one of those classroom buildings after her.
The Duke Board of Trustees voted Saturday to rename the Sociology-Psychology Building on West Campus for Reuben-Cooke following the recommendations of the President's Advisory Committee on Institutional History.
President Vincent Price announced the naming of the Wilhelmina Reuben-Cooke Building in an email sent to the university community. Price said it was a fitting tribute that "from this day forward, anyone who passes through its doors will carry on her legacy of accomplishment, engagement and lasting impact."
"This iconic building—which predates our campus's integration by three decades—has stood on Davison Quad as our university has evolved to more fully realize its inclusive values, thanks in no small part to the efforts of Wilhelmina Reuben-Cooke and her classmates," Price said.
"I am delighted that with this decision, my classmate Wilhelmina Reuben-Cooke will have a permanent legacy on Duke's campus," said trustee chair Jack Bovender. "There are few people who have given so much to the university—and those of us who knew her were so grateful to call her a colleague, friend and adviser over the years."
The renaming is part of a larger effort launched by Price to have the university engage with its history and identify opportunities to honor key contributors to the university who have been overlooked. Price tasked the Advisory Committee on Institutional History with identifying members of the Duke community who have made extraordinary contributions worthy of permanent recognition.
Reuben-Cooke, who died in October 2019, is the first Black woman to have a campus building named for her. The John Hope Franklin Center, which houses a variety of international and interdisciplinary academic programs, was previously named after the noted Duke historian.  Abele Quad, which was dedicated in 2016, was named for Julian Abele, the African American architect who designed West Campus.
Reuben-Cooke entered Duke in 1963 along with Gene Kendall, Nathaniel "Nat" White, Mary Mitchell Harris and Cassandra Rush. Of those five, only Kendall and White remain as surviving members of the original five.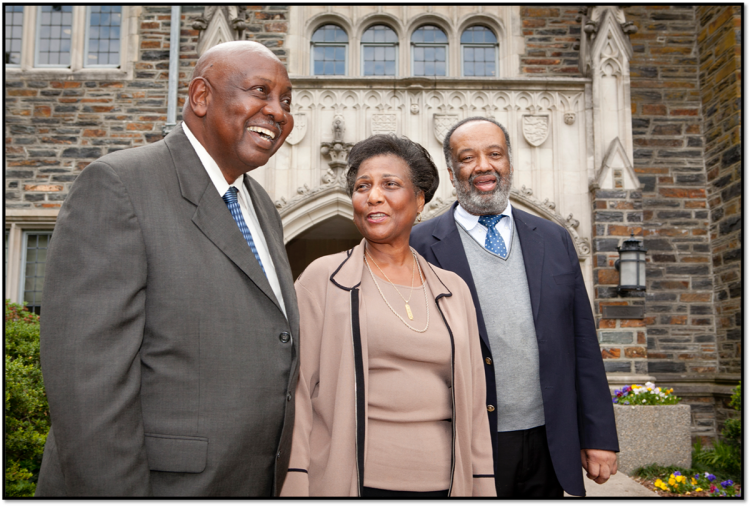 The five faced numerous challenges during their time at Duke. Known as "Mimi," Reuben-Cooke said she felt an obligation to help open Duke's doors and that her place in the growing civil rights movement was fight for them on campus. At a 2013 ceremony marking the 50th anniversary of the arrival of the five students, Reuben-Cooke said for her there was many moments of loneliness, balanced out with significant opportunities for leadership.
She also had personal reasons to worry about coming to Duke: Her father was then a student in Duke's Divinity School, and she later said she was worried he would try to keep too close an eye on her.
Reuben-Cooke graduated from Duke in 1967, was elected to Phi Beta Kappa and named a Woodrow Wilson Scholar. During her time at Duke, she was active in the civil rights movement, including protesting in Durham and Chapel Hill and signing an open letter against the memberships of key Duke administrators and faculty members at the then all-white Hope Valley Country Club.
She graduated from the University of Michigan Law School in 1973 and went on to have a distinguished career as an attorney. She also taught both at Syracuse University's College of Law and at the University of the District of Columbia's (UDC) David A. Clarke School of Law, also serving as UDC's provost and vice president for academic affairs. Earlier, as associate director of Georgetown University Law Center's Institute for Public Representation, Reuben-Cooke engaged in and supervised litigation before the Federal Communications Commission and federal courts, including the U.S. Supreme Court.
Reuben-Cooke remained connected to Duke, serving two terms on the Duke University Board of Trustees. In 2011, she earned the Duke University Distinguished Alumni Award, the highest honor granted by the Duke Alumni Association for her exemplary service. In 2013, a $1 million scholarship fund was established to honor Reuben-Cooke and the four other first black undergraduates at Duke.