PUBLISHED
Pandemic Disruption Provides Historic Opportunity for U.S.-Mexico Trade
The new agreement between the U.S., Mexico, and Canada will need to redefine essential supply chains and how they work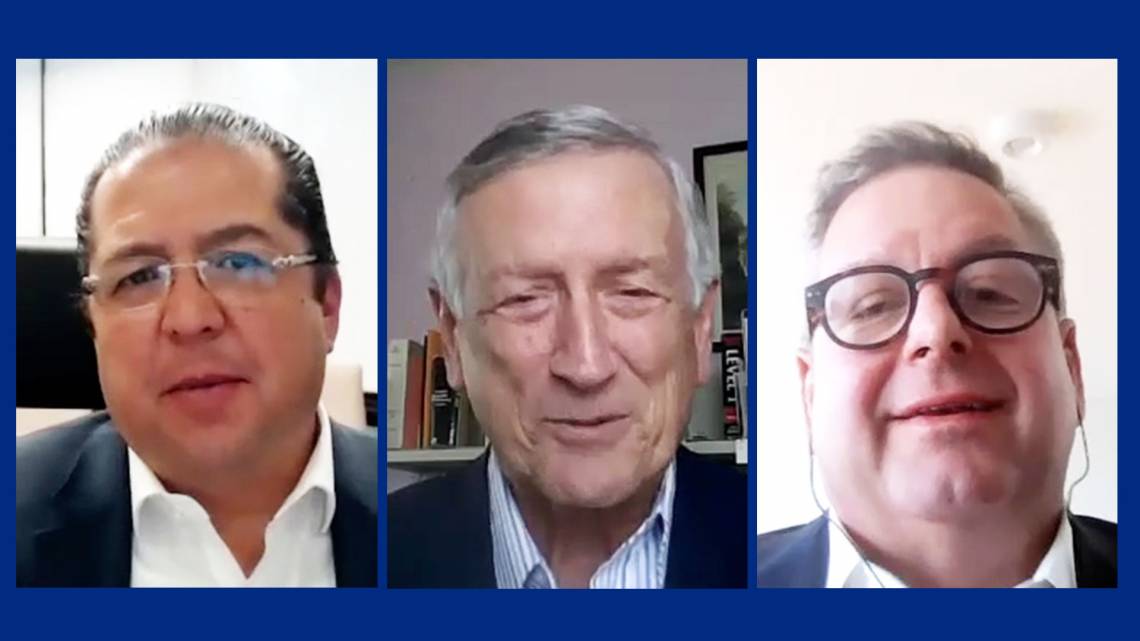 When COVID-19 spread to North America, it struck the continent's intricate supply chains fast.
In late March, "within days, we had around 400 different companies contacting us about supply chain issues," said Brian Brisson, who was winding up a five-year appointment as a counselor at the U.S. Embassy in Mexico at the time. Even U.S. companies that weren't operating in Mexico would contact the embassy because "they were dependent on their Mexican suppliers in order to manufacture what they do in the United States," Brisson said.
An international trade-dependent country, Mexico was particularly hit, with 67 percent of its economy based on exports, 80 percent of which are to the U.S.
"We do not realize how dependent we are on supply chains," said Jorge L. Torres, president of FedEx Express Mexico and the American Chamber of Commerce in Mexico.
Brisson and Torres were two panelists for COVID-19 Supply Chain Challenges in Mexico and Latin America, the fourth webinar in the DUCIGS/Rethinking Diplomacy Program's COVID-19 and Global Supply Chains series.
The new North American trade agreement between the U.S., Mexico and Canada (USMCA) became effective in July 2020. Torres predicted investment that was planned to go to Asia or China will come back to North America.
"We need to capitalize," he said.
Professor Gary Gereffi, director of the Duke Global Value Chain Center, said he expects to see firms moving more links in their supply chains closer to home after the pandemic.
"There will be a lot of pressure to re-shore or near-shore," he said.
Giovanni Zanalda, director of the Duke Center for International and Global Studies (DUCIGS) moderated the Q&A.
Here are excerpts:
ON TRANSPORTATION AND LOGISTICS AS AN ESSENTIAL INDUSTRY
Jorge L. Torres, President, FedEx Express Mexico and President, American Chamber of Commerce Mexico
"The transportation and logistics industry was confirmed as essential in every single country and worldwide. Not essential for the continuity of the economy; even more important, transportation and logistics was confirmed in every single country as an essential activity for the continuity of life."
ON ISSUES MEDICAL MANUFACTURERS SAW IN EARLY PANDEMIC SHUTDOWNS
Brian Brisson, former Minister Counselor for Commercial Affairs, U.S. Embassy in Mexico
"Health care was obviously essential right from the outset. But when you're making ventilators, you need electronic sensors and these electronic sensors were not considered an essential industry. When companies that are making ventilators needed to make their product, they needed their suppliers to be available to them, but they were not always open."
ON THE IMPACT OF COVID-19 ON MEXICAN SUPPLY CHAINS
Jorge L. Torres
"We do not realize how dependent we are on supply chains until we have them affected. Actually around 90 percent of the companies in Mexico had a certain level of negative impact. Around 70 percent had to see their supply chains interrupted somehow. So that was catastrophic."
ON A SUPPLY CHAIN AGREEMENT ENHANCING THE ATTRACTIVENESS OF PRODUCING IN NORTH AMERICA
Brian Brisson
"Having a supply chain agreement among the three countries would greatly enhance the attractiveness of producing in North America. The reasons people are near shoring and reshoring is because they're afraid of problems with supply chain. So if you can allay those fears, you will become an even more attractive and more competitive market. I think that's where we really need to be going in the future with the three governments."
ON THE IMPORTANCE OF THE USMCA FOR MEXICO
Jorge L. Torres
"The U.S. and Canada represent 490 million potential consumers of what is produced by Mexico, which is equivalent to 6.5% of the world's population. Mexico, the U.S. and Canada are extremely important markets for Mexico. So now with the USMCA having been in effect since July, the this is going to be a vehicle that is going to be helping us out. It's a vehicle that will help us transit to the end of this calendar year. As much as we can capitalize on that in the benefit of all three countries with a with a true spirit of becoming the most competitive region in the world, that's going to be to the benefits of all three countries."
ON MEXICO AS AN IMPORTANT GLOBAL SUPPLY CHAIN LINK
Brian Brisson
"What many companies in Mexico, the United States and Canada have not taken advantage of is the fact that Mexico has trade agreements with 50 countries in the world. This means that Mexico is not necessarily just a supplier for North America. It is a platform for global supply chains. That offers companies opportunities to lower their costs and improve their competitiveness, not only within North America, but within Latin America with Europe with Asia."
ON SAFEGUARDING NORTH AMERICAN SUPPLY CHAINS FROM FUTURE PANDEMICS
Brian Brisson
"People, after COVID, will have a much clearer understanding of the importance of (the) intricacies of the supply chain integration. … I think that if our three countries can get together and come up with a mechanism for resolving supply chain challenges when they arise and a basic framework for how we can address supply chains when stressing conditions like a pandemic or something else could come up in the future. I think that that will greatly enhance our competitiveness, our ability to make North America a great place, to really improve it for Mexico and at the end of the day, I think it's also going to help us to mitigate the downward economic impacts that we saw in this pandemic."
Watch the video here: https://www.youtube.com/watch?v=A_DB3SK-JC4
COVID-19 and Global Supply Chains is supported by the Josiah Charles Trent Memorial Foundation Endowment Fund. Click here to watch and read about for the first three installments.