Lessons From Teaching in a Pandemic
After adjusting approaches due to COVID-19, Duke faculty share their lessons
After teaching a doctoral course for the past five years that mixes in-person learning and online class sessions, Duke Divinity School's Curtis Freeman is an online teaching veteran.
But with COVID-19 limiting in-person classes this fall, and making Freeman's class an entirely online affair, even he knew he'd need to keep evolving.
"The delivery and interaction with students is different this fall," said Freeman, research director of theology and Baptist studies. "I can't teach the class the same way I have before."
This has been a fall like no other at Duke as the pandemic leaves little unchanged. While many faculty members are trying new ways of connecting with students, after teaching moved online in the spring and summer, they're not starting from scratch.
Here are some of the lessons Duke faculty members are leaning on during an unprecedented semester.
Maintain Connections
Makeba Wilbourn, associate professor of the practice of psychology and neuroscience, understands that, in addition to producing important research on the cognitive development of children, her lab's goal is to inspire students with a healthy atmosphere.
While studying how young minds process words and gestures, her lab's team builds a welcoming culture with inside jokes, informal mentorship and occasional Family Feud clashes with other labs.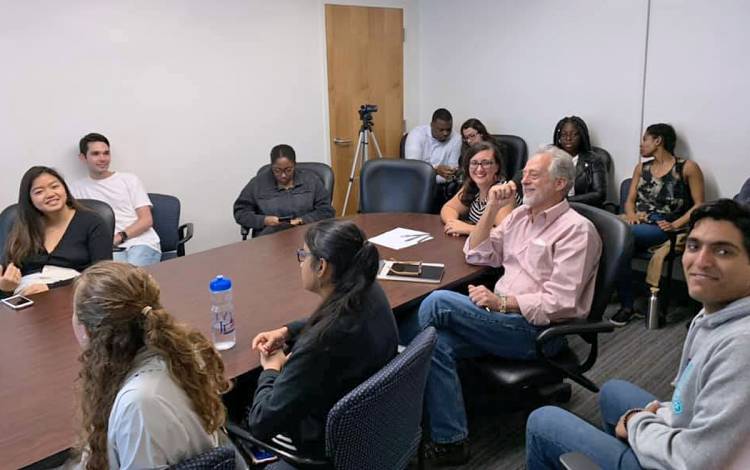 "There are authentic experiences that happen in a lab environment," Wilbourn said. "There's a sense of community where you're seen for your contribution to the team, and all the beautiful things you bring with that are valued. Not tolerated but valued. Those are the sorts of things that are part of the culture of a lab when you do it right."
With most student team members now working remotely, COVID-19 has made building that culture challenging. But with technological tools she embraced in the spring, Wilbourn has kept the atmosphere alive.
During many Zoom lab meetings, she'll have an extra 30 minutes for everyone to catch up and discuss how they're doing. The team also uses Marco Polo, a video chat app for Android or Apple devices, to share quick, fun updates.
"I study non-verbal communication, so it's hard for me to get a sense of how my students are doing if I can't see their faces," Wilbourn said. "There are times when I've done a roll call. I sent a video message to the lab and said, 'I need to see your faces.'"
Wilbourn got a rush of short video responses, providing peppy snapshots of everyone's lives.
Traditionally, team members show up in large numbers to support seniors defending their honors thesis. This spring, when those defenses moved to Zoom, Wilbourn recalls the sessions drawing around 60 people, including many of their lab colleagues.
"We're doing the best we can to stay connected," Wilbourn said. "You want to keep that sense that there's a group of people who care about you."
Remember Who You Are
When COVID-19 disrupted the spring semester, the changes at the Duke University Marine Lab were especially obvious.
In mid-March, the lab's few dozen residential students went home. Trips to Singapore, Mexico and the Caribbean were called off. The lab's new research vessel, the R/V Shearwater, stayed in port.
But this semester, the familiar rhythm of life at the lab has returned, though with slight differences.
"We pride ourselves on experiential learning, getting kids out into salt marshes, out on boats," said Duke University Marine Lab Director Andy Read. "Our kids are passionate about the ocean and marine science and we didn't want to give that up. So we're trying to do as much as we would do in a normal term as safely as possible."
While the lab can house as many as 70 students, only 24 will be there this fall. Each student will have their own dorm room and the labs, classrooms and dining facilities will have strict social distancing protocols in place. Student daytrips on the R/V Shearwater will only be done on nice days so passengers can be outdoors as much as possible.
Much like in the spring, the lab is incorporating more online courses, including four fully online courses and Read's Biology of Marine Mammals class, which will feature a hybrid online and in-person approach. 
"We're dealing with online learning differently now, we're all better at it," Read said. "So that gives us some new capabilities moving forward. We're trying to do what we do best, just modify it for the era of COVID."
Embrace the Challenge
Duke Divinity's Freeman saw challenges posed by COVID-19 as opportunities. Getting students to engage with him, his material and their classmates would be more difficult, so he knew he needed a deeper knowledge of technological tools and an open mind.
"This has forced us to step up our game and use the technology in some ways that can really be fantastic," Freeman said.
Freeman teaches course for doctoral students on leadership approaches derived from the worlds of both business and faith. In the past, the semester-long course featured a week of in-person classes and eight weeks of online learning.
Knowing he'd be doing the course entirely online this fall, Freeman leaned on the resources provided by the Duke Divinity School, including workshops about Zoom and Sakai, the online learning hub for Duke students. 
Among the new approaches he's embracing are condensing 45-minute lectures down to 15 minutes and recording them. He's also helping students set up book clubs where they can discuss material outside of class.
"I think whatever the new normal will be after this pandemic is over, it will not be what the old normal was in terms of teaching," Freeman said. "The pandemic jump-started us into what we saw need to happen anyway. There's probably no going back."
Help share the proactive and extensive work being done by all Duke community members during the COVID-19 outbreak. Send ideas, shout-outs and photographs through our story idea form or write working@duke.edu.