Refreshing Duke's Vintage Oak Doors
As part of a Facilities Management project to restore 149 doors on West Campus, Duke University Chapel doors shine again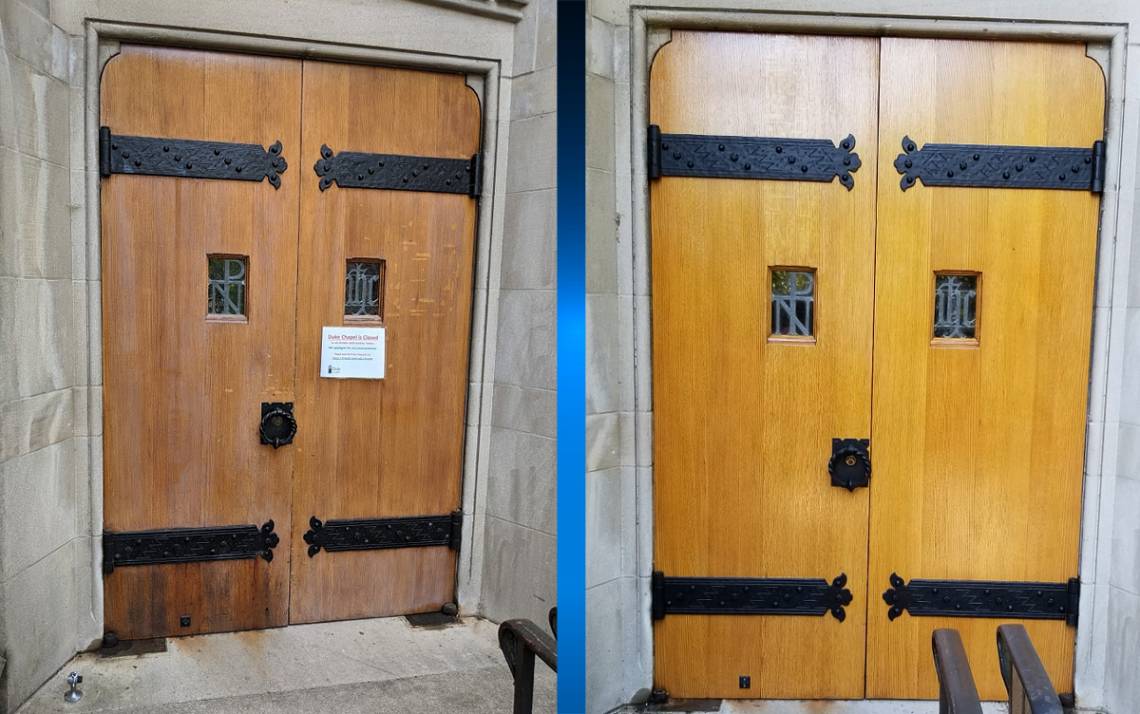 Normally, the thick oak doors of Duke University Chapel welcome visitors, worshippers, students and even wedding parties into campus' most breathtaking building.
In March, when the COVID-19 pandemic forced the chapel to be closed to visitors, the doors were left mostly untouched. When they next welcome people, the chapel doors, as well as others on West Campus, will look and function better than ever.
As part of a Duke Facilities Management restoration project of the 149 wooden gothic-style doors on West Campus, Duke Chapel, which remains closed but has services available online, recently had 18 of its 29 of its exterior doors refreshed.
"We had the chapel doors slated for renovation in the coming year, but we thought, with campus being shut down, no visitors and no weddings, this is a great time to take advantage of the quiet and take these doors out for a full restoration," said Jim Gortner, Duke Facilities Management's assistant director for building management who served as project manager.
Ten of the chapel's 29 three-inch thick exterior doors – not including the main entry doors at the base of the bell tower, which are the only ones believed to be original – were removed in early July and sent to the workshop of Durham-based contractor O.C. Mitchell. Once there, they were blasted with walnut hulls to remove the old finish, and then coated with a new finish that protect the wood and return its luster.
The iron fittings were treated with a powder coat that seals and protects the pieces. Late last month, the completed doors were reinstalled.
"The weather just beats on these doors," Gortner said. "With the sun and the rain, these things can fall apart. But they're a critical part of the overall architectural aesthetic of our buildings, especially in the core of the historic campus. And they're like new doors now that they're done."
Eight other exterior doors on the sides of the bell tower were restored on-site by Senior Painter Brian Williams of Duke Facilities Management's Structural Trades team. Meanwhile, Duke Facilities Management's Key and Lock Shop also installed and examined all of the doors inner workings.
Doors in nearby Page Auditorium and the Sociology/Psychology Building were also among the those restored – or replaced, like many of West Campus' doors have been through the years – this summer. The restoration project will continue to refresh wooden doors elsewhere in the heart of campus this fall. 
Have a story idea or news to share? Share it with Working@Duke.