Daniel Ennis Named New Duke Executive Vice President
Johns Hopkins University executive will succeed Tallman Trask III beginning Dec. 1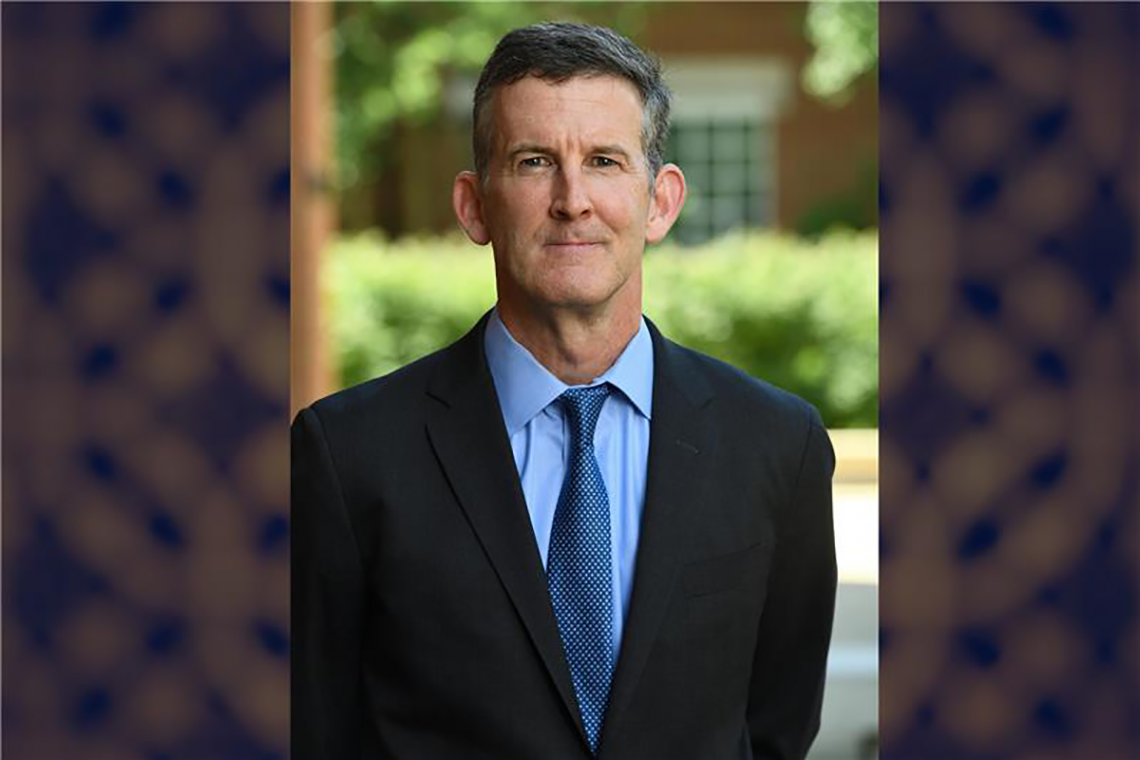 Daniel Ennis, the chief financial and operating officer at The Johns Hopkins University, will be the next executive vice president at Duke University, President Vincent E. Price announced on Friday.
Ennis will begin at Duke on December 1. He follows Tallman Trask III, who is stepping down on November 30 after 25 years in the role and will continue to serve in an advisory capacity to the university.
"Daniel Ennis will be a visionary and transformative leader for Duke," said Price. "He brings extraordinarily strong experience at a great research university and a great medical school, along with a deep commitment to the core values that are so important to us.
"It will be difficult enough to succeed Tallman Trask, but in Daniel, the Duke community will have an executive vice president whose great skills will be matched by an equally great passion for excellence and inclusion."
Since 2010, Ennis has served as senior vice president for finance and administration at Johns Hopkins, where he oversees the university's budget, finance, treasury and investments, as well as internal audits, facilities and real estate, human resources, information technology, purchasing, security and risk management.
"I am eager to join President Price and the remarkable faculty, staff and students to advance excellence and equity at Duke," said Ennis. "This an incredible opportunity to help shape the future of one of the world's great research universities and academic medical centers that is such an integral partner to a thriving and diverse city like Durham. Duke's leadership team is already known and respected as among the best in the country, and it is a particular honor to follow Tallman Trask, who has mentored generations of university leaders."
Since arriving at Johns Hopkins in 2010, Ennis has led a number of innovative initiatives to strengthen the finances of the university which have resulted in significant growth in its cash and net assets. He also helped enhance the university's benefit programs through meaningful investments in child care facilities and vouchers and established birth recovery and parental leave policies.
In addition, the university partnered with the city and local enterprises to invest in development projects and neighborhood amenities in under-resourced communities around Johns Hopkins Baltimore campuses. He has also overseen the roll-out of a $3 billion-plus, five-year campus facilities expansion and renewal plan.
Ennis also has a key role in the operational and financial oversight of the university's school of medicine and Johns Hopkins Medicine (the partnership between the school of medicine and Johns Hopkins Health System) including serving on the boards of Johns Hopkins HealthCare, a managed care company, which is owned jointly by the university and the health system, and Johns Hopkins Medicine International, another jointly owned global health care delivery and advisory company.
With a team of leaders from across the university and health system, Ennis also built and led HopkinsLocal, a comprehensive effort to create economic opportunities for Baltimore residents and businesses. HopkinsLocal partnered with minority-owned and women-owned firms to deliver construction projects, expand hiring from economically distressed areas in the city of Baltimore and grow procurement of goods and services from Baltimore-based vendors. In its first four years, HopkinsLocal supported $469 million in local procurement, facilitated the hiring and development of nearly 1,500 city residents and spent $186 million with minority-owned and women-owned construction-related companies.
"To all he has done at Hopkins, Daniel has brought commanding professionalism, analytic rigor, unstinting dedication, and scrupulous fairness and integrity," Johns Hopkins President Ronald J. Daniels said. "Daniel has always ensured that financial and operational decisions are made in service of the core academic mission of the university. We will miss his steady leadership, his vision for the possibilities of our institution and his unwavering dedication to his colleagues and our partners and neighbors across the city of Baltimore."
Ennis was recommended by a search committee that included representatives from the Duke Board of Trustees, faculty and students, and was chaired by Fuqua School of Business Dean Bill Boulding.
"We had the opportunity to thoroughly review a large, very accomplished and diverse slate of candidates who were eager to come to Duke," said Boulding. "As the process went on, though, it was clear to us that Daniel had the proven experience and the temperament for this vital role. I look forward to working with him as a partner and colleague."
As executive vice president, Ennis will oversee Duke's administrative and financial affairs, including the budget, procurement, debt, campus planning, architecture, maintenance and construction, real estate, human resources, academic and administrative computing, audit, safety and security, and auxiliary services.
Along with Price, Provost Sally Kornbluth and Chancellor for Health Affairs A. Eugene Washington, Ennis will serve as one of the university's senior executive officers, working closely with the Board of Trustees, Duke University Health System, and academic and administrative leaders.
Before coming to Johns Hopkins, Ennis was executive dean for administration at Harvard Medical School. He previously served as Harvard University's associate vice president for finance and financial planning, interim director of treasury management and director of budgets, financial planning and institutional research.
Ennis is a 1992 graduate of Boston College, where he was selected for a Harry S. Truman Scholarship and earned an MBA from the Harvard Business School and a Master in Public Administration degree from Harvard's John F. Kennedy School of Government. He began his career as a financial analyst at Goldman Sachs & Co. and worked at McKinsey and Co. as a consultant, where he led a strategic review of Harvard's central administration that resulted in a number of significant organizational changes.