Staying Social While Apart from Colleagues
Ice breakers, virtual house tours and more replace in-person work interaction
Over steaming cups of coffee, hot tea and smoothies, staff in Duke's Global Education Office chat about everything from pets to tasty recipes during specially scheduled videoconference calls. 
The casual conversations are part their "Virtual Coffee Breaks" when they hop online for impromptu chats that occurred in person.
"I used to walk to a nearby office or our break area when I had exciting news to share or wanted to talk to someone," said Catherine Angst, director of communications for the Global Education Office. "I've been missing that since the pandemic started. Creating a space for the casual office conversation has made working from home a little less isolating,"  
With many Duke employees working remotely to limit the spread of COVID-19, colleagues in schools, departments and units are recreating in-person interactions in the virtual world. Whether a house tour or question prompt before a meeting, employees are using videoconferencing to stay close while apart. 
"What we're missing right now is the conversations that arise naturally from working in the same office," said Don Shortslef, senior practitioner with Learning & Organization Development, a division of Duke Human Resources. "Those casual conversations build trust and boost morale."
See how some offices keep things personal while working remotely.
House Hunters: Duke Alumni Edition

The Duke Alumni office had its own HGTV special when Jo Supernaw gave about 10 colleagues a specially arranged virtual tour of her home in May.
The idea sprang up during an online staff meeting when her coworkers were able to see the living space in Supernaw's 1937 home in the Lakewood-Tuscaloosa neighborhood in Durham, where she has lived for seven years. Supernaw's colleagues mentioned how nice it was to see parts of her home other than a backdrop of a blank wall, so she offered to take them on a virtual tour a few days later. 
Supernaw held her laptop as she showed a vibrant red front door, wooden floating cabinets in the kitchen, a sunroom in the back of the house and an arched doorway connecting the living and dining rooms. 
The biggest reaction from Supernaw's colleagues came when she took them into her stone and brick-lined basement. She said that space surprised them because homes as old as hers typically don't include basements.
"Homes are such a great way to learn about someone's interest and personality," said Supernaw, director of academic engagement for lifelong learning with Duke Alumni. "Hopefully, you see my space and get a better understanding of who I am."
In addition to the home tour, the team in the Alumni office has done a show and tell of their dogs and special objects such as music boxes and books and sent each other U.S. mail to show gratitude for one another. 
Natalie Nobles, who brought her dogs Harvey and Amos to a show-and-tell,  said the experience was a chance to recreate the camaraderie with coworkers she has missed.
"Usually, we're all laughing and joking with one another in the office," said Nobles, assistant director of design and creative strategy. "It's great that we've found a way to do that while working remotely. You start to feel so comfortable with everyone."
Question of the Day

Ryan Craig, executive director of digital strategy for Duke Athletics, begins and ends weekly team meetings on a light note.
With the Digital Media unit, the group that operates social media accounts for Duke Athletics, Craig asks team members a random question of the day. The topics have ranged from a dream music festival line-up to a go-to Chipotle order.
Craig said he started the question prompt after noticing team members – who can't chat over each other's cubicle or enjoy an impromptu lunch – launch right into business during a virtual meeting. 
"Having fun and collaborating only helps our creativity," said Craig, executive director of digital strategy for Duke Athletics. "It makes us better at our jobs to laugh and talk casually together."
Before ending the meeting, Craig always turns the meeting over to a colleague to end the meeting with a humorous monologue such as pet peeves. 
"My team is full of personalities," Craig said. "The 'Pet Peeve of the Day' always makes us laugh. We leave the meeting in good spirits." 
Reflecting on Childhood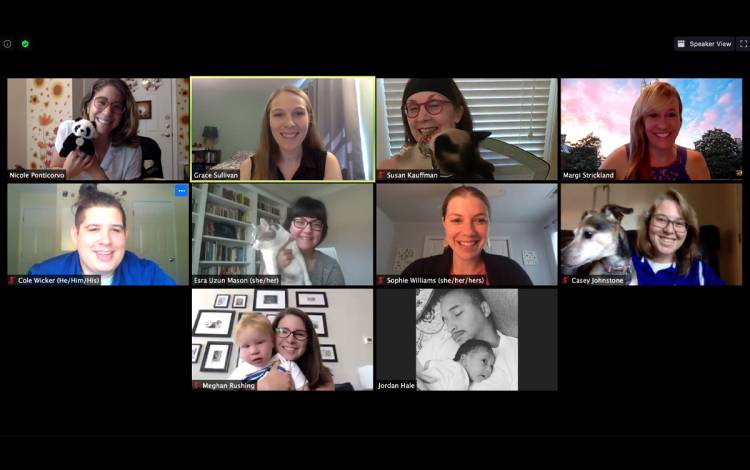 While pondering an ice breaker for a weekly meeting with new undergraduate student communicators across Duke, Nicole Ponticorvo got inspiration from an unlikely source: her stuffed panda "Penny P."
She grabbed Penny, which she bought in February while visiting the Smithsonian's National Zoo in Washington D.C, and put the toy in a visible spot during the teleconference. Ponticorvo asked the 10 colleagues in the meeting to name a favorite stuffed animal or toy from childhood.
Through giggles and grins, the employees mentioned bunnies, a rocking horse and Power Rangers action figures. 
"That was a really fun conversation," said Ponticorvo, assistant director of New Student Programs. "We were all laughing. It really loosened us up before we got to business."
Ponticorvo now starts every new student communicators meeting with an ice breaker such as a new habit since the pandemic.
"It's important to me for us to make time to connect on a personal level now that we're communicating through Zoom," she said. "It makes the work we do much more enjoyable and meaningful."
Help share the proactive and extensive work being done by all Duke community members during the COVID-19 outbreak. Send ideas, shout-outs and photographs here or write working@duke.edu.