A Whirlwind for a Duke Doctor's Dog After COVID-19 Test
The virus that causes COVID-19 is initially detected in Heather McLean's pug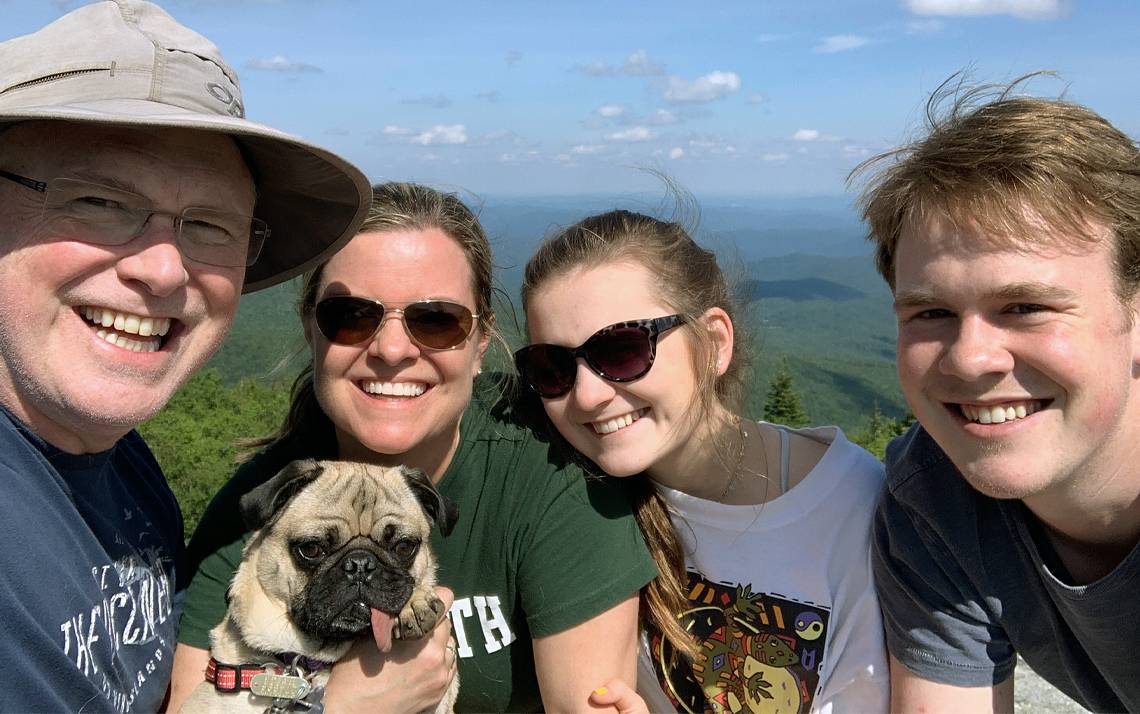 Winston the pug has always been a cuddly companion for Duke pediatrician Heather Seabury McLean and her family. He joined the family in 2018  as a playmate for the family's other pug, who is 13. 
Now two-and-a-half years old, Winston is always quick to kiss faces and sit on laps.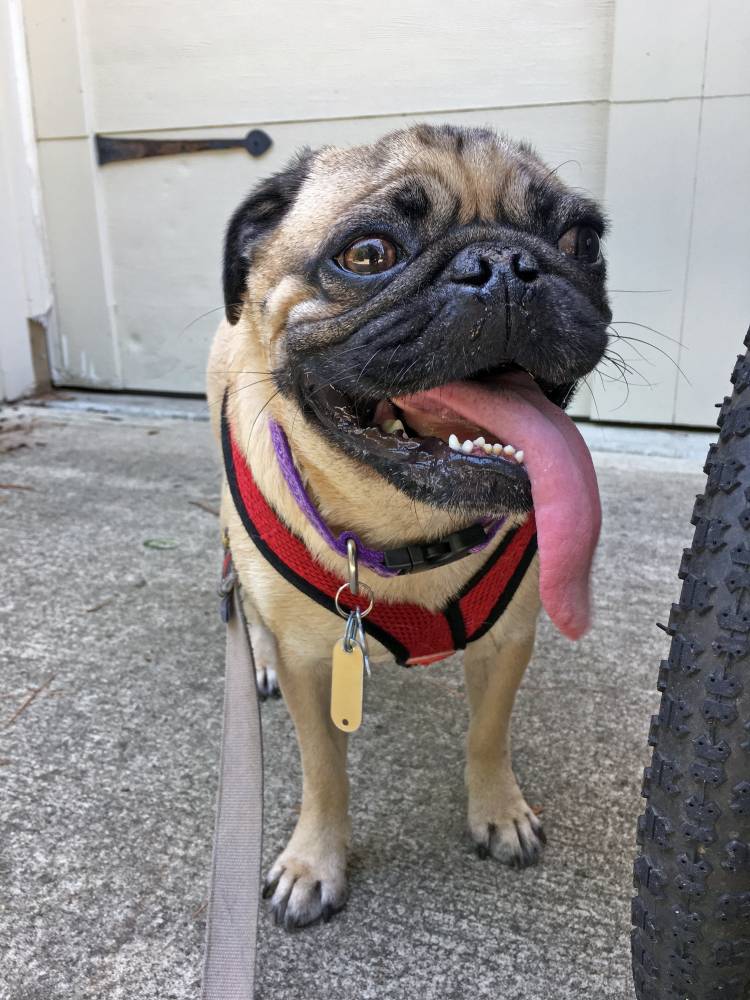 The comforting snuggles were welcome when Heather, her husband Samuel, and 20-year-old son Ben contracted COVID-19 in March, after Samuel, a professor of anesthesiology and emergency medicine at the University of North Carolina at Chapel Hill, got infected. 
And those cuddles likely led to an initial detection of the virus that causes COVID-19 on an oral swab from Winston.  
"Pugs are companion dogs," said Heather, a Duke associate professor of pediatrics. "They always like to be touching you and sitting next to you. We didn't think anything of it to separate from our pets when we were sick."
Heather and Samuel were sick for about two weeks with coughs, scratchy throats, muscle aches, a loss of smell and taste, shortness of breath and extreme fatigue. During their second week of recovery, the family noticed Winston had a sneeze and cough for two days. The normally hungry dog also didn't eat his poultry and fish kibble one morning.
"Winston loves to eat, so that was a clear sign something was wrong," Heather said. "He didn't act sick enough for us to even consider taking him to the vet."
Within two days, Winston was back to normal. He no longer coughed, resumed eating all of his food and spent his days sitting next to the family as they recovered from the virus. It took the McLeans about two weeks to heal and another two weeks of isolating before Heather and Samuel returned to work in April.  
After the McLeans recovered from the virus,  Heather enrolled the family in the "Molecular and Epidemiological Study of Suspected Infection" (MESSI) study. The MESSI study, part of the Duke Center for Applied Genomics & Precision Medicine, researches how to develop better diagnostic tests, mutations in the virus and the development of antibodies and other immune responses. 
Katy Bartlett, an associate professor of pediatrics who has worked with Heather for 12 years, said Heather's participating in the study highlights her generous nature. 
"Heather loves taking care of people," Bartlett said. "She's the type of person who's going to find a way to turn her sickness into a way to help others." 
Beginning April 1, researchers visited the McLean home once a week for five weeks wearing special gear and personal protective equipment to swab the noses and mouths of Heather, Samuel, Ben and their 17-year-old daughter Sydney. They also took oral swabs of Winston, the McLean's other pug, Otis, who is 13, and the 12-year-old cat, Mr. Nibs, to study how the virus spreads. 
Around April 27, researchers with the MESSI study informed the McLeans that they detected the virus that causes COVID-19 on one of Winston's swabs.  WRAL, national morning shows and CNN published reports about the dog's test. 
Winston sat dutifully for each interview, his tongue hanging from his mouth on camera as millions learned his story. The Duke Health news office reports that national stories on Winston collectively had millions of views.  
Additional tests in May by Duke researchers found that Winston never developed an antibody response to the virus, meaning he was not infected with COVID-19.
"It seems more likely that the virus was picked up by the animals via environmental contamination from the surfaces in the home," said Elizabeth Petzold, program manager for the MESSI study.
The short-lived fame hasn't gone to Winston's head. He remains the same cuddly dog whose favorite pastime is licking dirty plates in the dishwasher. 
"Winston has been completely oblivious to his new-found fame," Heather said. "Hopefully, Winston's results will reassure people their pets can keep cuddling with them while they're sick."
Help share the proactive and extensive work being done by all Duke community members during the COVID-19 outbreak. Send ideas, shout-outs and photographs with us here or write us at working@duke.edu.