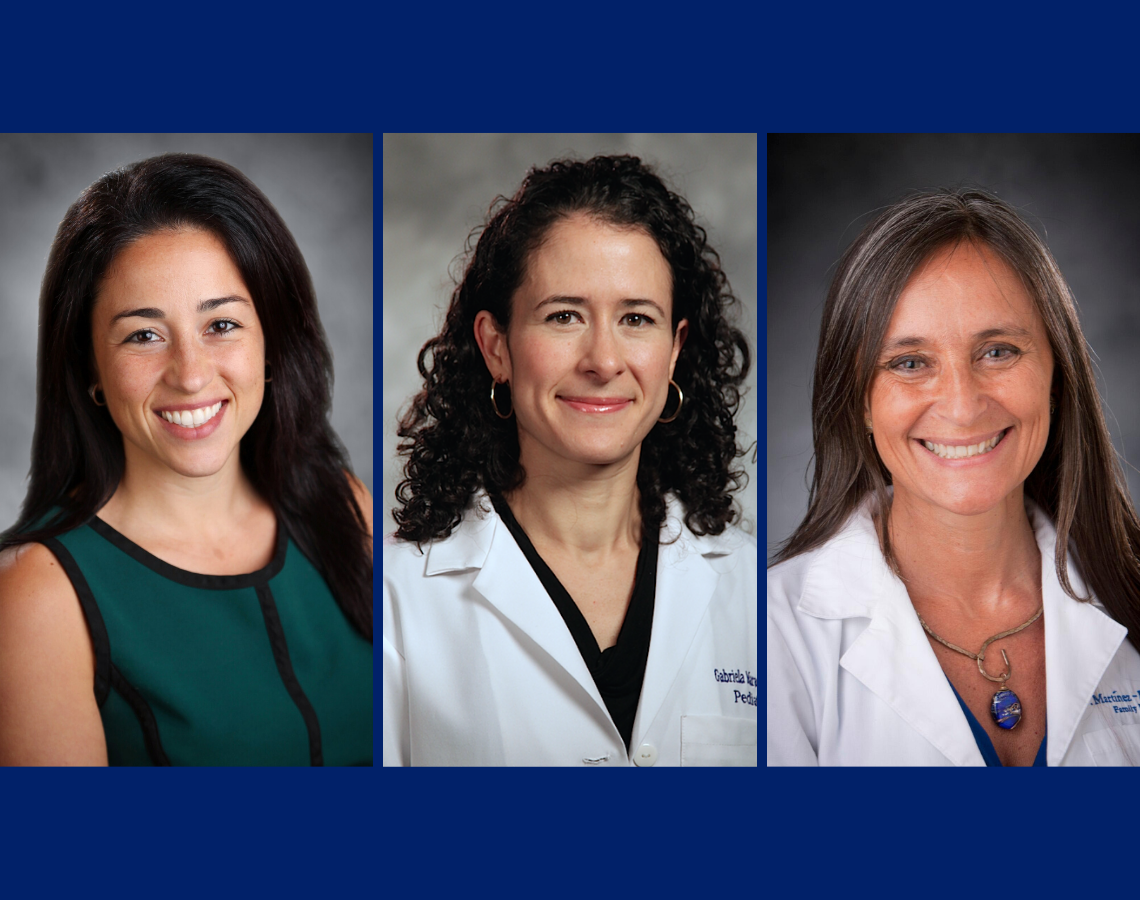 More resources and health protections are critical to protect Hispanic communities – many filled with essential workers – during the ongoing pandemic, three Duke health experts said Wednesday.
These resources range from simple public health education targeting their communities to paid sick leave, health insurance and the ability to distance while on the job, the health experts said during a question-and-answer panel with media.
Here are excerpts from the conversation:
ON THE TRAP MANY HISPANICS HAVE BEEN IN SINCE THE PANDEMIC STARTED
Dr. Viviana Martinez-Bianchi, family medicine professor:
"The Latinx community all over the country have often been essential workers. We're talking about people who, during this pandemic, do essential work in meatpacking plants and manufacturing. They have been involved in cleaning, maintenance, construction jobs.
"So while the rest of the country did quarantine or was able to stay at home to flatten that curve that we were trying to do, the Latinx community went to work."
ON WHAT THE HISPANIC COMMUNITY NEEDS
Rosa Gonzalez-Guarda, nursing professor
"We need more investment of resources and attention from leaders in government, health care institutions and employers. The primary way the Latinx community is becoming infected is simply by going to work. If we think about prevention, it's important for us to do more around providing appropriate protections in the workplace.
"This means not only providing masks and social distancing measures in the workplace, but putting pressure on business owners to provide paid sick leave … so people don't have to make the decision between going to work while they're sick and potentially infecting others, or paying rent and providing food at home.
"The other important thing is making testing available. A lot of the questions are around who is going to pay, access to insurance. It's important to think about how to overcome those issues.
"I think it's very important to provide resources to the community to help them track symptoms if they're sick and provide them advice on when it's safe to stay home and, importantly, when it's important to seek care."
ON HOW COVID-19 AFFECTS CHILDREN
Dr. Gabriela M. Maradiaga Panayotti, pediatrics professor
"This is on everybody's minds because we all know a child somewhere. It could be our own, or a loved one. The concern is of course very high. Right now, what we have seen is that COVID-19, while it does infect children, has not caused similar amounts of harm and mortality that other common illnesses like influenza do.
"Right now in the U.S. we have almost 2 million COVID-cases recorded, but only about 70,000 of those are children, which is about 3.5 percent.
"These are fairly similar numbers to those recorded in other countries. It's important to highlight that the death rate recorded so far in children is very low. As of last week, the CDC had only recorded about 20 deaths in cases of children under the age of 15."
ON MULTISYSTEMIC INFLAMMATORY SYNDROME, A NEW THREAT TO CHILDREN WHO HAVE COVID-19
Maradiaga:
"Multisystemic Inflammatory Syndrome is something we're seeing in children after they have been sick with COVID. Several weeks later, two, three, four weeks later, these children are presenting sick, very sick.
"What we are seeing is basically a disproportionately severe reaction by the body's inflammatory and immune system onto itself after COVID. The body becomes overwhelmed by this inflammatory response and the systems that keep us functioning break down. Heart, kidney, liver. These children end up needing a lot of support in the intensive care unit. With the appropriate support, if they get there early, they can get through the illness.
"The key important point there is getting to health. care early. ... It is not subtle. These kids will get sick. The parents will know."
On the importance of public demographic info on COVID-19
Martinez-Bianchi:
"We really think it's important that all public health departments in the state release information on ethnicity and all demographics in relation to COVID-19 cases. An informed community is able to better prepare and respond to COVID-19.
"Many of these people have been and are essential workers. I propose that perhaps members of the Latinx community, stakeholders and allies do a campaign of letter-writing advocacy to share with the whole state why we think this is important information."
On when a child should have a COVID-19 test
Maradiaga:
"Because of the rapidly spreading nature of COVID-19 that we are seeing in our Latinx community and in the state in general, the recommendation we are giving … is everybody who has a concern or a symptom of any kind – be it a runny nose or a cough – should get tested if they can get access to a test. The recommendation now is to test liberally. If a parent has a child or adolescent that feels common cold symptoms, we are recommending they should get tested. That will help us trace contacts and prevent further spread. It doesn't mean necessarily the child or adolescent will become sick.
"We are seeing a lot of children present with diarrhea, stomach ache, severe abdominal pain. Please reach out to your local health provider and get help as soon as possible."
On large families preventing transmission within a household?
Maradiaga:
"This is very challenging. Anybody who lives with any other person knows how much contact one has with each other. We are recommending a few basic things but also recognizing this can be hard. If possible, the person who is sick should be isolated in a separate room and a separate bathroom.
"Often, that's not possible so we're trying to say, in whatever way you can, minimize contact with that person. That person should wear a mask, and the other people in that house, including children 2 and up, should wear a mask. Good handwashing, not quick handwashing, good handwashing, 20 seconds or more. And being especially careful with anything that touches the mouth.
"COVID-19 is very scary. At the same time, we know a lot about it.
"If you're very careful about where you put your hands and how you touch your face, you can do a very good job preventing spread."
Martinez-Bianchi:
"Make sure also that when people are isolated, one other thing is to separate the garbage in the house. When someone is using Kleenex and things like that, keep those in a separate garbage can so others don't get contaminated.
"If you're watching the person who may be sick … keep an eye on them. Are they breathing OK? Are they starting to have chest pain? Is their color turning slightly blue? It's important to monitor how the sicker members of the family are doing."
On concerns about long-term health effects in HISPANIC community
Gonzalez-Guarda:
"We need to be more proactive in thinking how to get the message out to the Latinx communities in ways that are understandable, not only in terms of language but also in ways that are relatable culturally and are from trusted sources.
"One of the things I've been hearing a lot from my research participants … is that people are just fearful of seeking out any help, whether it's information, testing or medical care. "People are afraid because their immigration status might be compromised. They're afraid about the possibility of having to pay bills, particularly if they don't have insurance.
"It's really uncovering some of the structural and fundamental drivers of health in this population that's going to be critical for us to address as we continue to see a growth in this population in the future."
Faculty Participants
 
Dr. Viviana Martinez-Bianchi
Dr. Viviana Martinez-Bianchi is associate professor in Family Medicine and Community Health, where she is a primary care physician and director of health equity. She specializes in health disparities, access to health care, women's health, Latino health care, chronic disease management, and socioeconomic determinants of health.
viviana.martinezbianchi@duke.edu
Rosa Gonzalez-Guarda
Rosa Gonzalez-Guarda is an associate professor at the Duke University School of Nursing. Her research focuses on the intersection of intimate partner violence, substance abuse, HIV and mental health among Latinos in the U.S. and the development of culturally tailored interventions to address these.
rosa.gonzalez-guarda@duke.edu
Dr. Gabriela M. Maradiaga Panayotti
Dr. Gabriela M. Maradiaga Panayotti is an assistant professor of pediatrics at Duke. A fellow at the American Academy of Pediatrics, she specializes in ambulatory medical care for children, evidence-based pediatrics and obesity in children.
gabriela.maradiaga@duke.edu