John Brown Named Vice Provost for the Arts
Musician, educator, and longtime Duke Jazz Program director will advance the arts at Duke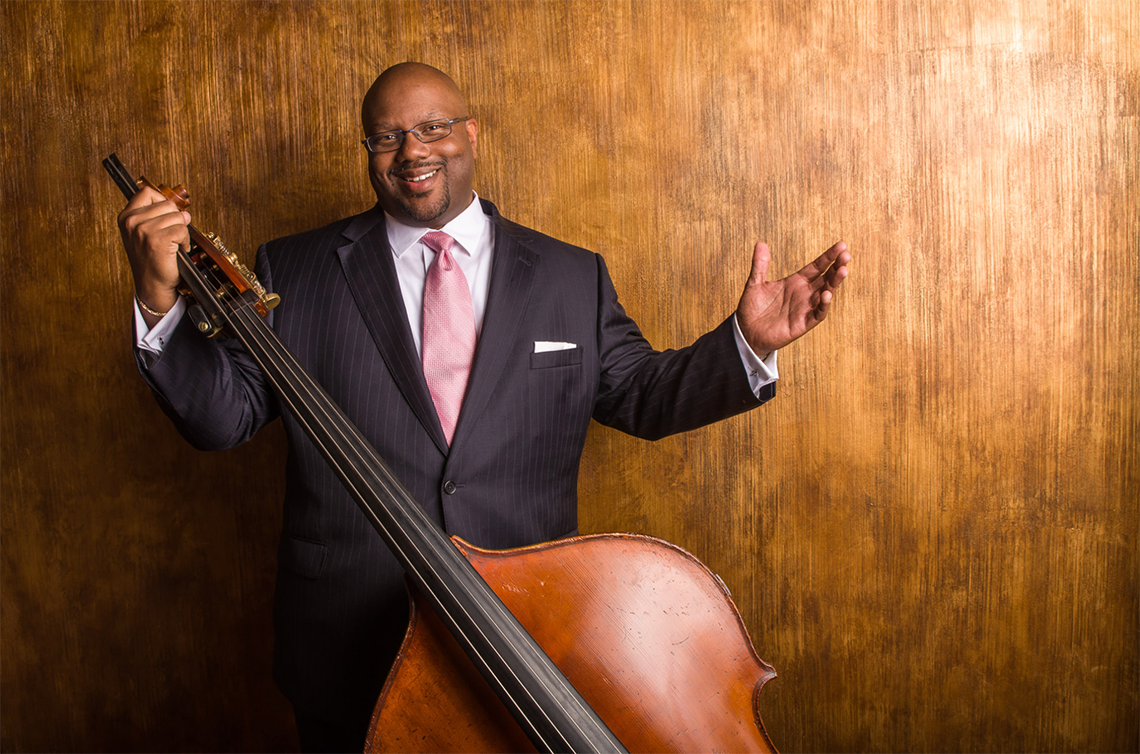 John Brown, director of the Duke University Jazz Program and professor of the practice of music, has been named vice provost for the arts, Duke University Provost Sally Kornbluth announced today.
Brown will be Duke's first fulltime vice provost for the arts, demonstrating the university's commitment to the arts, and building on the work led by his predecessor Scott Lindroth, who has held the position since 2007. In 2019, an arts planning group convened by Duke University President Vincent E. Price recommended the position be made fulltime to implement and further develop the university's strategy in the performing and visual arts.
"John will be a powerful ambassador for the arts at Duke," said Kornbluth. "He has grown a community for jazz here on campus and demonstrated his commitment to expanding arts education across our region. I know he will unite the arts at Duke to expand the ways art is central to our student experience and our regional impact." Brown's selection concludes a national search that was led by Tom Rankin, professor of the practice of art and director of the MFA in Experimental and Documentary Arts program. The search committee included faculty and administrators from across the university.
"We are a nation in crisis because of the coronavirus, racism, and deep political division," says Brown. "I am honored by this appointment, and I recognize we are in dire need of hope and healing. Arts and artists are essential, now and always. The ways we find ourselves divided tend to vanish when we share experiences in the arts. One of my main missions will be to enable our artists and arts organizations to unite us as human beings, to strengthen our shared community, and to demonstrate our collective resilience, despite the pandemic and this division."
Brown is a bassist, composer, and producer from Fayetteville, NC. He holds a bachelor's degree in music from University of North Carolina at Greensboro and a law degree from the University of North Carolina at Chapel Hill. Rather than practicing law, however, Brown found himself called to a career in music. As he often tells his students, "Music chooses you."
Brown was immersed in music at a very young age, but it was a performance by the North Carolina Symphony he attended as a child that introduced him to the bass. This early experience with live orchestral music changed his life, and Brown has made it his mission to participate in public and private school educational residencies through the North Carolina Arts Council, playing as a substitute in the NC Symphony (since 1992) and leading his own groups, ranging from a trio to a big band (since 2004). "I remember when the symphony came to perform for us while I was in elementary school," recalled Brown. "They had these really nice professional stools for the bass players—black with a high back. When I was first called to play for the NC Symphony while I was still at UNCG, it was a life changing moment for me to play with them and sit on one of those stools, reserved just for me."
Brown also has an illustrious international touring career. He has performed for President and Mrs. Barack Obama and with artists like Wynton, Ellis, and Delfeayo Marsalis and Elvin Jones (best known for his time as drummer with John Coltrane). He received a Grammy nomination in 1996 for his performance and co-writing on Durham jazz legend Nnenna Freelon's "Shaking Free" album and toured with her for years. Recently, he served as music director for the closing ceremonies for the Durham 150 Celebration and performed his original composition, Royal Blue, at President Price's Inauguration. Brown has served twice as a juror for the Pulitzer Prize in Music. He is also an actor, performing on screen and stage, and for a variety of film and television scores. 
Brown joined Duke University's music department as an adjunct instructor in 2001, becoming assistant professor of the practice of music and director of the Duke Jazz Program in 2003. That same year he founded Jazz @ the Mary Lou Williams Center for Black Culture, a weekly live jazz jam session open to campus and community, now driven by student leadership in the Duke University Union.

As vice provost for the arts, Brown will lead the overall direction of the arts across Duke, oversee Duke Performances and the Rubenstein Arts Center, serve as the university liaison for the Center for Documentary Studies and the American Dance Festival, and work collaboratively to deepen the integration of the arts into the educational experience and extend the impact of the arts at Duke to Durham, the region, and beyond.
Brown says, "I am energized by what I've been able to do with the Jazz Program in terms of both activity and visibility. Now, my charge is to shine the brightest light on Duke's superb arts community. I want to find creative ways to more deeply connect our work to Durham, and to grow the ways arts education is integrated into our curriculum in science, technology, engineering, and math. I look forward to collaborating with colleagues across Duke to further this vision."
Brown will start his position on July 1. His appointment comes after the naming of Trevor Schoonmaker as the Mary D.B.T. and James H. Semans Director of the Nasher Museum of Art and Bobby Asher as director of Duke Performances.