Giving Back to Stop the Spread of COVID-19
Duke community members are volunteering to help pandemic relief efforts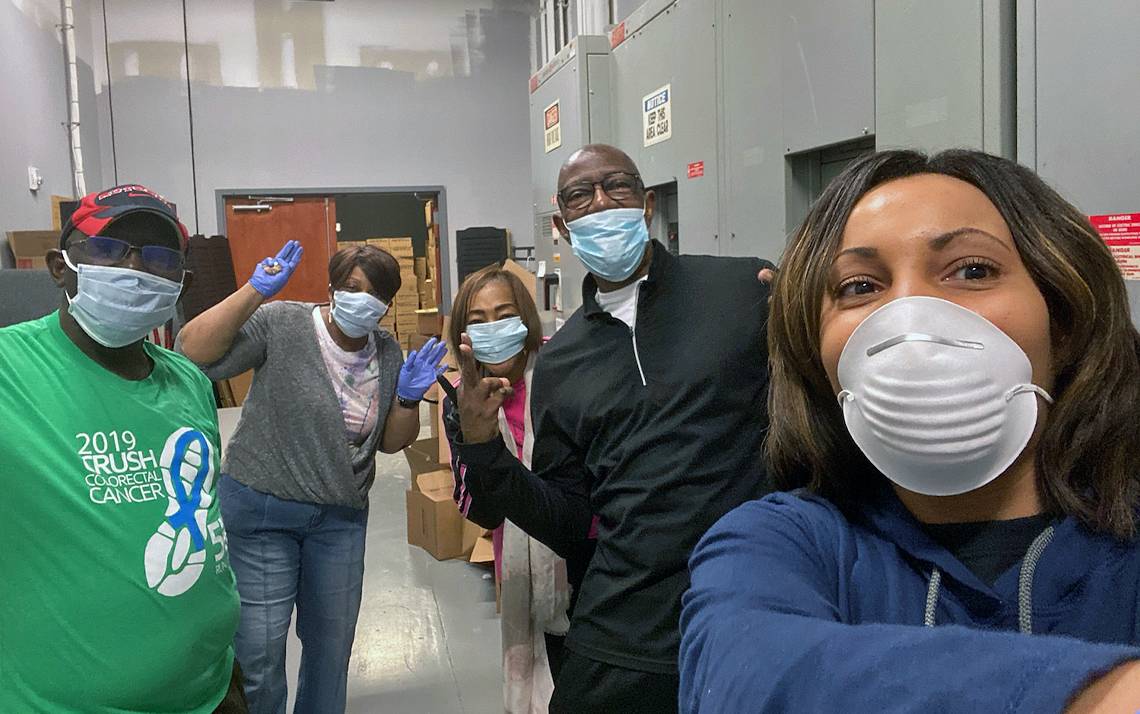 Monique Turrentine stood in a makeshift assembly line and packed about 25 boxes with non-perishable food at a church in Durham on a Saturday morning in April.
As Turrentine stuffed boxes with peanut butter, spaghetti, apple sauce and chicken soup, she felt a sense of satisfaction and a smile stretched across her mask-covered face.
"It hit me while I was packing food that I was making a difference in someone's life," said Turrentine, assistant director of employer development for the Duke University Career Center. "I was determined not to feel defeated by COVID-19."
Turrentine, a member of The River Church, volunteered to pack boxes as part of her congregation's food donation program. Every Saturday, the church opens a drive-thru for people in need to pick up a box of non-perishable goods.
Turrentine also calls church members who have lost loved ones due to the virus or other causes. A conversation spans from five minutes to 30 minutes as Turrentine lends an ear and support. 
"During this time, it is even more important to spread goodness in the world and lend a hand," she said. "Everyone is adjusting to the changes COVID-19 has caused, and there are many people going through challenges."
While civic engagement looks different during these times, there are ways to help fight the spread of COVID-19 through volunteer efforts. Duke's Office of Civic Engagement maintains a list of opportunities.
Here's how some Duke employees are using their time to help.
Donating homemade masks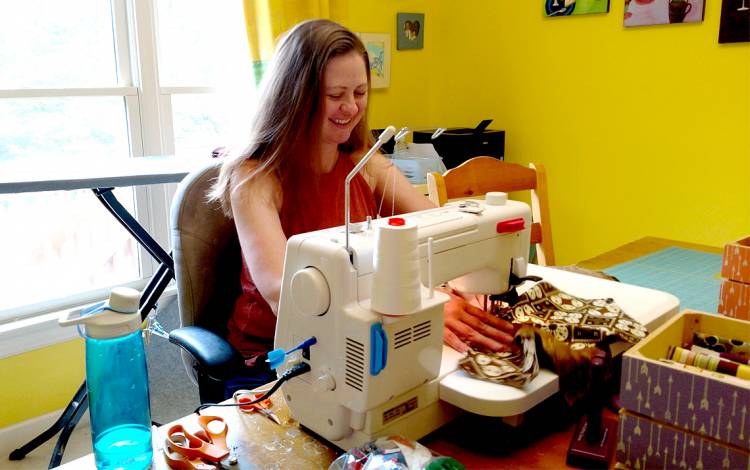 Anathea Portier-Young has helped hundreds of people – one face covering at a time.
Portier-Young, who generally makes quilts, switched to sewing face covering when she saw a friend post about "Sew the Curve Flat," a nationwide group of sewers who are providing face coverings to hospitals and at-risk communities.
"Quilters are known for having a lot of different fabrics in their stash to have on hand for piecing together quilts," said Portier-Young, associate professor of the Old Testament for the Duke Divinity School. "It felt like quilters were ready for this moment of people needing masks."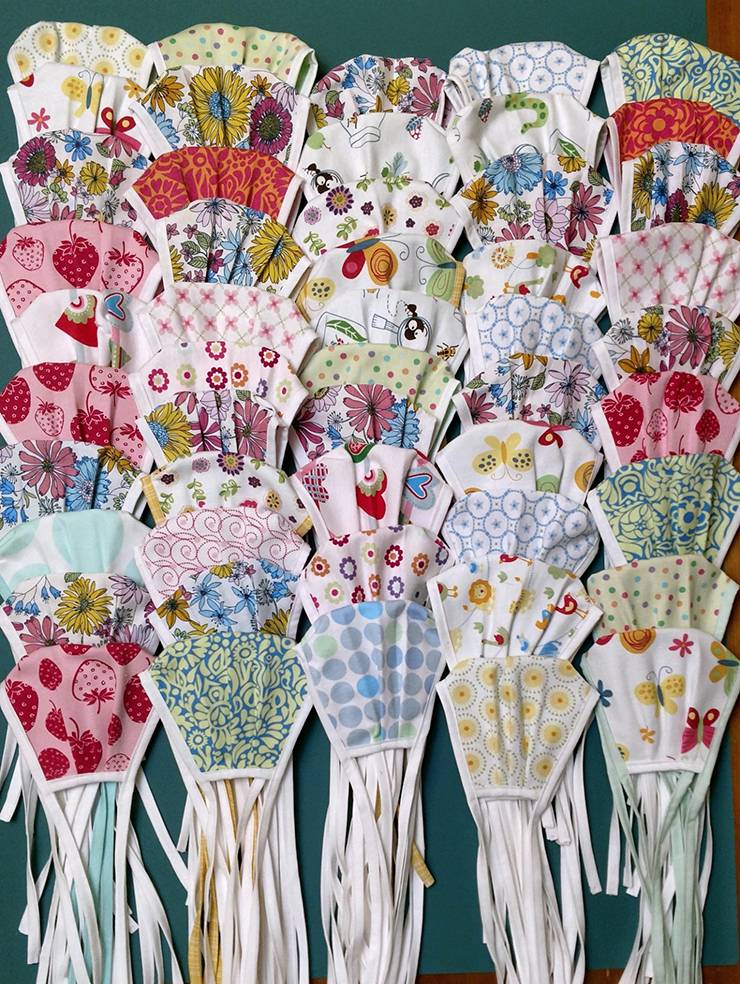 She typically makes 15 to 20 masks a day but has sewn as many as 34 in a single day on her Janome Memory Craft 6600P. She's donated about 800 masks so far.
Portier-Young gives masks to dozens of organizations, including for a donation drive Duke Divinity School, Duke University Chapel and Covering the Triangle are organizing together.  The group has donated about 1,600 homemade and N-95 masks to prisons and jails, bus drivers, the elderly, social workers and other groups. 
"Durham is a very crafty and a very caring city," said the Rev. Breana van Velzen, community minister for Duke University Chapel, who organizes distributions. "Making and donating masks is a way to show people you care. We don't want to see our neighbors get sick."
For Portier-Young, sewing masks has been a way to help feelings of hopelessness.
"We're all in this together," she said. "I don't have medical expertise, but I know how to sew. The more masks I can sew, the better chance I have to save someone's life."
Keeping a county safe

Dr. Diana Silimperi is staying active in her partial retirement 
Silimperi, a visiting professor of the practice of global health for the Duke Global Health Institute, is currently sheltering at her home on the Bay River in Pamlico County, east of New Bern. In early March, she contacted the Pamlico County Health Department director, county manager and head of emergency services to discuss the need for a multi-sectoral COVID-19 task force, and the role of the community in the response to the COVID-19 pandemic
"I had been interested in trying to support the community and the health department with my expertise," said Silimperi, who worked as an international global health epidemiologist and pediatrician for 35 years. "I knew there were two really important things the county needed: a whole-of-society approach and an empowered community. You can't mitigate a pandemic if the community isn't engaged in stopping it." 
She subsequently established and chairs the Pamlico County COVID-19 Community Task Force and its Community Response Network. Silimperi also serves on the County Health Advisory Board.
The Community Response Network creates two-way conversations with the majority of the county's residents through periodic email messages and phone calls to provide social support and share simple fact-based information about the virus and how to prevent its spread. The network is composed of about 100 churches, social organizations and non-profits. The emails include county and state COVID-19 information and all communications from the Emergency Management Office.  
Silimperi and the Community Task Force also support the Health Department by undertaking contact tracing efforts making and disseminating masks for the most vulnerable community members and sharing the latest public health information for businesses and religious leaders to minimize viral transmission, especially as the county re-opens. They are actively spreading evidence and best practices to minimize the spread of the pandemic
"My mission is to serve," Silimperi said. "Our county has a population that is quite elderly and with a lot of chronic diseases. The Community Task Force is here to empower the community to minimize the spread of disease and survive the pandemic." 
Feeding those in need

For the past 10 years, Domoniqúe Redmond has volunteered on the third Saturday of every month to feed people in need.
Redmond volunteers with the Inter-Faith Food Shuttle's Mobile Market, which provides fresh fruits and vegetables and non-perishable goods to communities.
"Hunger relief has always been important to me," said Redmond, assistant director of programs for the Duke Office of Durham & Community Affairs. "The world is a much more manageable place when you don't have an empty stomach."
Since March, Redmond has arrived at Durham's Zafa Temple to volunteer with the Mobile Market. The temple has a large, covered outdoor space where Redmond and other volunteers maintain distancing while they pack nearly 100 boxes each month with potatoes, lettuce, carrots, cucumbers, onions, bananas, oranges, strawberries, apples, bread and meat. 
When they arrive for the pick-up, food recipients stay in cars while Redmond and other volunteers bring the packed boxes to them.   
"It was never a question that COVID-19 could stop me from volunteering," Redmond said. "I truly do this because serving others is the right thing to do."
Help share the proactive and extensive work being done by all Duke community members during the COVID-19 outbreak. Send ideas, shout-outs and photographs  here or write working@duke.edu.