Duke Scholars Examine Protests and Police Conduct
Faculty discussed the killing of George Floyd, current national protests and the history of civil rights demonstrations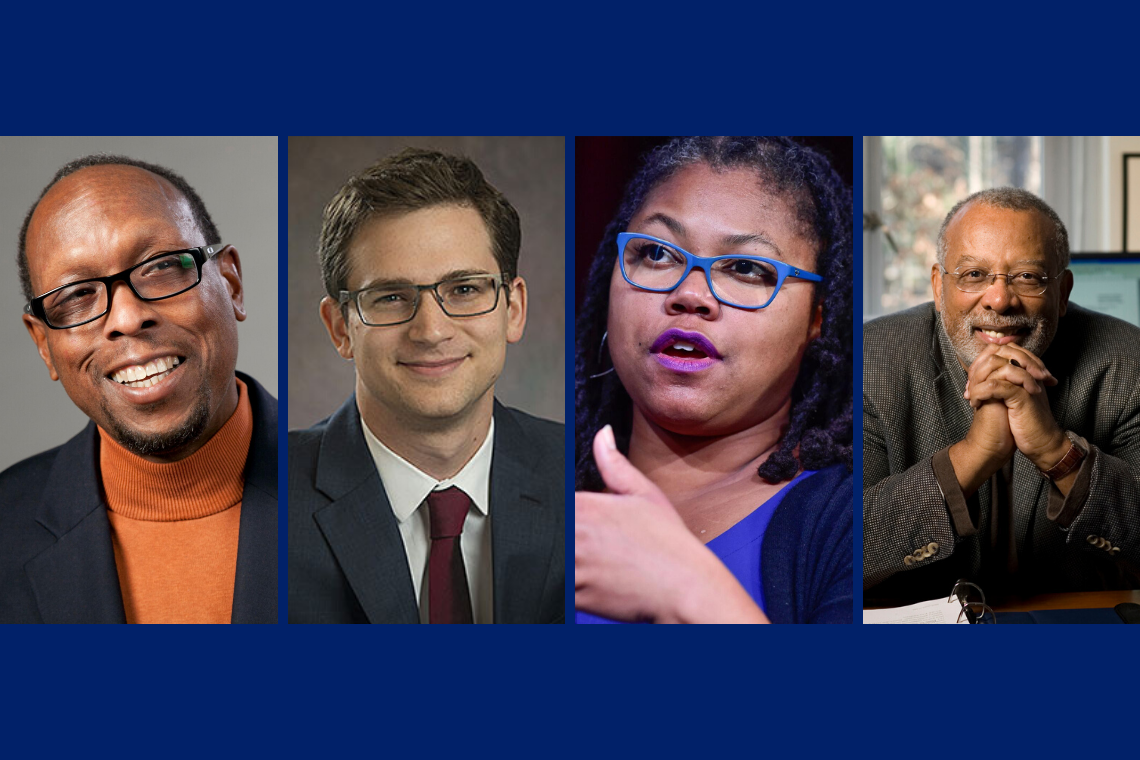 Even with seemingly convincing video evidence, prosecutors may struggle to convict a former Minnesota police officer charged with the third-degree murder of a man he was restraining, a Duke law scholar said Tuesday.
Duke law professor James Coleman Jr. said the case against Derek Chauvin may come down to a jury's interpretation of precisely what caused the death of George Floyd, who Chauvin restrained with a knee hold for nearly nine minutes. Chauvin is white, Floyd was black, and the incident led to mass race protests in Minneapolis that subsequently spread across the country.
On Tuesday, Coleman and three other Duke scholars took questions from media on various aspects of race, politics, history and policing.
Here are excerpts:
ON THE GEORGE FLOYD CASE:
James Coleman, Duke law professor:
"This case is going to be like a law school exam because while the conduct itself clearly rose to the level of extreme indifference to human life, the issue really is going to be whether it was clearly the cause of Floyd's death. The autopsy report did not conclude the officer's conduct was not the cause. It said it was one among several factors that may have caused his death. The family obtained an independent autopsy which concluded his death was a homicide, so that's likely to be the issue at his trial. I don't think it's a slam dunk that he will be convicted of murder or even manslaughter."
"There are two aspects to the case against him. There is what he did, and we all saw that, and I don't think there's any question that what he did was inherently dangerous. I don't think there's any question that it reflected what we would say is extreme indifference to the value of human life. The issue, though, is going to be whether that conduct caused the death. That's an issue the jury has to decide."
"The official autopsy report identifies a number of factors that may have contributed to his death. The question is going to be though, would he have died at the moment he did but for the conduct of the police officer? The family has a second autopsy report that concludes that in fact he died because of the police officer's conduct. The fact that you have two autopsy reports that come out differently -- If the jury believes the state's autopsy report, then I think it is very possible they could decide the state has not shown the police officer caused Floyd's death."
ON WHERE THIS MOMENT FITS IN THE CIVIL RIGHTS HISTORY OF THE US:
Adriane Lentz-Smith, history professor:
"What we're seeing right now are the deadly persistence of ongoing stereotypes that have served a purpose, that purpose largely being the concentration of racialized power in the hands of very few."
"What we're seeing right now is what happens to a dream deferred. You're seeing the consequence of folks first asking, then pleading, then waiting, then getting fed up. This isn't the first time we've seen these outbreaks in response to the failures of American democracy."
ON POLICE OFFICERS FIRED, THEN HIRED BY OTHER AGENCIES:
Ben Grunwald, law professor:
"Today, we find that roughly a thousand officers are working in Florida agencies who had previously been fired. That represents about 1 ½ to 2 percent of all Florida officers."
"We find that officers who get fired who get further work in law enforcement down the line tend to move to agencies that are smaller, with less resources, that serve communities with slightly larger populations or communities of color."
"Wandering officers, particularly those who are fired from their last job, are twice as likely to get fired again, compared to rookies and other veterans who have never been fired."
ON THE STEREOTYPING OF BLACK MASCULINITY:
Mark Anthony Neal, African and African & African-American Studies chair/professor:
"Embedded in white supremacy has always been images and ideals that help justify the treatment of black people. When you think about the way blacks were treated during slavery, there had to be a system culturally and socially that helped to justify the inhumanity directed towards black folks."
"There are certain ways in which black masculinity and black folks more broadly are legible to the larger public. One of the ways … is in this notion that they're criminalized. In this notion in some cases of being athletes, as being superhuman so much so in some ways so that they resist certain forms of pain."
"It takes four police officers to subdue a black man in handcuffs, as another example of thinking that somehow black folks are somehow resistant to pain."
ON ECONOMIC INEQUALITY AS A DRIVER OF THE PROTESTS:
Lentz-Smith:
"On some level the protests we're seeing right now are a statement of the cascading failures of the state to take care of a broad swath of its citizens. If we think about what civil rights activists at mid-century and before were asking for, were pushing for, they were pushing for an end to a system of politics and economics rooted in gross exploitation. They were pushing for care for wellbeing, broadly speaking. That meant economic security. That meant working people's rights so people could live on the wages they earn."
"The limited steps we've made on the way to taking care of the broader populace, if we think about something like Lyndon Johnson's Great Society, have been radically undone. They were under attack from the moment of the Congress of the 1960 passed them. They're been rolled back in ways small and large since then. When people are out on the street and in pain, that pain is about being hungry. It's about being disproportionately affected by COVID. That pain is about all of the slow violence we've seen erupt into too frequent manifestations of immediate death."
ON SOCIAL MEDIA DURING PROTESTS:
Neal:
"(Social media) has been able to force national corporate media to pay so much more attention to what's happening. If you go back to 2013 and think about the shooting death of Mike Brown (in Ferguson, Missouri), it was actually after a million tweets about his death that we finally got a prime-time news story about Mike Brown's killing in Ferguson. What social media has done very effectively is galvanize groups of people across races on social media."
"It also gives celebrities a platform to talk about what's happening in terms of these protests. In terms of real policy shifts, we've yet to see directly how social media can directly impact policy. But in terms of generating attention to these issues and generating eyeballs … it's incredibly important."
Lentz-Smith:
"In relation to the protests specifically, social media has given people a more fine-grained picture of who's involved. It's very easy to lazily report things as a 'mob' or to assume a certain homogeneity. What you see is a coming together of different groups, sometimes in solidarity, sometimes in agitation. In certain instances you see coverage, on the flipside, of where are the police and what are they doing? What is happening to people?"
"Folks reporting on being gassed on their porches … gives people who are watching from their homes a better sense of what's happening than they might get if local news outlets are overtaxed and can't be everywhere at once."
ON WHY IT'S HARD TO FIRE BAD POLICE OFFICERS:
Grunwald:
"A lot of police agencies have a specific culture, a culture that supports the kind of conduct we've seen on the streets over the last weekend. You have decision-makers who think some of the conduct that renders a police officer eligible to be fired doesn't actually render that way. So part of it is the decision-makers."
"There was great optimism about body cameras when they became popular about five years ago. Some people thought it was going to solve the world. But even if we record these instances accurately, the people who are viewing them view them in a particular way. Different people view them in different ways so it matters tremendously (who is) reviewing the footage."
"There are really strong disciplinary rights for police officers in a lot of jurisdictions because of union contracts. We can actually see how hard it is for police agencies to fire officers even when they want to fire the officers."
ONE POSITIVE CHANGE THAT WOULD HELP RIGHT NOW:
Neal:
"I grew up in New York City in the '60s and '70s … when police officers still walked the beat. There was a direct connection between police officers and the communities in which they policed. And police officers often still lived in the communities. I just think you police people differently and with more humanity if you live with the people you're charged with protecting."
Lentz-Smith:
"To let the definition of freedom that is broad and capacious and humane, that was produced within and by the civil rights movement, be the definition of freedom that guides us as Americans."
"The justice department needs to do its job. It needs to be as energetic about defending the civil rights of everyday Americans as it is about shutting down critiques of abuses of power. It needs to enforce consent decrees, it needs to guarantee voting rights and it should keep track of the places that have patterns of bad policing, so we have some data."
Meet the Faculty:
James Coleman is the John S. Bradway Professor of the Practice of Law and Co-Director of the Wrongful Convictions Clinic at Duke Law School.  His academic work, conducted through the Center for Criminal Justice and Professional Responsibility, centers on the legal, political, and scientific causes of wrongful convictions and how they can be prevented.
Ben Grunwald is a Duke law professor who studies criminal procedure, criminal law, constitutional law and policing. His recent research found that fired police officers are twice as likely to be fired again in a new job. Grunwald also studies effects of open-file discovery on prosecutorial power and the relationship between sentencing guidelines and sentencing fairness.
Mark Anthony Neal is the Jame B. Duke Professor of African & African American Studies, chair of the Department of African & African American Studies and founding director of the Center for Arts, Digital Culture and Entrepreneurship at Duke. He specializes in black popular culture and teaches courses on topics including black masculinity. Neal is the author of several books, including "New Black Man," and hosts the video webcast Left of Black.
Adriane Lentz-Smith is associate professor and associate chair in Duke's department of history, where she teaches courses on the civil rights movement, black lives and modern America. A scholar of African American history and 20th century U.S. history, she is at work on a book about police violence during the twilight of the civil rights era.