Creating Ways to Engage the Community Online
With in-person campus events on hold, schools and units offer virtual programs
When Jan Little and most of her colleagues were forced to work remotely due to COVID-19, it presented a fairly steep challenge for Sarah P. Duke Gardens.
Normally, thanks to the kaleidoscopic spring color, March and April are the busiest at the campus showplace, with 169,339 guests visiting during that period last year. But with the gardens closed, one of the biggest questions facing Little was how to keep the public engaged.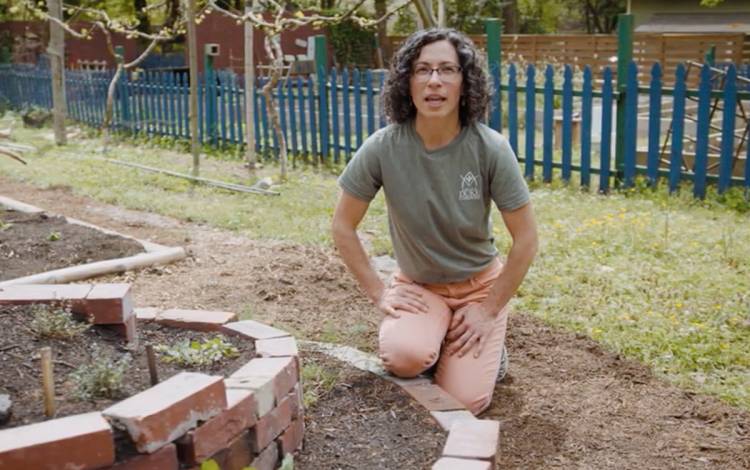 "When we saw that this wasn't a short-term thing, we knew we needed to figure out what to do," said Little, director of Education and Public Programs at Sarah P. Duke Gardens.
While we can't stroll among the plants and trees, fans of Duke Gardens have no shortage of ways to connect with the know-how of people who keep the gardens beautiful, thanks to how-to videos and webinars.
Many parts of Duke nourish the minds and spirits of the Duke community and beyond, but when COVID-19 separated entities from their audiences, schools, departments and units got creative to keep connections alive. For example, Adriane Lentz-Smith, associate professor of History, hosts the Ethics of Now discussion series in-person, but she adjusted and now hosts it from her home. Earlier this month, she quickly added a new topic to the lineup, speaking with Samuel DuBois Cook Distinguished Professor of Public Policy Sandy Darity about racism, police brutality and protests.
Here are other examples of how Duke has continued to engage with audiences despite limitations brought by the pandemic.
Sustaining a Spiritual Community
With Sunday worship services already streamed and broadcast live and video of plenty of musical performances archived on its YouTube page, Duke University Chapel had a head start when it came to shifting from in-person services and recitals to virtual ones.
But with the community it serves going through a time of great anxiety and disruption, the leaders of Duke's spiritual hub wanted to do more. While campus in-person events are canceled and many employees are working from home, there's still plenty of joyful noise and comfort from Duke Chapel to be found online.
"We wanted to maintain a sense of who we are as a community while also making our worship and ministry available in new ways," said Assistant Dean of Duke University Chapel Bruce Puckett.
In addition to Sunday services – which have seen their online viewership quadruple in recent months – educational programs and bible study groups, which continue virtually, there are other ways for community members to engage with the chapel. Each Wednesday, the chapel's music team offers insight into the meaning and making of selected pieces of music performed at the chapel in the "Sounds of Faith" video series.
Rossie Clark-Cotton, a Ph.D. student in cell biology and an alto in the Duke University Chapel Choir, said the videos – as well as virtual choir practice and live-streamed services – have helped her maintain a connection to the chapel music community she cherishes.
"I love not just listening to the music, but also hearing the musicians say a little bit about it and put it into context," Clark-Cotton said.
An especially popular online offering occurs each afternoon at 5 p.m. when the carillon performance is livestreamed on the Duke Chapel Facebook page.
"Even for people who don't come into the chapel much or don't hear the choirs, the carillon sounding at 5 p.m. is something that everybody at Duke knows and hears on a daily basis," said Director of Chapel Music Zebulon Highben. "It's really an instrument that's made for a time like this."
While music is a major part of the chapel's online outreach, Duke Chapel staff members have also put together a series of #TwoMinutesTogether videos offering brief reflections on these times and small doses of inspiration. The short videos – mostly shot on smart phones – have served as small spiritual boosts for the chapel community.
"It's the most unrefined thing that we put on the web," Puckett said. "We don't need everything to have a high level of production, because what we care about is letting our community know that we care about them and want to give them words of encouragement and hope and consolation through this."
Ready for the Crisis
The mission of the Duke Initiative for Science & Society is to explore the intersection of science, policy, culture and social institutions. With COVID-19 disrupting life around the globe, the unit is uniquely well-positioned to explore many questions the global pandemic creates.
And with their Coronavirus Conversations, a regular series of online discussions with science and policy experts from Duke and beyond, the team has found a way to get the discussions to a broad audience.
Melissa Segal, senior business manager for Duke Neurobiology, has watched a handful of the online discussions.
"There's so much misinformation out there, so I think it's really important to stay plugged in to what's really true and use science to help guide us and make decisions," she said. "I'm always drawn to programs like these that provide that factual information."
Duke Initiative for Science & Society Director Nita Farahany suggested the series around the time that COVID-19 forced most Duke staff and faculty off campus. Already familiar with the subject matter, and with video-conferencing a communication vehicle due to team members working in several locations across campus, getting the series up and running was smooth.
The live conversations – which began in early April and have featured guests such as Duke Associate Professor of Medicine and infectious disease expert Cameron Wolfe, Durham Mayor Pro Tempore Jillian Johnson and former Chairman of the Joint Chiefs Martin Dempsey - have drawn an average of around 90 participants, with some drawing around 280.
"We're always trying to find a way to collaborate with our faculty and be a conduit for their research and their expertise," said staff specialist and series organizer Tim McDermott, who is in the process of putting together future installments of the series. "We go to them and say 'You've got ideas. What can we do to connect those ideas with an external audience?' We've found that once we engage them, they're really, really passionate."
Tapping into New Audiences
In mid-March, when stay at home orders took effect, the Duke Center for International Development (DCID) had one live event left on its calendar.
But in the months since, DCID and the Sanford School of Public Policy have co-hosted several virtual discussions with an array of leading figures in areas such as inequality, migration and grassroots development and reached audiences well beyond campus.
The "COVID & International Development" series of online conversations featuring DCID Associate Director Sarah Bermeo and experts in the field, has explored the ways the pandemic is affecting efforts to help developing countries. These discussions are some of the 26 virtual events conceptualized and hosted by parts of the Sanford School of Public Policy since stay-at-home orders were put in place in March.
"It's been great to see people step up and say 'Ok, this is a crisis, but we as a scholarly community have something to say, and have connections to people who have something to say, so how can we put that knowledge out there so people can benefit from it?" Bermeo said. "This is what we do as a university, so we want to make it happen."
Tiffany Goetzinger, the DCID communications director who, along with the Sanford School's Mary Lindsley, organizes the discussions, said that series began as a one-off online conversation. It was simply a conversation about COVID-19 and inequality with Bermeo, co-host Anna Gassman-Pines of the Center for Child Family and Policy, and Abby Maxman, President of Oxfam America, a major poverty-fighting non-profit organization. After the event drew more than 100 participants and unfolded without any major technical headaches, the team opted move forward with more.
Now with four installments, and discussions about continuing it next fall, it's been a success.
"We see that things are chaotic out there, but people still want that education and engagement," Goetzinger said. "They want to know what's happening in the world and what's being done and what they can do about it. We feel like we're filling that need."
Help share the proactive and extensive work being done by all Duke community members during the COVID-19 outbreak. Send ideas, shout-outs and photographs here or write working@duke.edu.