PUBLISHED
Service to the Corps and More: Duke College Advising Corps Adapts During the Pandemic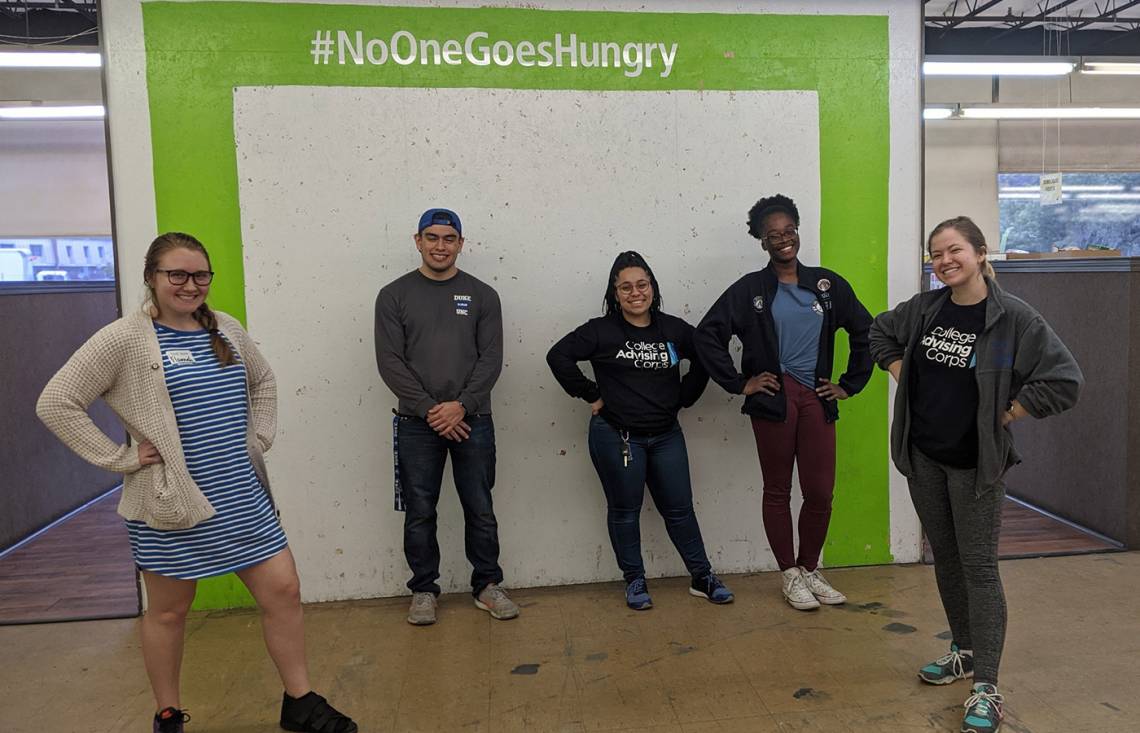 Since COVID-19 forced North Carolina high schools to close in March, the 16 full-time members of the Duke College Advising Corps (Duke CAC) have, along with other Americans, faced the twin challenges of adapting to novel working conditions while also stepping up to meet urgent needs in their communities. Without access to their partner high schools, advisers had to design a whole new way to maintain their one-on-one work just as their students suddenly had to navigate a dramatically different environment in which to apply for college and financial aid. Almost two months later, advisers have met these challenges in a variety of ways with energy, intelligence and commitment.  
Better Together:  Duke College Advising Corps' Partnership with AmeriCorps
Duke CAC works to increase the number of low-income, First Generation College and underrepresented high school students in central North Carolina who enter and complete higher education. Duke CAC program is an AmeriCorps grantee through the North Carolina Commission on Volunteerism and Community Service, During times of emergency, AmeriCorps members, including Duke CAC advisers, are often called to meet the needs of their communities, and that is what has happened during the pandemic. As Caroline Farmer, Executive Director of the North Carolina Commission on Volunteerism and Community Service, notes, "AmeriCorps members have been essential to meeting the needs of those around them. They continue to ensure that North Carolinians are safer, smarter, and healthier during this pandemic." Duke CAC advisers have enthusiastically embraced the AmeriCorps spirit of service. Along with reinventing the ways in which they do their advising work, they have sought out volunteer opportunities to meet the critical community needs caused by the COVID-19. 
Uninterrupted Support to High School Students:  Duke CAC's Pivot to a Tele-Advising Service Delivery Model
As Duke shifted to remote instruction, Duke CAC moved its student services to online tele-advising. In the virtual space, advisers utilized webinars, one-on-one Zoom advising sessions, and dramatically ramped up social media outreach to students. For example, Nelia Ekeji, a Duke CAC adviser at Jordan High School in Durham, increased her use of social media to stay in touch with her students and keep them informed about how the college application and admissions process has - and has not - changed. "I'm really making sure that everything is accessible and well-documented online," says Nelia. "I want to make sure I'm exhausting every outlet I have to make sure that students have the information they need to succeed." Nelia has increased her use of email outreach, both to students and to teachers and counselors at her school, in order to make sure they are aware of upcoming deadlines and virtual events. She has also used Zoom to engage in one-on-one virtual advising sessions with students. In addition to her Duke CAC advising role, Nelia is also serving as a food distribution volunteer with the Durham FEAST program and the Food Bank of Eastern and Central North Carolina. Local School systems and Food Banks are still offering safely prepared meals and distributing food items, but face a critical shortage of volunteers. 
Crisis Intervention: Volunteering with Crisis Text Line
Riley Hickman, a Duke CAC adviser serving at Garner Magnet High School in Garner, volunteers with Crisis Text Line, a free, 24/7 support service for those in crisis. After approximately 30 hours of training in crisis counseling, Riley works weekly shifts responding in real-time to those in crisis and providing active listening and support. Especially given the isolation and stress accompanying COVID-19, the telephonic support networks can be crucial to maintain the emotional and physical well-being of those seeking help. "This is a great part of the AmeriCorps structure, that it is adaptable and in times of service, you are someone who can serve in ways that are needed most," says Riley. "Crisis support is essential given the stressors caused by COVID-19, and I'm interested in doing what I can to help - this service opportunity allows me to channel my energy into service that is truly helping others."
Emergency Services Coordination: Volunteering with Governor Cooper's Office
Sally Tran, a Duke CAC adviser at Northern High School in Durham, volunteers with the NC Governor's Office to support the Commission on Volunteerism and Community Service. Over the past two months, she's worked on a number of different projects, including answering phone calls from citizens and directing them towards local resources, as well as identifying food insecurity hot spots across the state. "Even though this work isn't directly related to college advising, it connects back because it's exposing the underlying issues that affect our college advising work," says Sally. "Issues like food insecurity or lack of Internet access are things that existed before this crisis, but they are being highlighted in this moment - these issues affect so many students across the state." Most recently, Sally has been compiling information about volunteer opportunities across the state related to COVID-19, creating a central inventory that includes the number of volunteers, number of hours worked, and types of efforts that are happening. This data will eventually be used to help inform a state report on volunteering efforts during the COVID-19 crisis. 
Serving Now and for the Future
Duke CAC advisers have learned much this spring about their students, partner schools and surrounding communities, knowledge that will greatly inform their work going forward.  Whether their partner schools reopen in a traditional or novel format this fall, advisers are prepared to help their students chart the journey after graduation in person or online. And, through their volunteer service to local communities, Duke CAC advisers are ready to get things done for North Carolina in the months ahead.