A Phone Call Away for Answers and Help
While COVID-19 pushed them away from campus offices, on-call staff remain ready to lend aid from home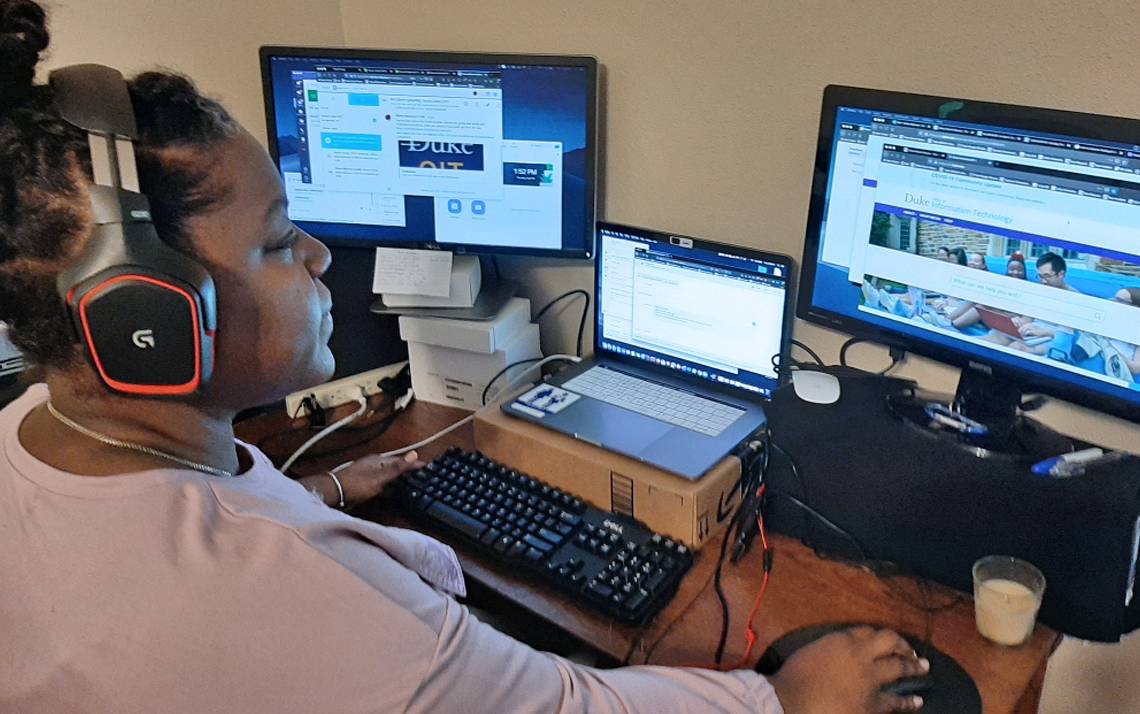 For Robby Robinson, a service desk analyst with Duke's Office of Information Technology, working from home is nothing new. 
Robinson and the rest of the 13-person team on the OIT Service Desk often take laptops and headsets home during periods of severe weather to make sure the Duke community is able to sort out technology problems.
"We're equipped to work from home, but this is different," Robinson said.
Since mid-March, the OIT Service Desk team has worked remotely due to the threat of COVID-19. And with most of the Duke workforce shifting its work to home – and using new online communication tools and arrangements – the OIT Service Desk's phones and chats have been busy.
According to OIT Service Desk Manager Rodney Cozart, the number of help chats his team handled went from around 25 per day under normal circumstances to around 65 per day in March, proof that this essential team can't afford to skip a beat.
"This team truly works hard," said Cozart, whose team handled around 30 chats per day in April. "They don't have an easy job, but I think this experience shows people the value of what they do."
The threat of COVID-19 has forced employees in many parts of Duke to work remotely. And while the workflow for some has been altered dramatically, for those who are on-call to provide vital support for colleagues, the need to be ready to lend a hand remains unchanged. 
Here are some stories of other Duke employees whose ability to help the Duke community has been unchanged by COVID-19.
Providing Answers 
When Jennifer Frazier, who leads the employee services team in the Human Resources Information Center, answers the phone these days, there's been a somewhat common reaction.
"They'll say, 'Oh, I'm glad I get to speak to someone!'" Frazier said. "'You can help me do what I need to do.'"
Frazier's eight-person team usually works out of a call center in the Duke Human Resource office on Broad Street, handling a steady flow of calls from all Duke employees and job applicants with human resources-related questions.
When the team, like many other employees, was forced to figure out how to work remotely, it showed its resourcefulness.
The team set up secure remote access from home to the software systems and databases needed to help with questions about Duke's job applicant system, retirement eligibility and changes in benefit status. By bringing home computers and headsets – which connect to the call center's main line through Jabber – team members handle the flow of calls with the same ease and efficiency as they have in the office.
If a Duke employee has a Human Resources question, an answer is still just a phone call away.
"It's beginning to feel like normal," Frazier said. "There was an uptick in calls at first with people asking about policy-related things. But it seems to have kind of leveled off to our regular level."
Embracing the Challenge
Since 2002, Stephanie Ford has served as an evening reference librarian at Perkins Library. Most nights, at 6 p.m., she's takes her spot at the  service desk and, for the next six hours, helps students and patrons who approach her for help.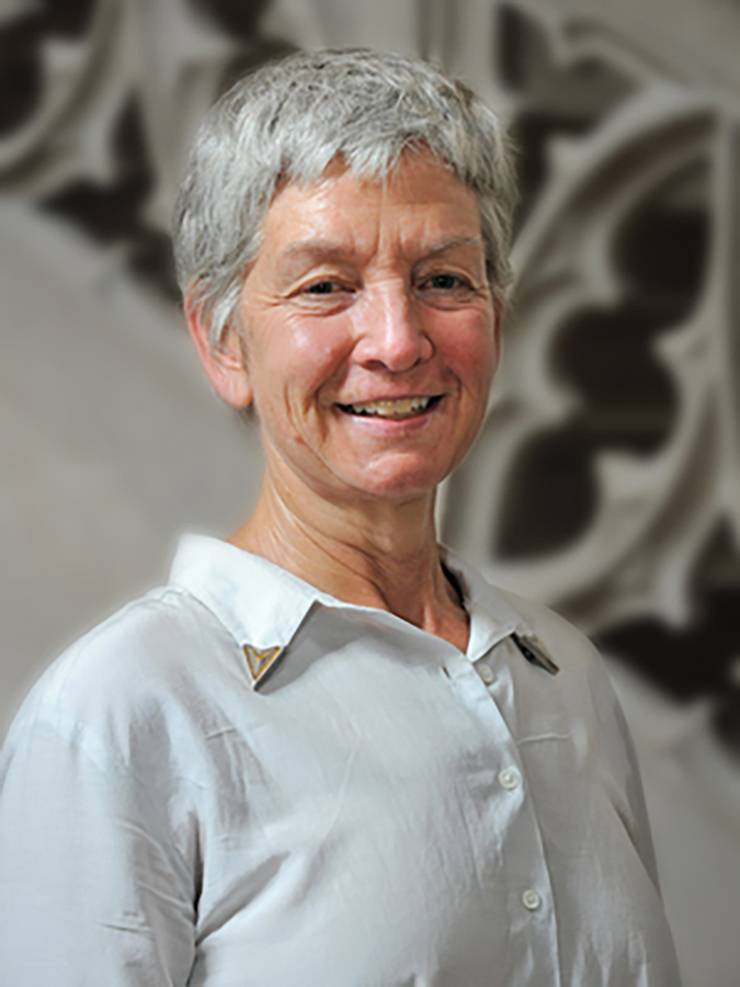 "Usually this time of year, I would be getting a lot of citation questions," Ford said from home, where she now logs on to her laptop each night at 6 p.m. "People would be finishing up papers, so they'd need help figuring out how to cite this and that."
For Ford and Duke's other reference librarians, a major part of their work is helping library patrons find materials they need. So when they can't access any physical materials in Duke Libraries – or any belonging to the libraries Duke partners with – librarians have had to get crafty.
"Everybody really stepped up," Ford said of the Duke Libraries staff. "Everyone took it on as a team."
While Duke has plenty of digital books and other online resources, it's only a small fraction of Duke Libraries' overall collection.
As publishers and other libraries have opened up access to their digital resources to help, Duke librarians have put together an ever-expanding internal list of these alternate sources for materials. Ford cites that list as a resource she uses often while helping Duke library users find what they need.
"If someone is looking for something, we'll look to see if Duke has it, but if we don't, we'll check all the other possible sources to see if we can find it," Ford said. "That's different than it used to be."
Help share the proactive and extensive work being done by all Duke community members during the COVID-19 outbreak. Send ideas, shout-outs and photographs here or write working@duke.edu.